I love makeup and beauty products of all kinds.  I always have, and I always will. I'm not a huge fan of the normal stuff though.  Nope. For a beauty product to lure me in, it has to have some kind of special something about it.  Whether that's the color, texture, or effect, it all depends.
I am currently IN LOVE with some of the really fun makeup trends that are going on right now. Especially the vivid colors of things. These are some of my favorite green makeup finds.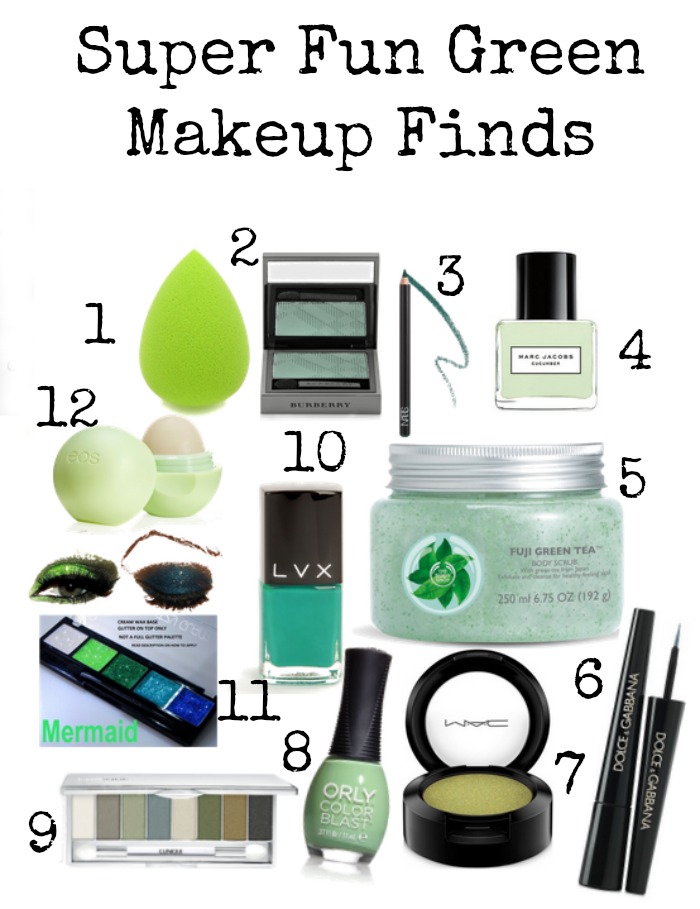 Super Fun Green Makeup Finds
Links may be affiliate links.  They help support our weird beauty product obsession.
1 Mini Beauty Sponge Blender ($1) – Yeah, this is not one of THE MAGIC SPONGES but they're not too bad.  Especially for $1.  This is the mini size for those hard to access places like around your eyes and nose.
2. Burberry Wet & Dry Silk Eye Shadow in Aqua Green ($29) –  just adore the shade of this Burberry eye shadow color in the pan.  Is it wearable?  Probably, for some people.  Honestly, I don't think I'm one of them, but it is still among the green makeup finds that I love.
3. NARS Teal Eye Liner Pencil Kaliste ($30) – NARS is known for their amazing makeup products, and this eyeliner is no different. Rich, creamy, tug-free, and blends easily.  YES PLEASE!
4. Marc Jacobs Splash: Cucmber Eau de Toilette ($62) – This is a lovely, clean and crisp scent that's perfect for those that don't want something heavy and sweet or overly floral.  L-O-V-E the pale green shade, too.
5. Fuji Green Tea Body Scrub ($21) – I adore a great exfoliator, and this body scrub from The Body Shop fits the bill. It smells good, and gets rid of all the icky dead skin without being too strong.  Plus, it's full of good for you things.  Double yay!
6. Dolce and Gabanna Intense Liquid Eyeliner in Wild Green ($38) – Colored eyeliner is so in, and so fun.  It adds just a little something extra to your look with the slightly shimmery finish that wears and wears. This has an actual brush applicator, and takes a smidge of practice.
7. MAC Moody Blooms Eye Shadow in Lucky Green ($16) – Peridot is one of my favorite shades of green.  Clothing, home accessories, furniture, makeup – doesn't matter.  This MAC eye color is a great addition to most makeup kits. This is also a great sub for the Stila shadows we used in this green eyeshadow makeup tutorial.
8. Orly Color Blast Nail Polish in Fresh Green ($7) – Orly polishes are pretty nice for a really reasonable price.  They go on smooth, dry nicely, and wear well.  Add in the fun colors and cutting edge trends, and they're a total win.
9. Clinique Wear Everywhere Neutrals Palette ($36) – Usually when you think of neutrals, your mind goes to browns and taupes.  Give your neutrals a new twist. This earthy green palette has made its way to our favorite green makeup finds.
10. LVX Nail Lacquer in Viridian ($16) – You know nail polish is totally my jam, and the LVX line is pretty fab. The line is 5 free and vegan friendly.  Who doesn't love that?
11. Glitzy Glam Glitter Eyeshadow Palette ($8) – This looks like it could be fun, but it might be junk.  For the price it might be worth buying and trying as a top coat over a similar color.
12. EOS Honeydew Lip Balm ($4) – Who doesn't love lip balm?  EOS is known for their fresh, unique flavors.  Honeydew is slightly sweet, and not overpowering, making it a perfect addition to our green makeup finds.
Are you digging the green shades of makeup? Is the green makeup trend a trend you can get behind, or are you leaving it in the dust?
For more St. Patrick's Day posts, visit a few of my favorite bloggers: