I've been looking for a great, refreshing adult treat for 4th of July, and these boozy snow cones may be the perfect fit.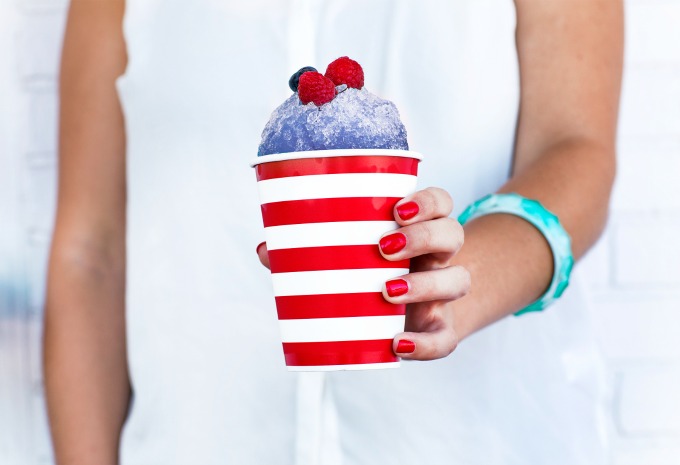 Ever since I can remember, I have always been a fan of snow cones and shaved ice. I'm not sure if it started with the Snoopy Snocone maker, or if my love was fueled by that. It's sort of a chicken-egg scenario And living in Hawaii, you have to have shave ice. It's just what you do! Not that I'm complaining…
But, now that I'm an adult, I wanted something a little more adult-like. Something that helps you cool down from the inside, while still giving you a little kick. This boozy snow cone helps to capture that inner child, in a totally grown up way. Not unlike a boozy milkshake. And perhaps the best part – the alcoholic snow cones are so easy to make.
Alcoholic Boozy Berry Snow Cones
Links may be commissioned.
You'll need a couple things for this summer cocktail recipe. You're going to need a great blender. Or a snowcone maker. The choice is yours. You'll also want some cute cups to serve these in. Paper cups are great, as are reusable plastic snowcone cups. And maybe some of those spoon straws.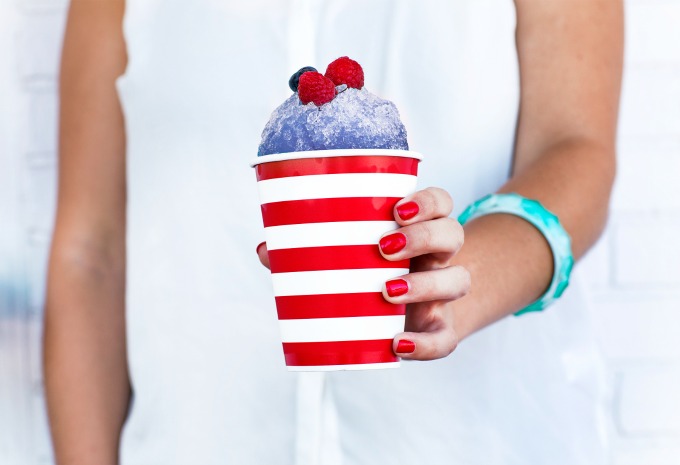 Yield: 1
Alcoholic Boozy Berry Snow Cones Recipe for Summer
Prep Time: 10 minutes

Cook Time: 5 minutes

Total Time: 15 minutes

These alcoholic boozy berry snow cones are the perfect adult treat for summer. They're delicious and cooling for those steamy, scorching days. Recipe can easily be doubled or tripled for a crowd.
Ingredients
2 oz. Van Gogh Açaí-Blueberry, chilled
4 oz. pink lemonade, chilled
1 cup of ice
Berries, for garnish
Instructions
Add chilled vodka and lemonade to a mixing glass, stir and set aside.
Blend ice cubes in a blender until desired snow-like consistency, then scoop into a glass or white container.
Top with chilled Van Gogh Açaí-Blueberry and lemonade mixture, and garnish with red berries.
Notes
You can double or triple this easily, or make it for a crowd. The biggest hurdle is crushing the ice. Just be careful not to burn out your blender, or get a snowcone machine.
Nutrition Information:
Yield:
1
Serving Size:
1
Amount Per Serving: Calories: 150Total Fat: 1gSaturated Fat: 0gTrans Fat: 0gUnsaturated Fat: 1gCholesterol: 0mgSodium: 9mgCarbohydrates: 37gFiber: 7gSugar: 27gProtein: 2g

Nutrition is provided as a courtesy. It may not be accurate, and is an estimate only.

See how easy that is? Wouldn't these alcoholic snow cones be great for a party or a barbecue? You could make up a batch of the boozy syrup ahead of time, too. Like this recipe? Don't forget to pin it or share it to save for later!