I don't know about you, but I've been seeing this new trend of nail polish marbled items all over the place. I've seen mostly small ring dishes and mugs.  I wanted to try the technique, but wanted to do something different.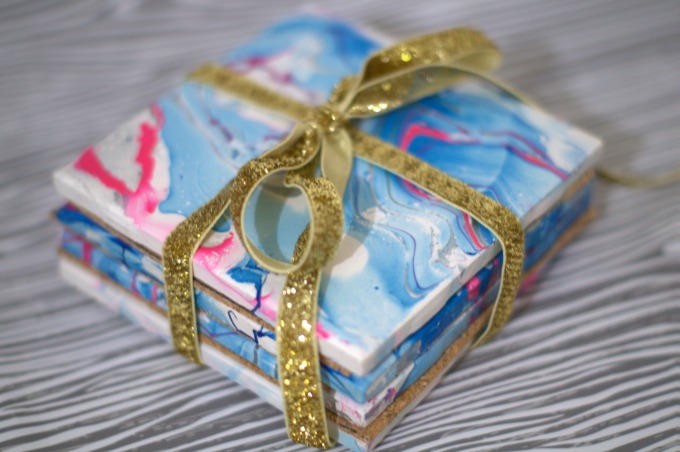 What to do…what to do… Enter these pretty amazing nail polish marbled coasters. Oh yes, it's that time again – Pinterest remakes!
Nail Polish Marbled Coasters
Links may be affiliate links
Supplies
Ceramic Tile – I'm making a set of 4, and used 4 inch tiles.  They're like $0.15 at your local home improvement store.
Nail Polish – We've alllll got those colors sitting around.  The ones we won't use, don't like, or are duplicates.  Use 'em up!
Cork.  I'm using a roll of cork that I trimmed to fit the backs of the tiles.  You could use little cork coins or even felt coins.
A container for water. – I used a plastic bin.
A tray to dry the coasters. I used the lid for the bin above.
Paper towels.
Newspaper or other big scrap paper for your work surface.
Rubber gloves.  Making nail polish marbled coasters is a messy project.
Directions
Cover your work area with newspaper or other large scrap paper.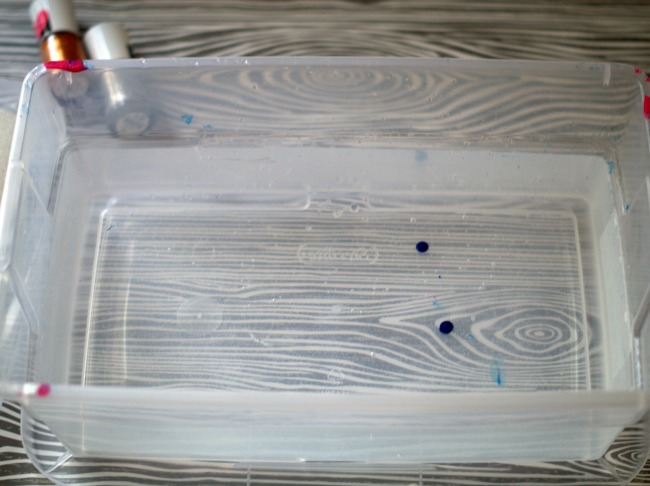 Fill your plastic bin with lukewarm water.
Line a tray with paper towels for your tiles.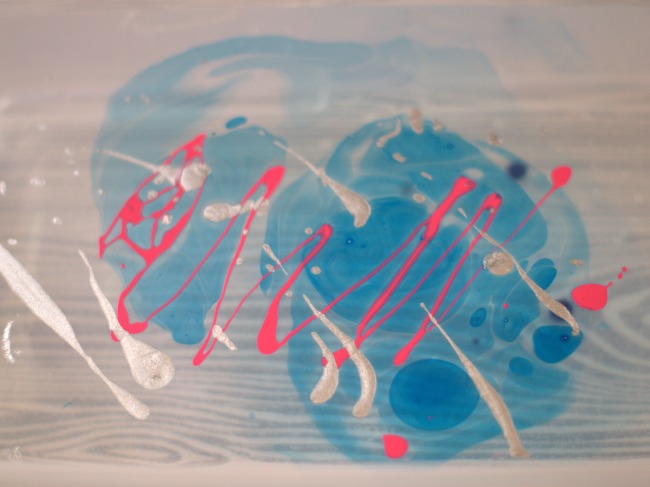 Drizzle nail polish into your water. I'm using a blue, pink, and silver.
Put rubber gloves on.  If you don't, your hands will look like this.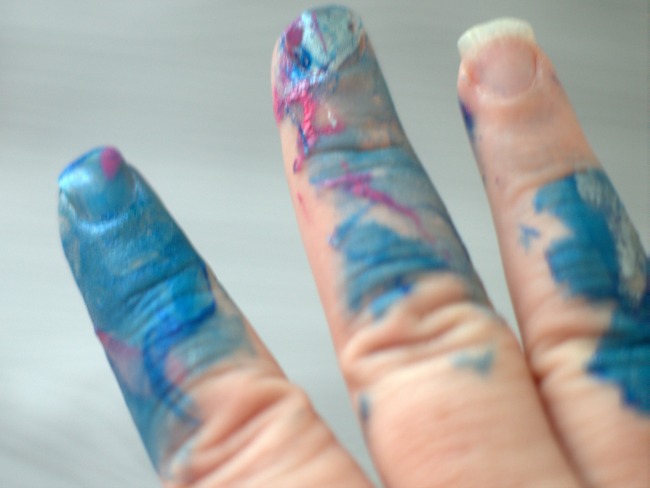 Carefully dip your tile into the water and pull it out.  Set on the paper towel lined tray.
Repeat with each tile.  I added more nail polish after every two tiles.
Let dry completely.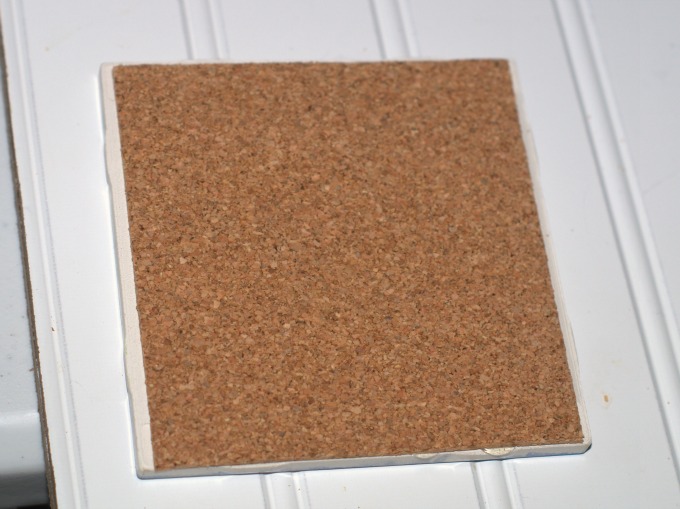 Once your nail polish marbled tiles are dry, add cork to the back.  Trace around the tile and cut the cork out. You may need to trim the cork down a little more to get a good fit for the back.
Squeeze out a liberal amount of E6000 on the back of the tile, and spread it out.  I like to use a toothpick or scrap business card for this.
Apply the cork and smooth it down. Do one tile at a time, as E6000 can set up fairly quickly.  Let dry about an hour.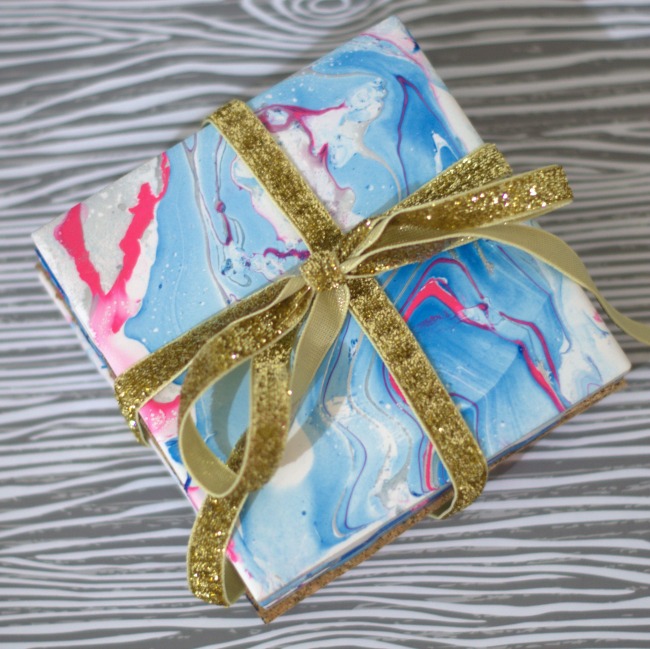 If you want to, you can add a coat or two of spray sealer. I think that the nail polish marbled coasters will stand up to normal use, but you can never be too careful.
Congrats!  You've now made a pretty great set of nail polish marbled coasters. Try playing with colors of tile, nail polish colors, and even some fun stuff like glitter.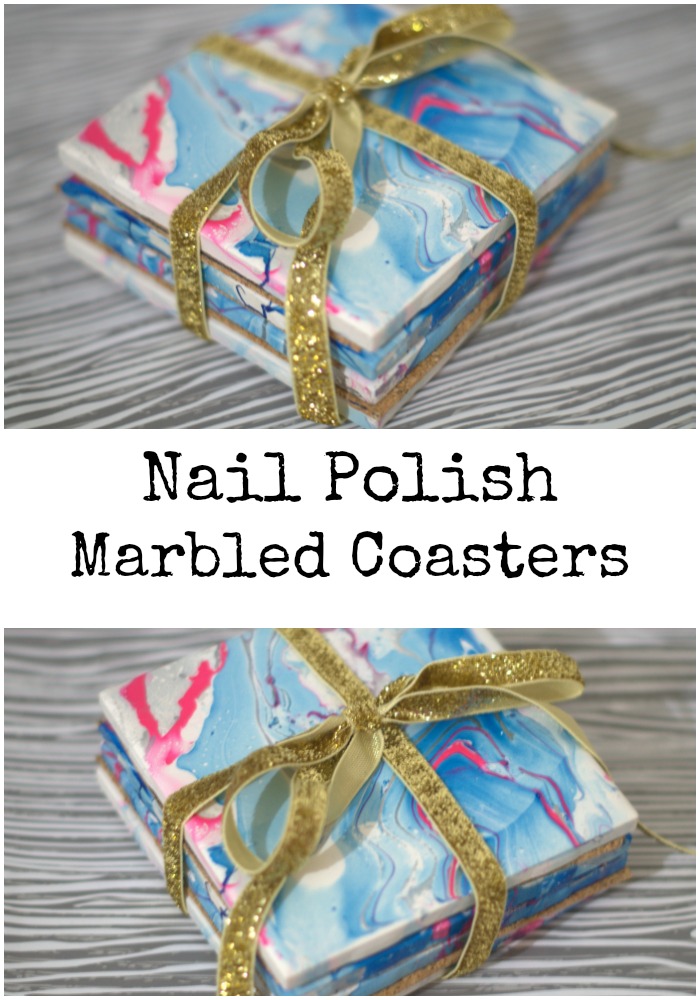 For more Pinterest remakes, visit a few of my favorite bloggers: