It seems that in the past few years, dressing up for Halloween has become more and more common – even for adults.  Of course, it's always been popular for kids, but adults are being encouraged to go out in costume, too.  Whether you're looking for a great Halloween costume for taking the kids out, going to work, or even a pub crawl or other Halloween party, this DIY Ballerina costume is a great one.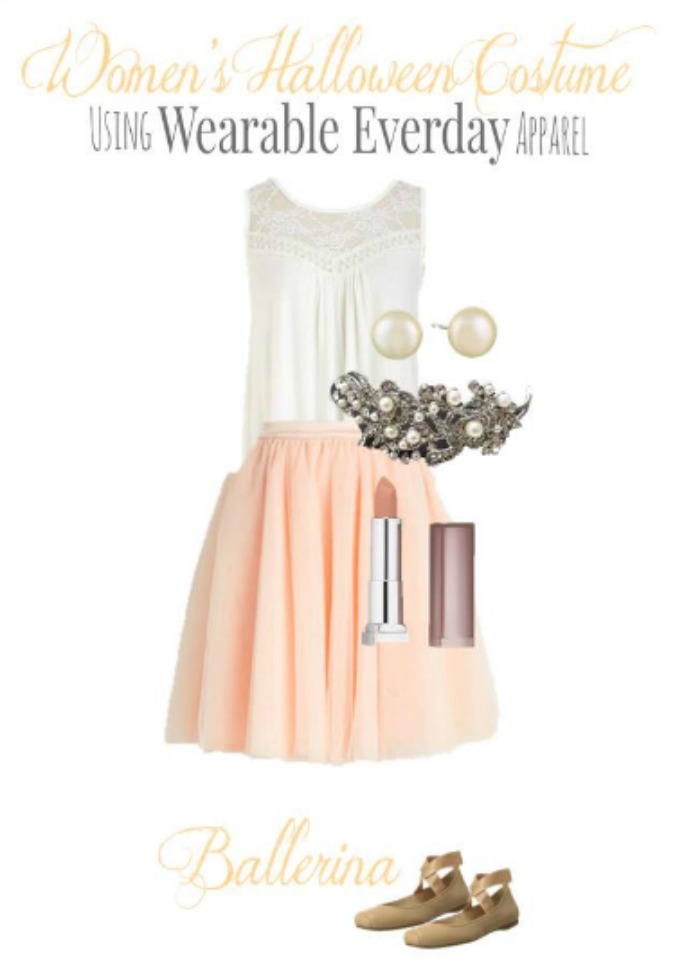 Even better, this DIY Ballerina Halloween costume uses items that you can easily find at ModCloth and Amazon.  We like that!
DIY Ballerina Halloween Costume for Adults
Lace Inset Shell ($26) – So pretty and delicate.  This is also a great top for layering in your fall and winter wardrobe.
Aya Blush Pink Tulle Skirt ($22) – This tulle skirt has multiple layers of tulle that float like a dream, and is lined.  Perfect for breaking out for holiday parties, too. Comes in three pastel shades.  This tulle skirt ($35) is another great option, and comes in blush, grey, and black.
Jessica Simpson Mandalaye Ballet Flats ($32) – These are so super cute, and a little twist on the normal ballet flat.  They're neutral enough to wear with other dresses or pants, too.
Rhinestone and Pearl headband ($18.50) – Let's face it – what girl doesn't want a tiara?  That's right – almost no one! This is the next best thing, and adds such a dollop of elegance to this DIY ballerina halloween costume for adults.
Button Pearl Earrings ($13.50) – Every dancer wears small pearl or diamond stud earrings, if they're wearing any earrings, while they perform.  These freshwater pearl earrings are set in sterling and make the perfect finishing touch.
Maybelline New York Color Sensational Creamy Matte Lipstick ($8) – The shade shown is Nude Embrace. This is a fabulous nude lip color, and is really the finishing touch for this DIY Ballerina Halloween costume.
With a few simple and elegant items, you can create a Ballerina DIY Halloween Costume.
Check out our other DIY Halloween Costumes, too!
Ballerina