Pinocchio is one of my favorite fairy tales. It's such a classic that somehow seems to be oft overlooked. Whether it's Gepetto and his desire for a child and companion, or Pinocchio and his unbridled zeal for lies, there's a deep-rooted appeal to me.
Pinocchio is also one of the easier costumes to create as a DIY Halloween costume. It's all in the basic accessories, and some makeup.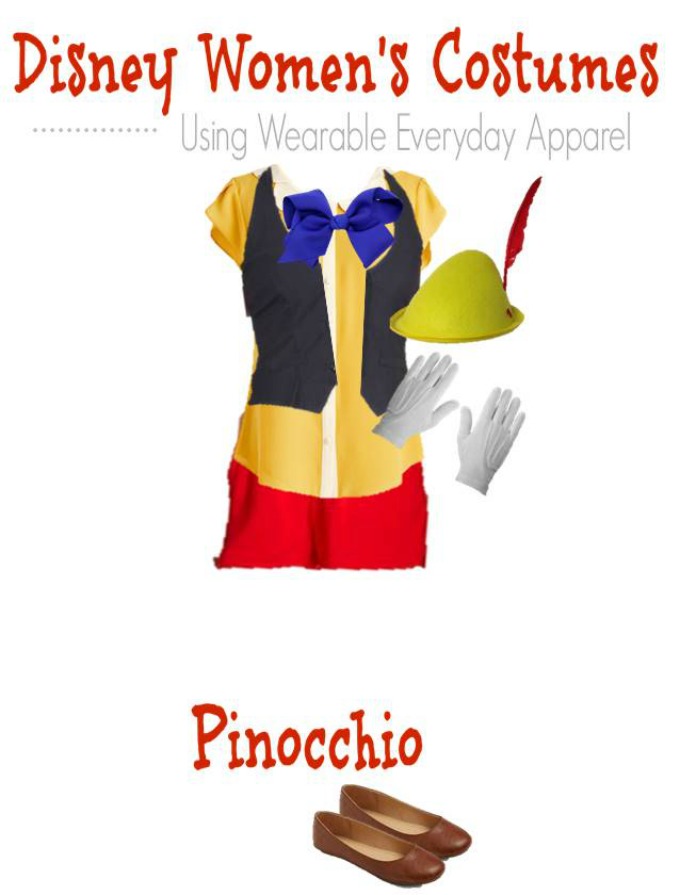 Check out our other great DIY Halloween costumes.
Pinocchio DIY Halloween Costume
This costume was originally created in 2015. Since then, many pieces of the DIY Pinocchio Halloween costume have become unavailable. We've updated the post with items that have a similar feel, and let the spirit of the costume come through. Links may be affiliate links.
Petal Sleeve Blouse in Yellow – This is such an adorable top.  I think that this is one of the pieces that you'll reach for long after the DIY Pinocchio Halloween costume is done. This top is a great choice for plus size.
Shorts with Flounces in Red  – One of the keys to the Pinocchio costume is his red shorts. These are like $10, and even if you only wear them once, who cares?! Another great option are these sailor style shorts, cuffed shorts, or even some metallic pleather shorts, if that's what you're into!
Emma Genuine Suede Flats – Perfect for Pinocchio's feet. And so budget friendly for a fall wardrobe basic. Get them in tan or black for this costume. Genuine leather, too, for $20!
Black Waistcoat Vest  – This is what gives the Pinocchio costume it's total puppet-y look.  plus, this is really cute, and kind of sexy when you work it into your wardrobe.
Yellow Alpine Hat with Feather  – If you're gonna create a Pinocchio costume, you have to have the hat.  It's the law or something.
Large Blue Bow – This is a hairbow, but we're gonna use it as an exaggerated bow tie.  It makes life easier for the DIY Halloween costume. Get it in Midnight Blue.
White Stitched Gloves – These are the perfect finishing touch for your Pinocchio costume.
Without too much work, and a little bit of ingenuity, you can have a really great DIY Pinocchio Halloween costume. The best part is that most of these things can be worked into your regular wardrobe afterwards.  That's a total win-win!
Check out our other DIY Halloween Costumes, too!
Pinocchio