When I was a kid, one of my favorite Halloween costumes was a witch. Those who know me might say that it really fits my personality. 😉 Anyway…being a witch is such a popular Halloween costume for girls of all ages. It's no surprise that this should be a great DIY Halloween costume for adults, too.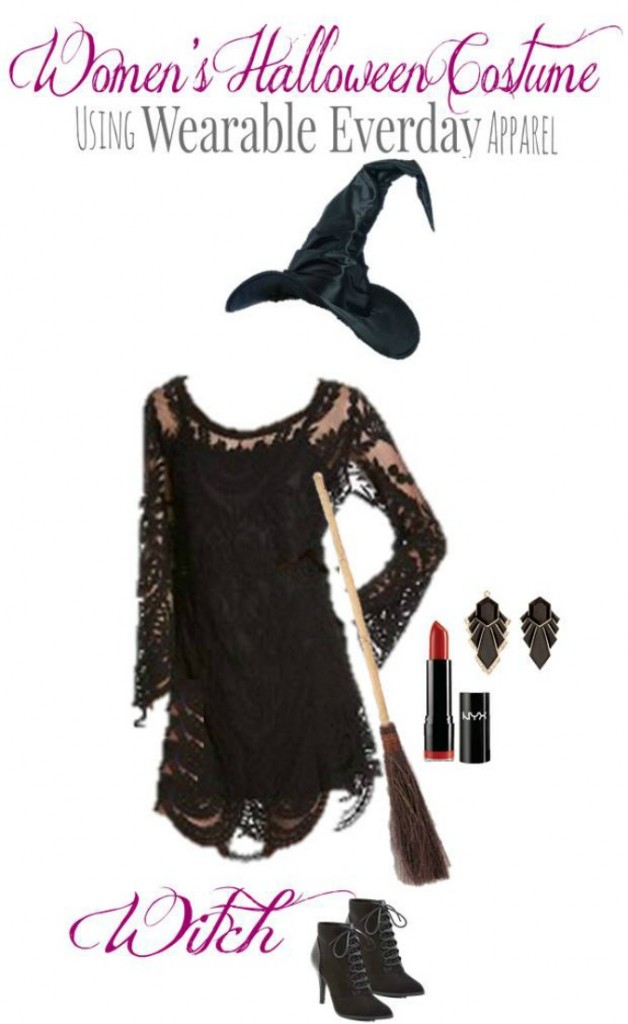 We've put together a really great DIY Witch Halloween Costume for adults.  It's a little bit sexy, but not slutty.  These items can be worked into your regular wardrobe after Halloween, too.
Witch DIY Halloween Costume
This Witch DIY Halloween Costume was originally posted in 2015. Since then, several items have sold out, or otherwise become unavailable.  We've updated the post with items with a similar feel, but they may be slightly different.  Links may be affiliate links.
3/4 Sleeve Lace Tunic  – Pair this with tights or black leggings for Halloween, and some skinny jeans for Fall and Winter.  Lace is still on trend for fall/winter, too.  SO CUTE! Here's another good option, too.   And here's a great plus sized option.
Pointed Toe Stiletto Booties – A great pair of witch boots, that really work well for your wardrobe.  Perfect with long skirts or jeans, or even leggings and dresses.
Art Deco Style Drop Earrings  – Every good witch needs a pair of awesome earrings.  These totally fit the bill, but won't be out of place in your normal jewelry armoire.
NYX Lipstick in Electra Red ($4) – NYX is a bargain brand that has pretty amazing quality. Every witch needs a great red lipstick, and this is one you'll reach for again and again.
Large Witch Hat ($18.50) – The crowning glory of every witch's costume.
Witch's Broomstick ($10) – This is the final piece of every great DIY Witch Halloween costume is a great broomstick.  The straw and stick broom adds a level of authenticity.
This DIY Witch Halloween Costume is perfect for handing out candy, escorting the kids, or even a pub crawl.
Check out our other DIY Halloween Costumes, too!