Sleeping Beauty has two great costumes – one is her regular, everyday outfit that she wears and the other is that really gorgeous pink ballgown.  For this Sleeping Beauty DIY Halloween costume, we're going to concentrate on her normal outfit.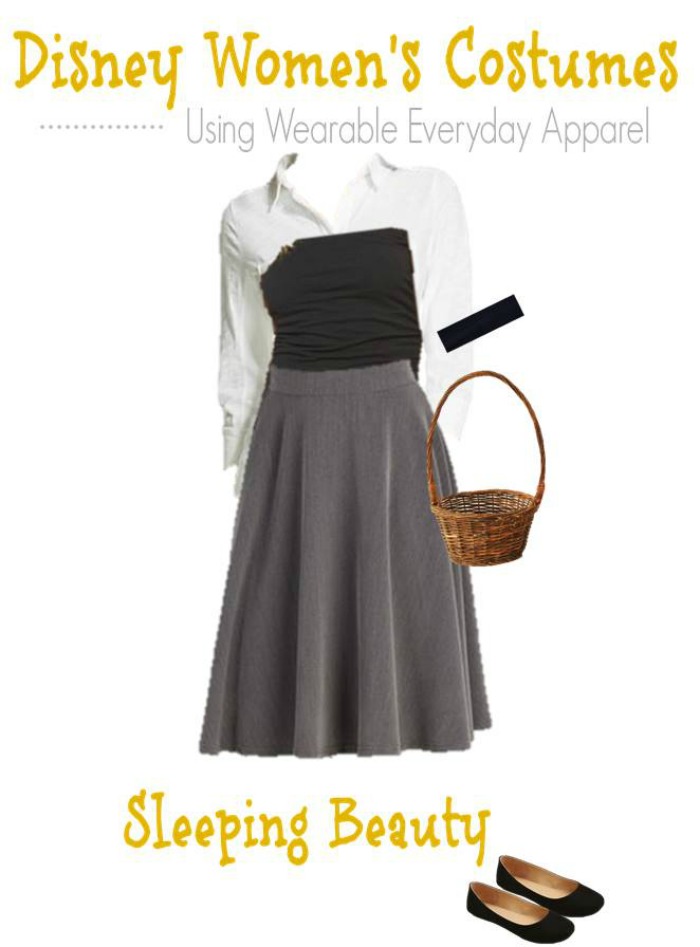 We're DIYing a bunch of Halloween costumes this year.  Have you noticed how expensive the pre-mades have become in recent years?  And let's face it – they're not the best.  So, we're creating our own, like this Sleeping Beauty DIY Halloween costume, from regular things that are readily available.  The best part?  When Halloween's over, you can work these pieces into your wardrobe, and they'll do double duty.  Awesome, right? Be sure to check out all of the DIY Halloween costumes we've done.
Sleeping Beauty DIY Halloween Costume
This costume was originally put together in 2015. We've updated it with items that are similar, but may be slightly different, for 2018. Links may be affiliate links. They help support our site when you make a purchase through them, at no additional cost to you.
Prim Class Hero Skirt in Grey  – Such a great skirt for fall, and for Sleeping Beauty.  Crazy how that works.  In Plus Sizes, too.
White Button Down Shirt  – You probably have this in your closet already.  But in case you don't, you need this shirt!  Here's a plus sized option, as well.
Ribbed Tube Top  – This helps to create the Dirndl look, but still allows you to breathe.  That's a good thing, right? Get it in black.


Steve Madden Pointed Toe Flats  – Cute shoes make a great addition to your closet.  Pick up the black for your Sleeping Beauty costume, and the plaid for burst of fun.  Just sayin'
Black Stretch Yoga Headband  – Seriously, you should have these just because.  But they're also an integral part of Sleeping Beauty's hair style.
Willow Basket with Handle  – This is one of those finishing pieces that just pulls the look together. Fill the basket with candy to hand out.
This is another really great, really creative DIY Halloween costume that just about anyone can make.  The Sleeping Beauty DIY Halloween costume is easy and simple, and fairly inexpensive. This also shares a ot of pieces with the Ariel costume. Sooo…you could get a two-fer out of it.
Check out our other DIY Halloween Costumes, too!