As a child, Snow White was probably my favorite of the Disney movies. I just adored the 1930s animation, and the fact that it wasn't so over the top. Of course, half the fun was figuring out which of the 7 dwarves was whom in your family, too.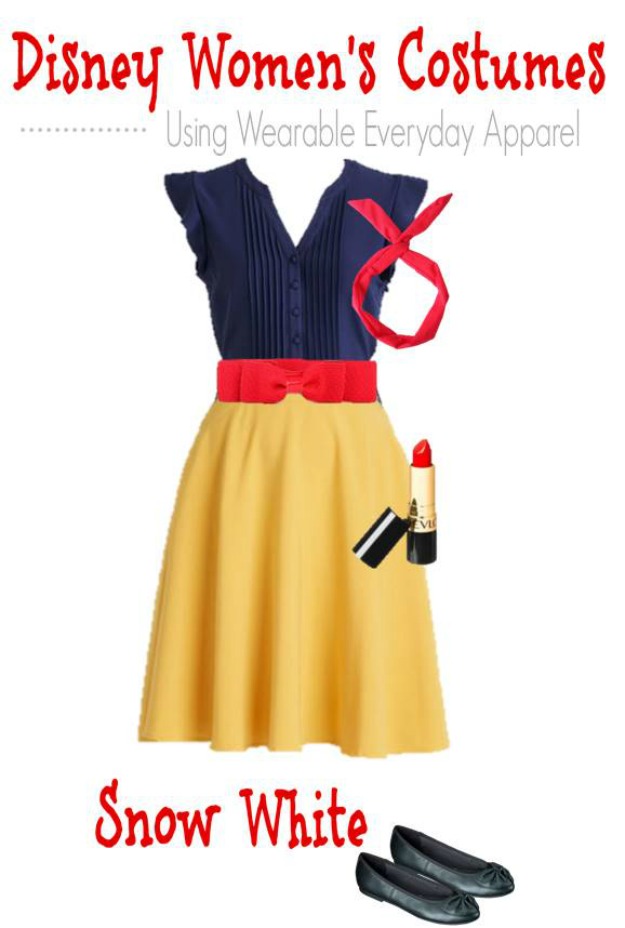 Be the life of the party in this really fantastic DIY Snow White Halloween costume. The best part – this costume is made up from clothes that are available at ModCloth, Target, and Amazon. Hey…we like that. When Halloween is over, you can add these items into your wardrobe, and no one will be the wiser.
Check out our whole series of DIY Halloween Costumes, too.
DIY Snow White Halloween Costume
This has been updated for 2020. Items may be slightly different than those shown, but have kept the original feel. Links may be affiliate links.
Just This Sway skirt in Goldenrod – This is available in plus sizes, too! We've tracked down a couple of other skirts that would work well. The Breathtaking Tiger Lillies has more of a paperbag waist style, but is roughly the same length. If you're looking for a plus sized alternative, try this skirt from Forever 21+
Pleated Cap Sleeve top in Navy – This is SO CUTE for Fall!! Available in 15 different colors, and so affordable. Here's another option that's a pleated V-Neck, and one that has more of a tulip sleeve.
Sonoma Women's Ballet Flats – These are soooo Snow White, and perfect for fall. Total win, all the way around.
Red Sheer Chiffon Scarf – Slightly different than the one shown, but such a great look.
Wide Red Belt – It's the little things that tie an outfit together into a costume. This is one of those pieces that finishes the DIY Snow White Halloween costume. This belt is a great plus sized option.
Revlon Red Lipstick in Certainly Red ($8) – Snow White was known for her red pout. Get your own with this amazing red lipstick from Revlon.
With just a little bit of creativity, and some creative thinking, you can create a really fabulous DIY Snow White Halloween Costume without much work.
Check out our other DIY Halloween Costumes, too!