There are a few Halloween costumes that are total fall backs. Angry mom, a baby, punk rocker, and to some extent, a cat. That doesn't mean that your last minute DIY black cat Halloween costume has to be lame. Nope.
Being a cat for Halloween doesn't have to be sleazy either. This is a cute costume that's a little bit sexy-cute, but isn't showing a lot of skin. Totally family friendly here!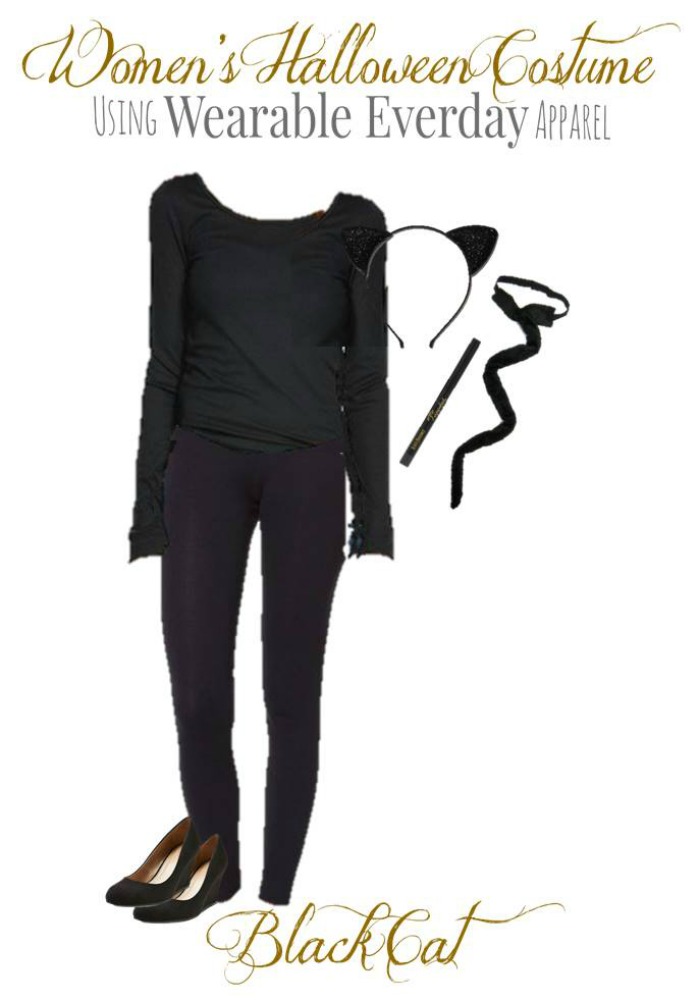 DIY Black Cat Halloween Costume for Adults
Most of these items are from Target and Amazon. Easy to find, and inexpensive to purchase. Links may be affiliate links. This post has been updated for 2019, so a couple of the options may be slightly different than those shown. Regardless, they still make a fab black cat outfit that you can
A New Day Long Sleeve Tee – Perfect for your cat costume, perfect for your wardrobe. And it's such a bargain at $10! BAM! This tee comes in 14 amazing colors, so buy a few and stock up! This is a great plus sized option
Women's Basic Leggings – Don't want to wear leggings? No problem! Toss on a pair of black jeans, or even sweats. Fab plus sized leggings are available here.
Clarks Flores Tulip Wedges – Everyone needs a black wedge shoe in their wardrobe. If you don't have one, get these. Clarks are great shoes that will last for-ev-er, if you take care of them.
Anna Belen Glitter Cat Ears – These are so super cute, and everything's better with a little bit of glitter. Comes in 5 different colors, too.
Black Cat Tail – It's those little finishing touches that make a costume complete.
Black Eyeliner – This is for those finishing touches, like a heart nose and some whiskers on your face.
See how easy it is to make a DIY Black Cat Halloween Costume? Most of these items can either be found in your closet, or can easily be added to your wardrobe after Halloween. Total win!
Check out our other DIY Halloween Costumes, too!