We're always on the lookout for ways to enhance your self-care routines and transform your living spaces into havens of tranquility. Today, we're diving deep into a topic that often goes unnoticed but can make a world of difference in your daily routine: bathroom organization.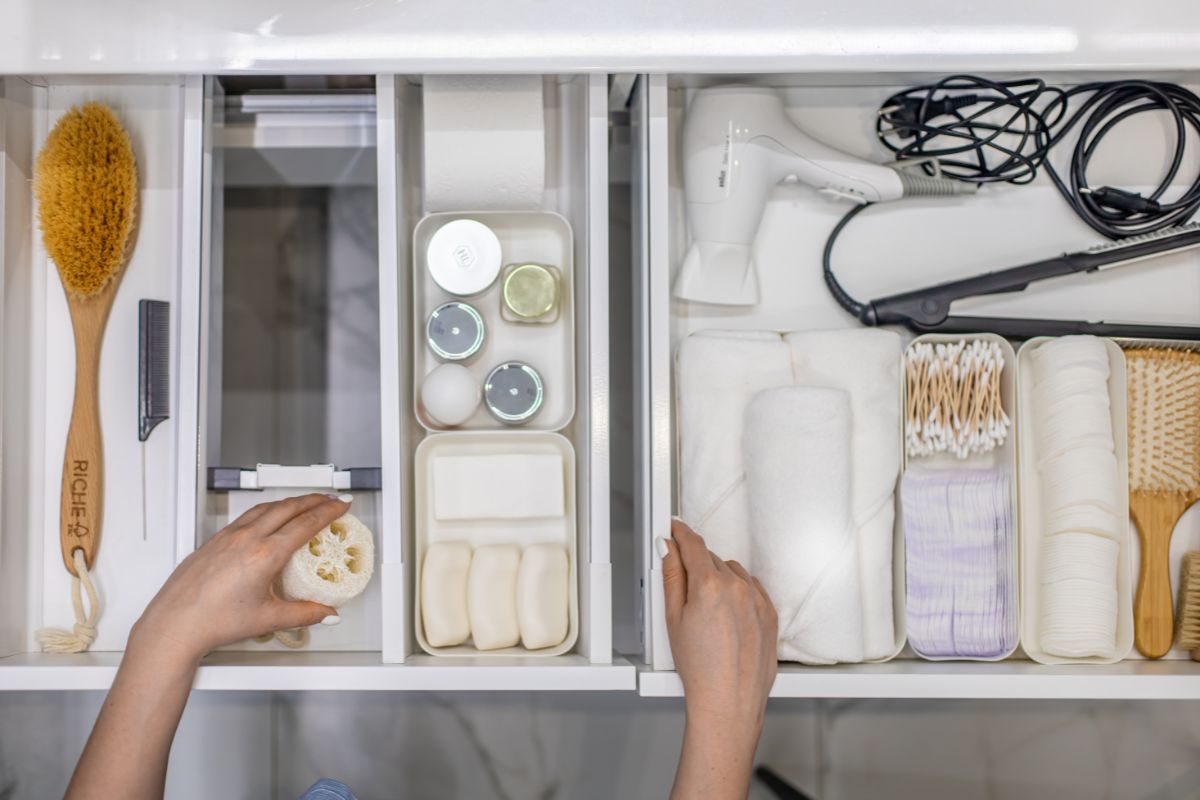 Your bathroom is more than just a functional space; it's a sanctuary where you pamper yourself, unwind, and prepare for the day ahead. By streamlining and beautifying your bathroom organization, you'll not only save time and reduce stress but also create an environment that promotes relaxation and elevates your beauty rituals.
Links may be commissioned.
In this comprehensive guide, we'll unveil a treasure trove of ingenious tips, creative ideas, and practical solutions to help you revolutionize your bathroom organization. From maximizing storage to decluttering countertops and introducing delightful aesthetics, we'll empower you to transform your bathroom into a well-organized oasis where both functionality and style coexist harmoniously.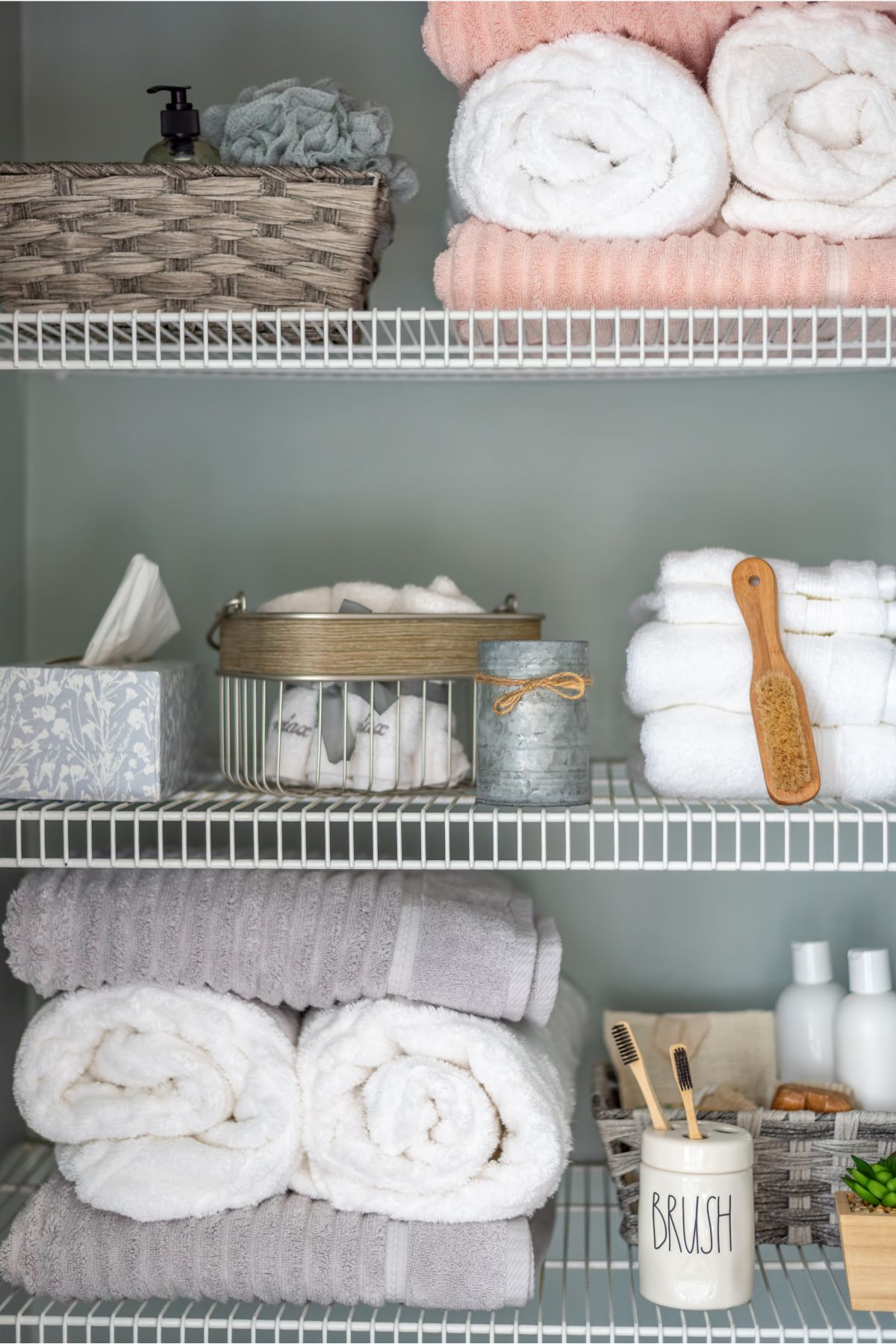 Whether you have a small apartment bathroom that needs a touch of magic or you're lucky enough to have a spacious bathroom that's craving some organization love, get ready to embark on a journey towards a beautifully organized and visually captivating space. One that is tailored to your unique beauty needs. Trust us, with a sprinkle of creativity and a dash of practicality, your bathroom will become a retreat you'll love spending time in. Are you ready to dive in? Let's begin!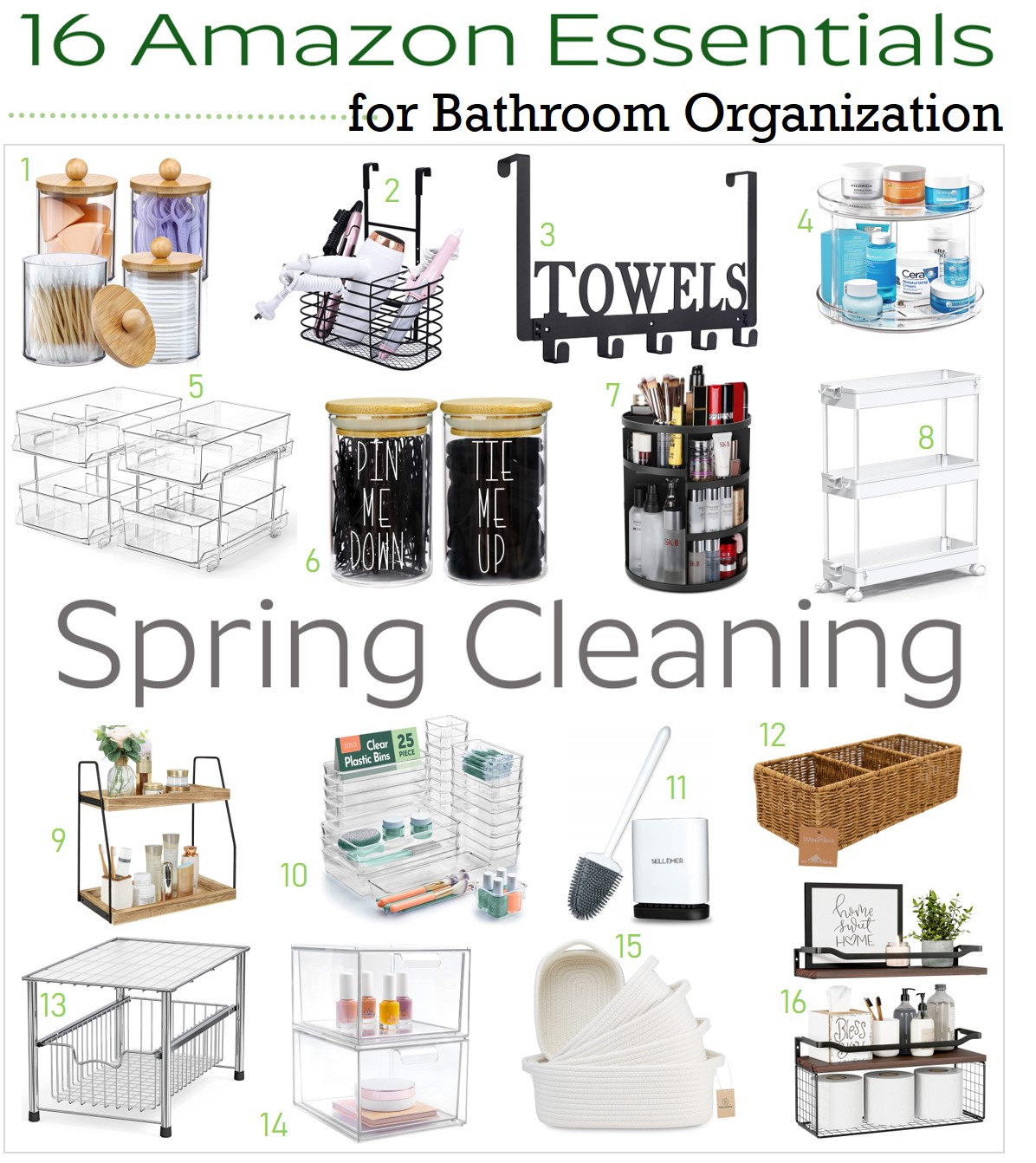 Bathroom Organization Finds from Amazon
4 Pack Qtip Holder Dispenser with Bamboo Lids – 10 oz Clear Plastic Apothecary Jar Containers – These clear plastic canisters have cute bamboo lids and come with assorted pre-printed labels. They are perfect for swabs, bath salts, or even hair ties and accessories. They're large enough to store items but still leave counter space for other tools or make up.
Wire Rack to hold hair dryer or other tools – This wire rack mounts by hanging over the door and will keep shampoo, lotions or hair tools handy. Its three sections and adjustable height makes it fit in almost any space. Great for use where counter space is limited.
Over The Door Towel Holder with Hooks – This over the door towel rack is perfect for utilizing that pocket between the wall and back side of the door. It has hooks for five towels and is perfect for a small bathroom. The over the door hooks are removable and the rack may be fastened to the wall.
2 Tier Lazy Susan Bathroom Organizer – Built just like your kitchen's lazy susan, but in clear acrylic for your bathroom. Keep all of your beauty lotions and potions in clear view. Perfect for easy access to your daily skin care and cosmetics. Also available in a single tier and a three tier version at the same link.
Set of 2, 2 Tier Clear Organizer with Dividers, Multi-Purpose Slide-Out Storage Container – I never knew how much I needed these stackable, slide-out bins that fit perfectly in the space under the sink. Made in clear acrylic, you can easily see what is inside. Bins also have adjustable dividers to keep the contents orderly. You will find many uses for this one.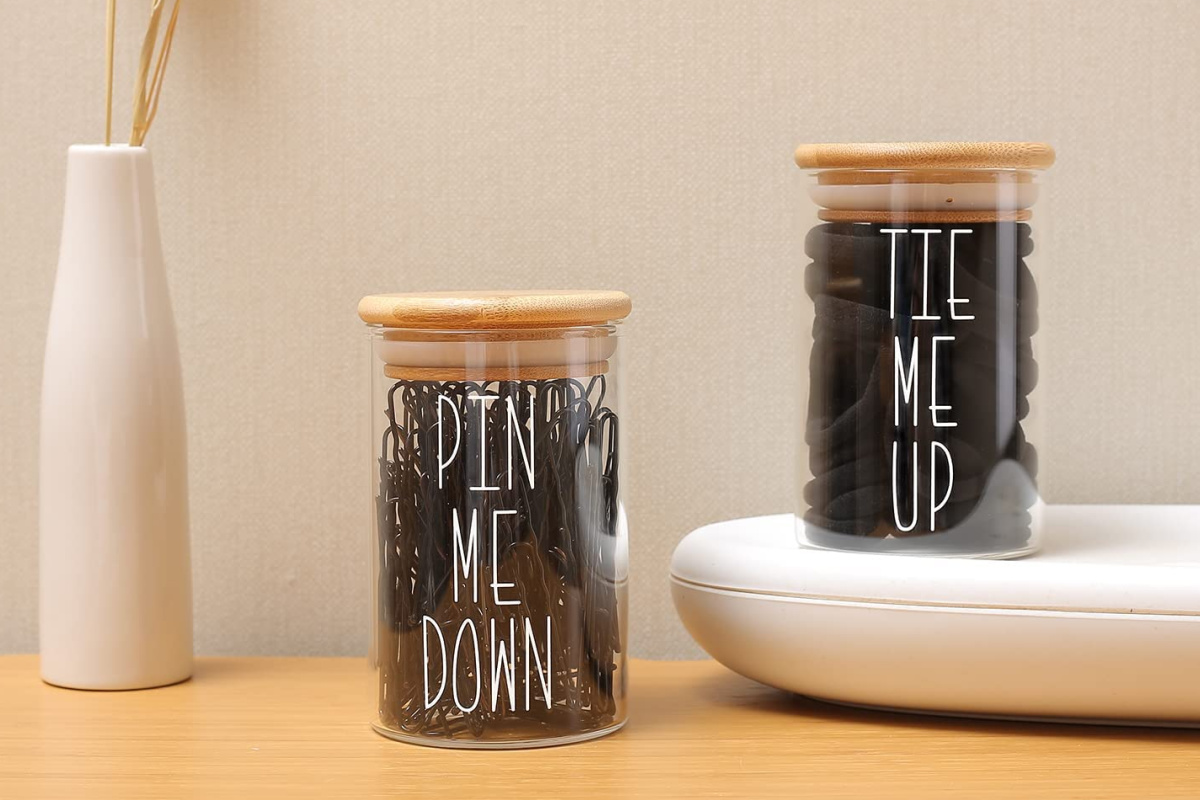 Hair Tie Organizer & Bobby Pin Holder Apothecary Jars with Lids – How cute are these? Now, there's an easy way to keep track of your hair ties and bobby pins that always seem to wander off. these also come in floss pick and cotton pad holders, as well as cotton ball and cotton swab holders.

360 Rotating Makeup Organizer – This large carousel keeps all your products at your fingertips. With its various heights and levels, you can store everything from hairspray to lipstick in one place. Shelves are adjustable, so you can customize to your own needs.
SPACEKEEPER Slim Rolling Storage Cart – This little three tier rolling cart is perfect for sliding in next to your vanity, to take advantage of that little strip of floor space, or adding some much needed storage to a larger bathroom area. The shelves are perfect for storing extra supplies like tissues, or bath toys, or even cleaning supplies. Removable wheels and hanging hooks for towels add to its versatility.
2 Tier Wood Countertop Bathroom Organizer – Add some height to your counter with a wood and metal shelf that blends with many décor styles. This distressed wood shelf is as sturdy as its good looks. Perfect for extra hand towels or taller items. Works great under the sink, too.
25 PCS Clear Plastic Drawer Organizers for Home Organization and Storage – If you have drawers but need to keep them organized, these clear organizers will resolve your issue. The set of 25 clear organizer trays allow you to configure them for the space and items, keeping them visible and easy to locate.
Sellemer Toilet Brush and Holder Set – Let's face it…you are probably way overdue for a new toilet brush. We tend to neglect this, but this one is inexpensive, and unobtrusive. It is easy to use and it stores in a compact holder.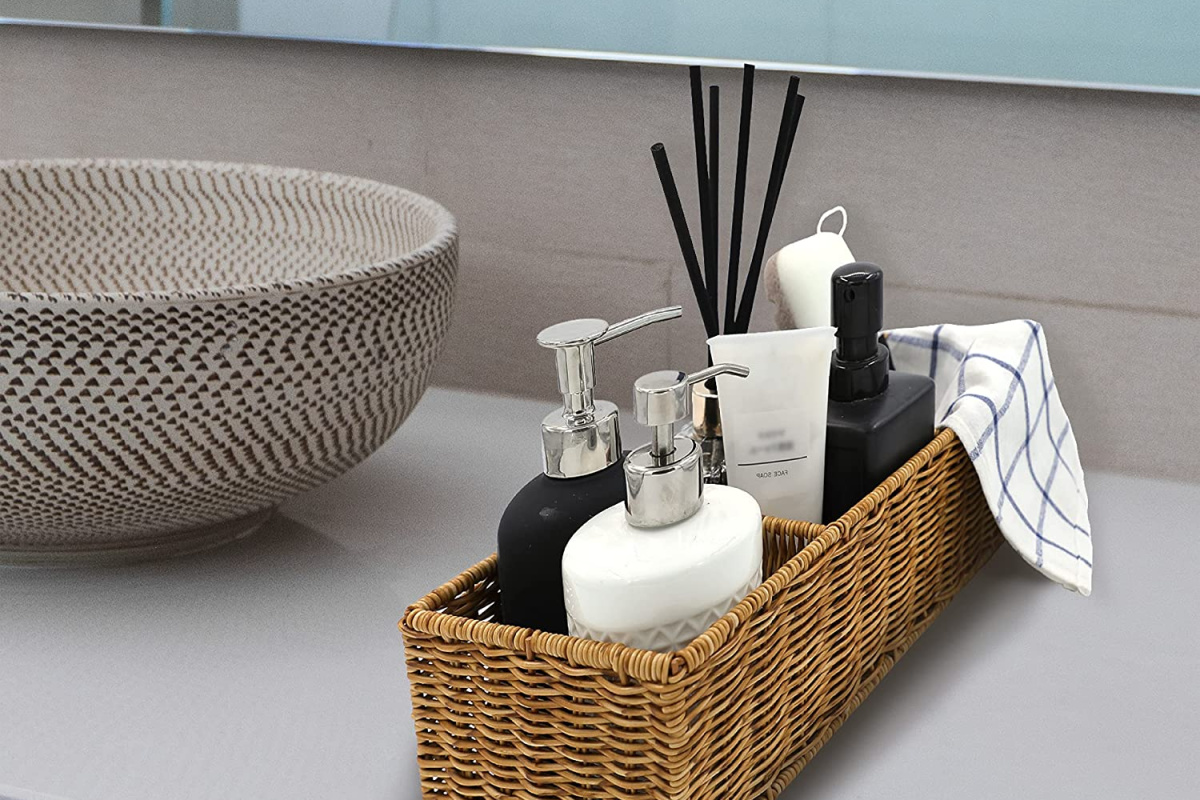 Woven Wicker Basket With 3 Compartments – Who doesn't love a wicker basket? This one is small enough to tuck into an unused corner of your countertop, or on top of your toilet tank. It has three sections for organizing, and is great for a box of tissues or air freshener. Great for rustic or farmhouse décor, the basket allows you to utilize an often-overlooked place for bathroom storage.
SimpleHouseware Stackable Under Sink Cabinet with Sliding Basket – One of the keys to home organization is shelves. Wire shelves are sleek, clean and modern; this is no exception. They look good while organizing and storing anything from toiletries on the counter, or stack them for under the sink use. The basket slides out, so even the items in the back are easy to reach.
Vtopmart 2 Pack Stackable Acrylic Makeup Organizer Storage Drawers – Perfect for small items like nail polish and lipsticks, the smaller size of the clear drawers is great for countertop organization. The pull-out drawers can be placed side by side or stacked to maximize counter space.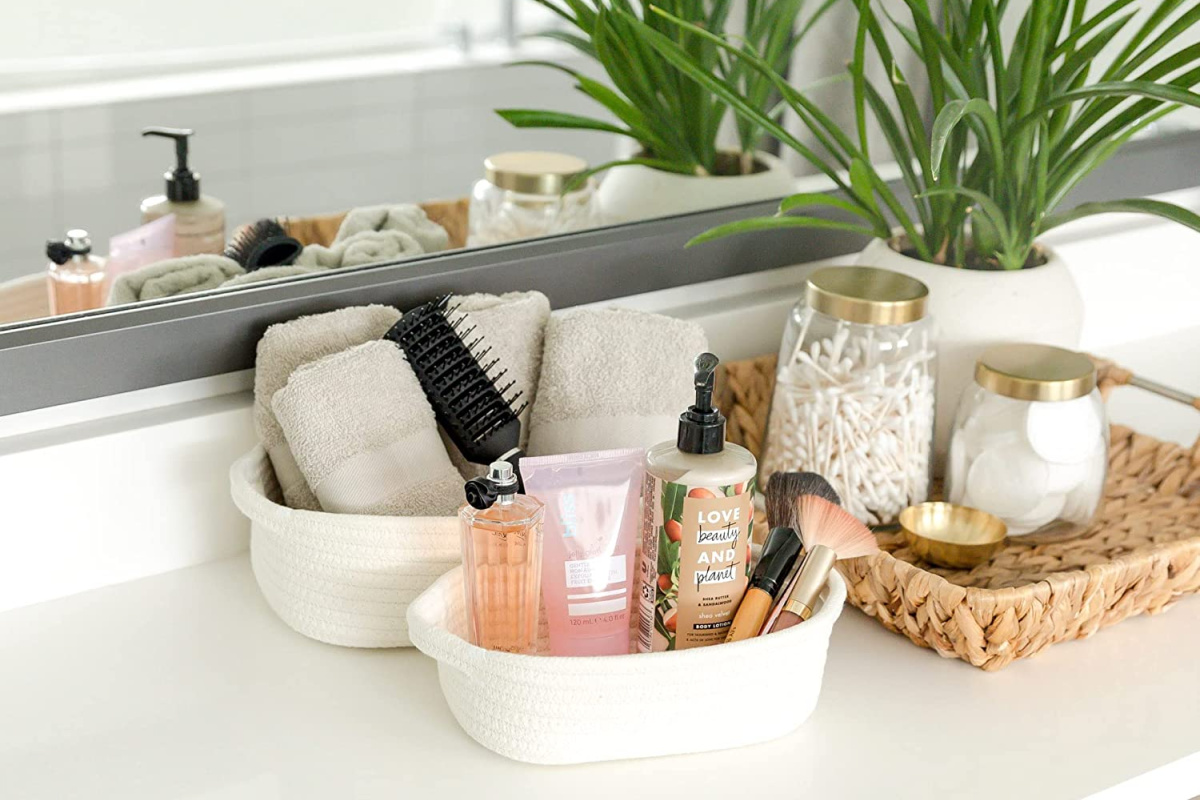 NaturalCozy 5-Piece Rectangle Rope Woven Storage Basket Set- Natural Cotton Rope– You can store everything from hand towels to jewelry in this set of five nested rope baskets. Available in many colors, they range in size from 4 x 3 to almost 9 x 12 inches. They will provide plenty of options for your organizing needs.
Floating Wood Shelves with Wire Storage Basket – Unused wall space is a good option to consider when trying to organize. This set of wood shelves just makes sense. Two shelves have railings to keep items in place, and the third is an open-front design to hold tissue or other bulky items. Shelves may be installed at your own distances to accommodate bottle or jar height.
And that's a wrap, folks! We've reached the end of our fabulous journey through bathroom organization for the beauty buffs out there. We hope you're feeling pumped and ready to tackle your own bathroom makeover with style and flair.
Remember, a well-organized bathroom isn't just about finding your favorite lipstick or shaving cream without breaking a sweat (although that's pretty awesome too!). It's about creating a space that truly speaks to you and sets the stage for a pampering experience like no other.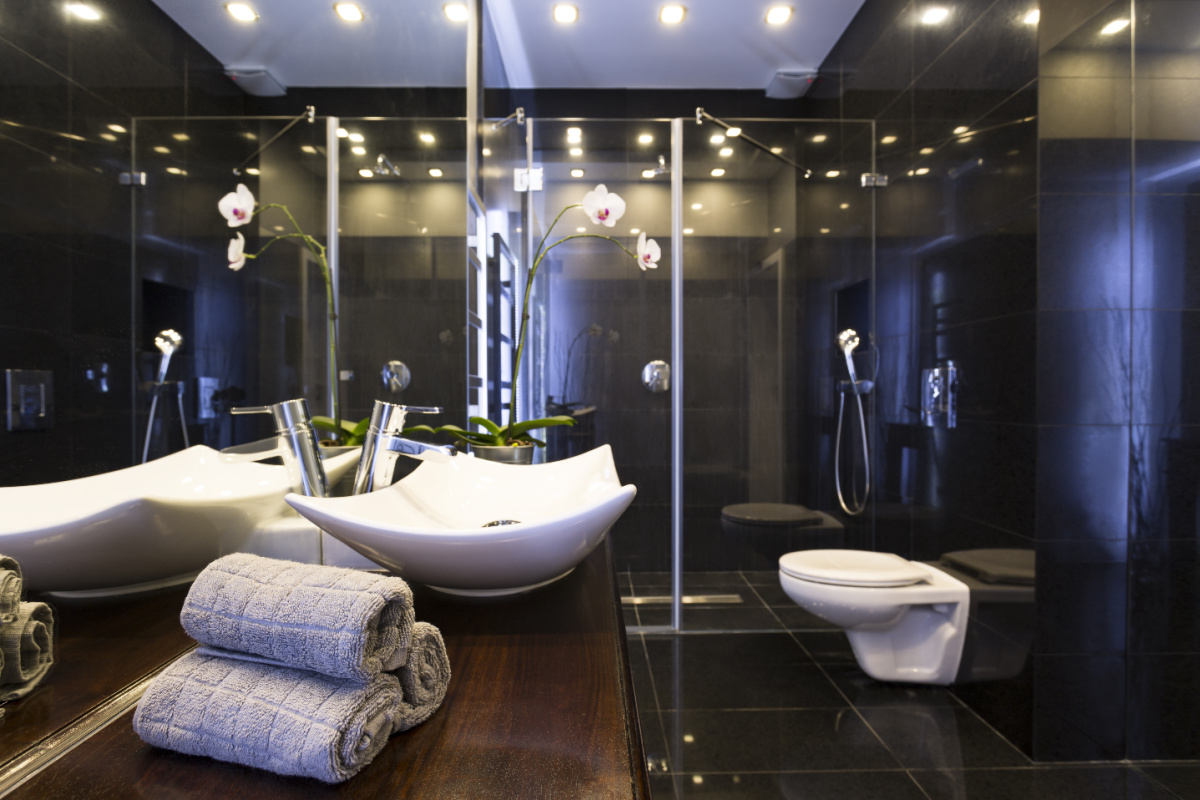 So, as you dive headfirst into the realm of bathroom organization, keep in mind that this is a continuous adventure. Embrace the occasional decluttering session – like getting rid of that old and expired makeup, get creative with nifty storage solutions, and don't forget to sprinkle your personal touch all around. After all, your bathroom should be a reflection of your unique personality and taste!
We hope this guide has given you the inspiration and know-how to transform your bathroom into a beautiful and functional oasis. From tiny powder rooms to luxurious spa-like retreats, there's no bathroom too big or small for a touch of organization magic.
Now, go forth, my beauty-loving comrades, and let your bathroom organization journey begin. We'll be right here, ready to serve up more beauty and lifestyle tips to help you live your best, most organized life. Until then, may your bathroom be a place of joy, relaxation, and radiant beauty. Cheers!