In today's fast-paced world, finding moments of tranquility and self-care is essential for our overall well-being. What better way to unwind than to immerse yourself in a luxurious bath?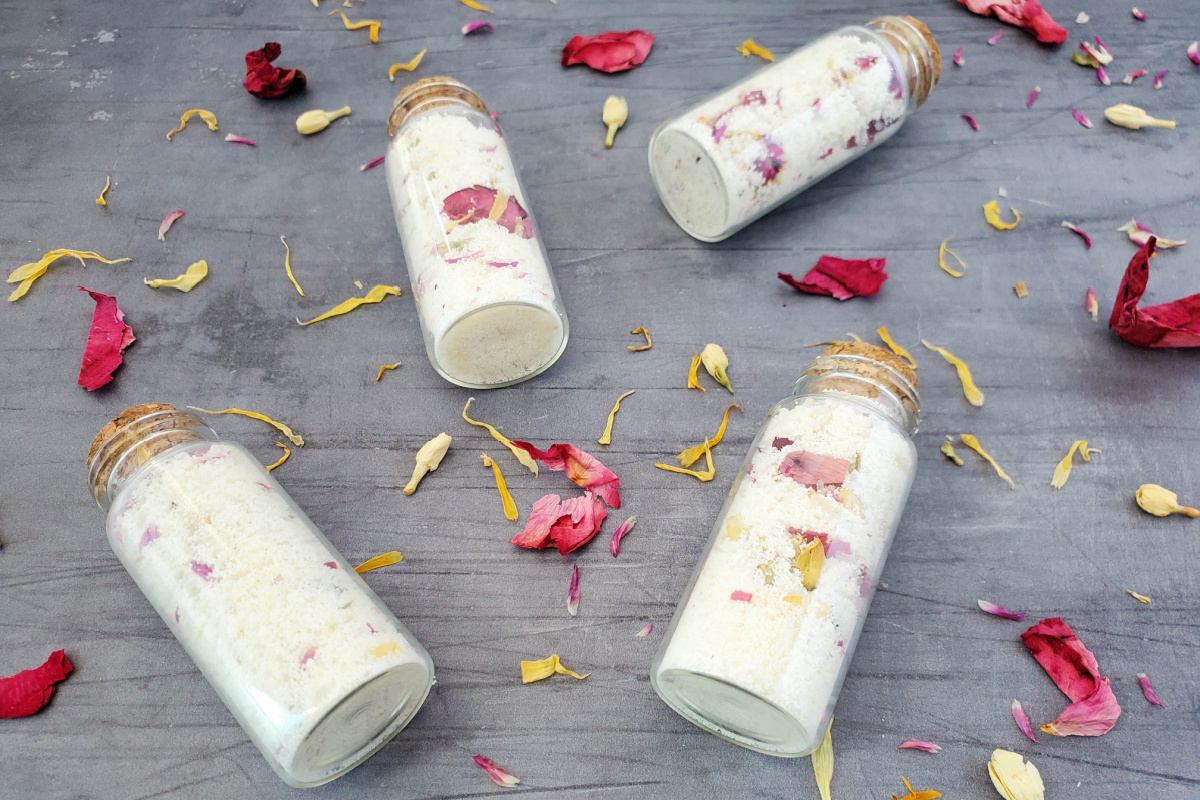 By creating your own DIY Milk and Honey Floral Bath Soak, you can transform your bathroom into a sanctuary of relaxation and indulge in a blissful escape. This personalized spa retreat allows you to customize the scent, texture, and therapeutic benefits of your bath soak, tailored specifically to your preferences and needs.
In this blog post, we'll guide you through the recipe, explore the benefits of each ingredient, and share some additional tips to enhance your bathing experience. If you like this Milk and Honey Floral Bath Soak, be sure to check out these DIY Floral Bath Melts.
Links may be commissioned.
How to Make a DIY Milk and Honey Floral Bath Soak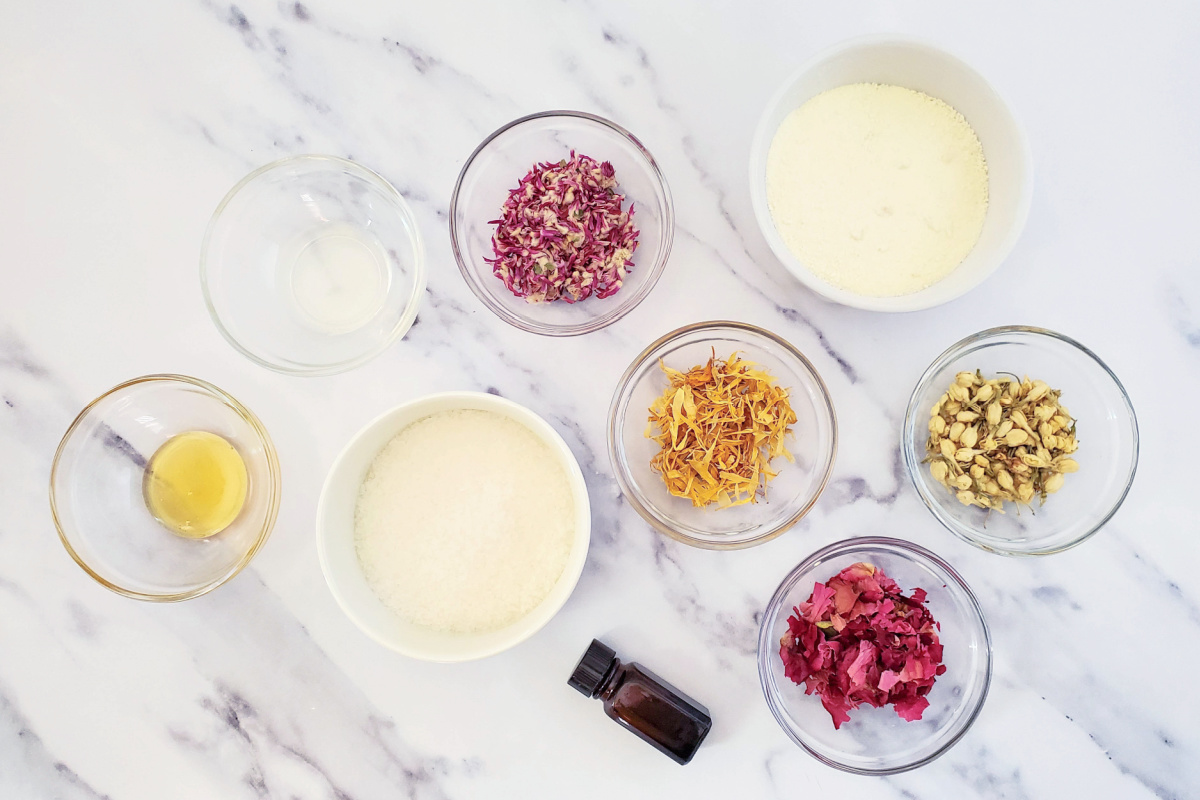 To create this indulgent Milk and Honey Floral Bath Soak, gather the following ingredients:
The magic begins as you combine 1 tsp of honey (or powdered honey) and 1 tsp of sweet almond oil in a small bowl. These ingredients provide natural moisturizing properties and add a touch of sweetness to your bath soak. To enhance the sensory experience, add 10 drops of calming calendula essential oil and 7 drops of jasmine essential oil, renowned for its uplifting aroma and relaxation benefits.
Next, in a separate medium bowl, pour ¾ cup of powdered goat's milk, which nourishes and softens the skin with its vitamins and minerals. Combine the milk powder with the honey and oil mixture, stirring well to ensure a smooth and consistent blend. You can even use your hands to knead the ingredients together, allowing you to fully immerse yourself in the process and infuse your creation with your positive energy.
Now, it's time to add the extra touches that will elevate your bath soak to a whole new level of sensory delight. Stir in ½ cup of Epsom salts, which provide muscle-relaxing benefits and help alleviate tension and stress.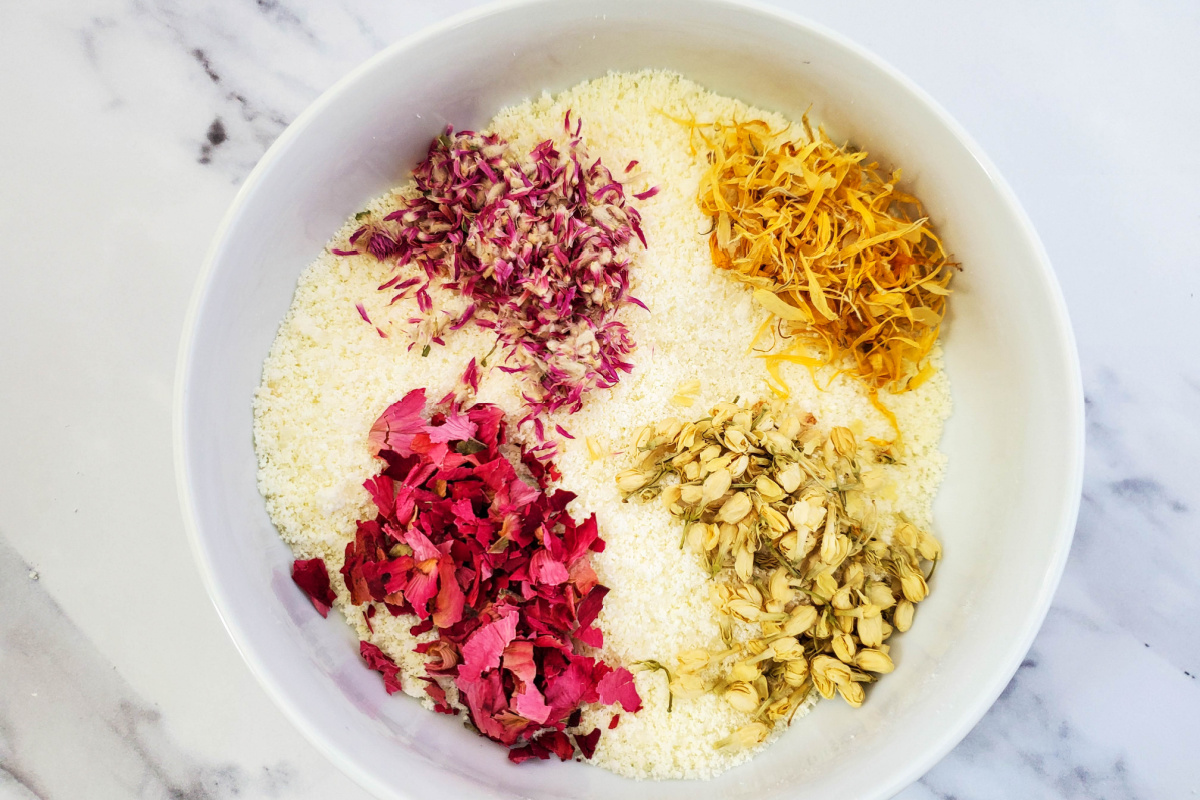 To complete your sensory experience, incorporate ¼ cup each of dried calendula petals, dried jasmine buds, crushed dried rose petals, and dried chrysanthemum petals. These fragrant botanicals not only add visual appeal but also infuse the bathwater with their natural scents, creating a serene and aromatic atmosphere. Stir the mixture gently to distribute the flowers evenly throughout the blend, allowing their essence to enhance your bath time.
Package into small jars with a cork top, or a decorative wire bale jar. You could also store this Milk and Honey Floral Bath Soak in a small mason jar.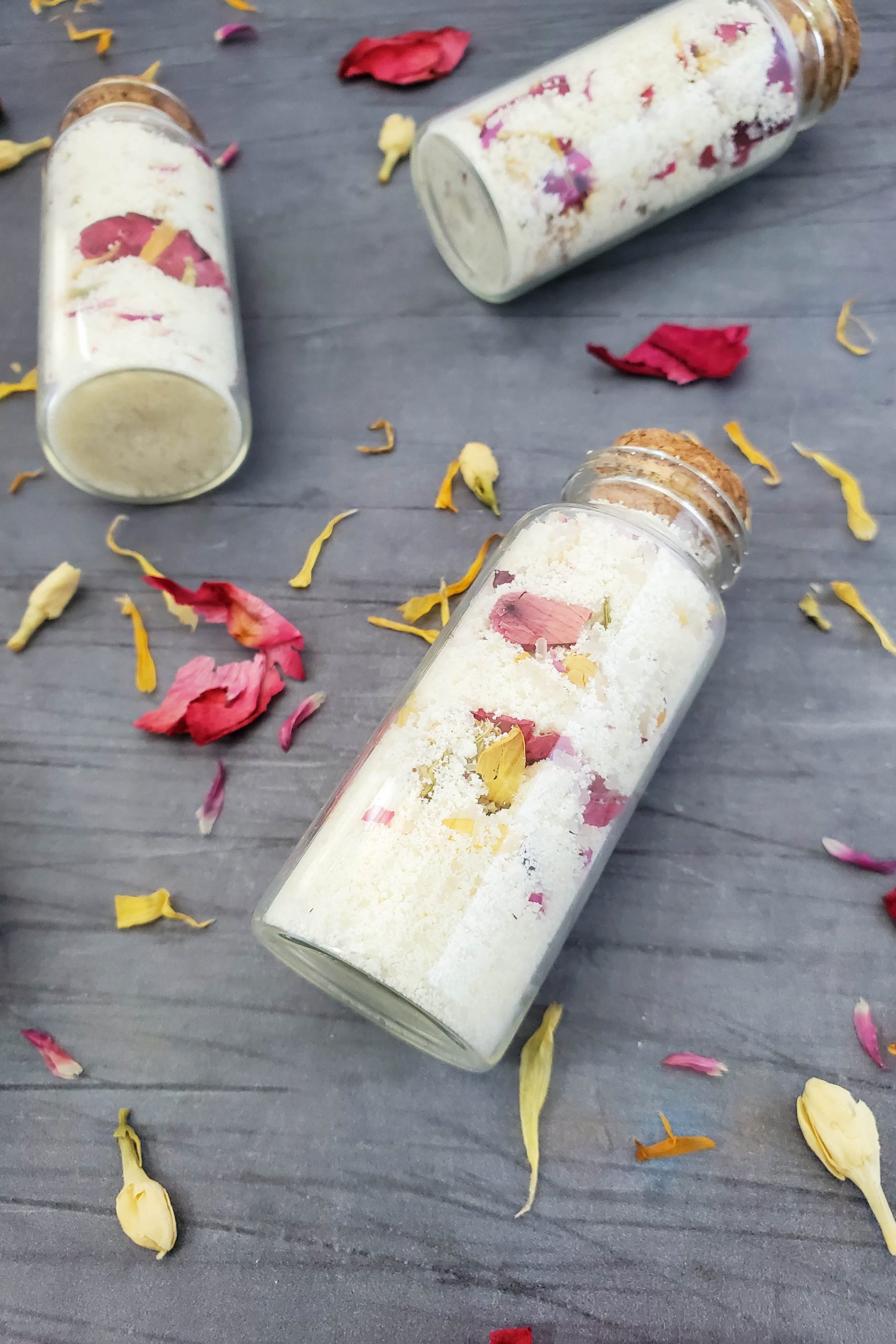 Usage and Benefits: Soothe Your Senses
Using this enchanting milk and honey floral bath soak is as easy as can be. Fill your bathtub with warm water to your desired level and sprinkle in 2-3 tablespoons of the mixture. As you sink into the fragrant waters, close your eyes and let the captivating aroma and nourishing properties take effect. Allow yourself to be enveloped by the delicate scent of jasmine and the gentle sweetness of honey, creating a calming and sensorial experience.
Each ingredient in this bath soak recipe offers unique benefits for your skin and senses. Honey acts as a natural humectant, drawing moisture to the skin and leaving it feeling soft, supple, and hydrated. Sweet almond oil acts as an emollient, providing additional nourishment and promoting a radiant glow.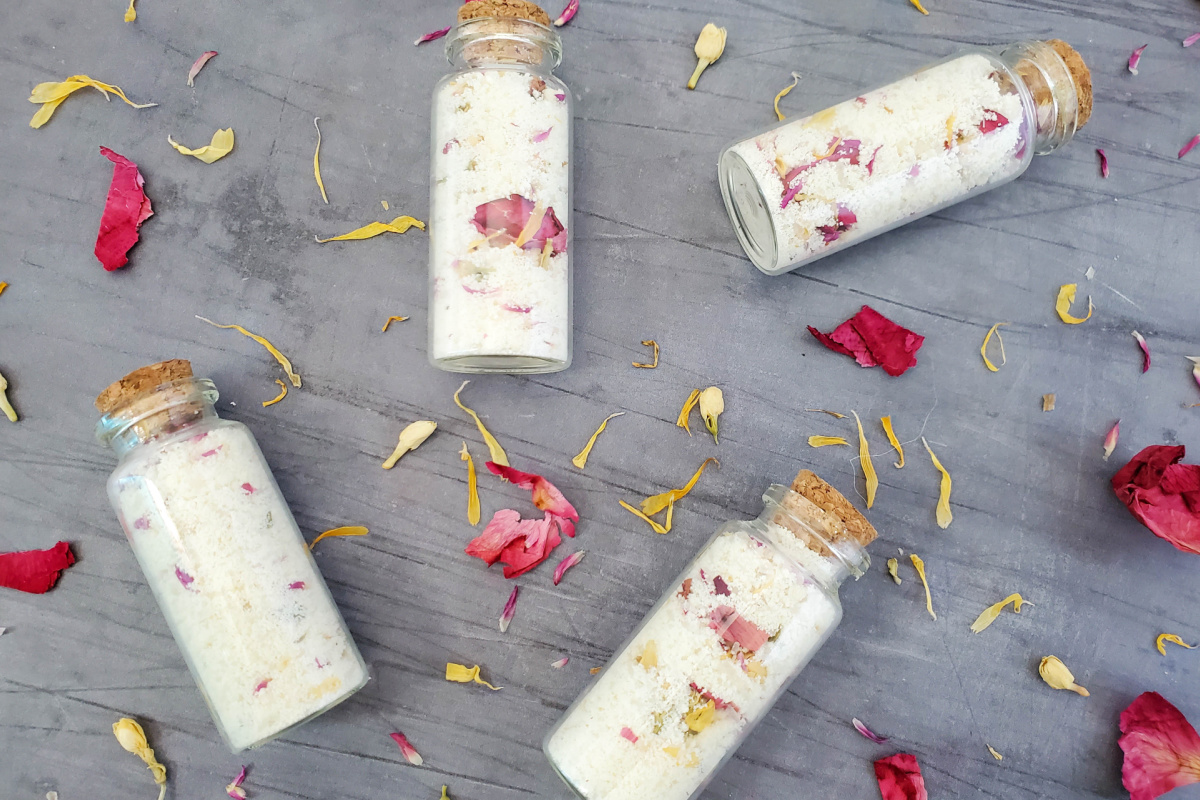 Calendula essential oil, derived from marigold flowers, has soothing and anti-inflammatory properties that can calm irritated or sensitive skin. Jasmine essential oil is not only renowned for its delightful fragrance but also known to uplift your mood, reduce stress, and create a serene atmosphere during your bath experience.
Goat's milk powder, rich in vitamins and minerals, nourishes and hydrates the skin, helping to maintain its natural balance. Epsom salts, composed of magnesium and sulfate, are absorbed through the skin during the bath, promoting relaxation, soothing muscle aches, and relieving stress.
The dried flowers not only enhance the visual appeal of your bath but also impart their natural essence. Calendula petals offer gentle skin-loving properties, jasmine buds contribute their soothing aroma, crushed rose petals provide a touch of luxury, and chrysanthemum petals add a delicate floral touch. Together, these botanicals create a symphony of scents that relax the mind and uplift the spirit, enhancing your overall bathing experience.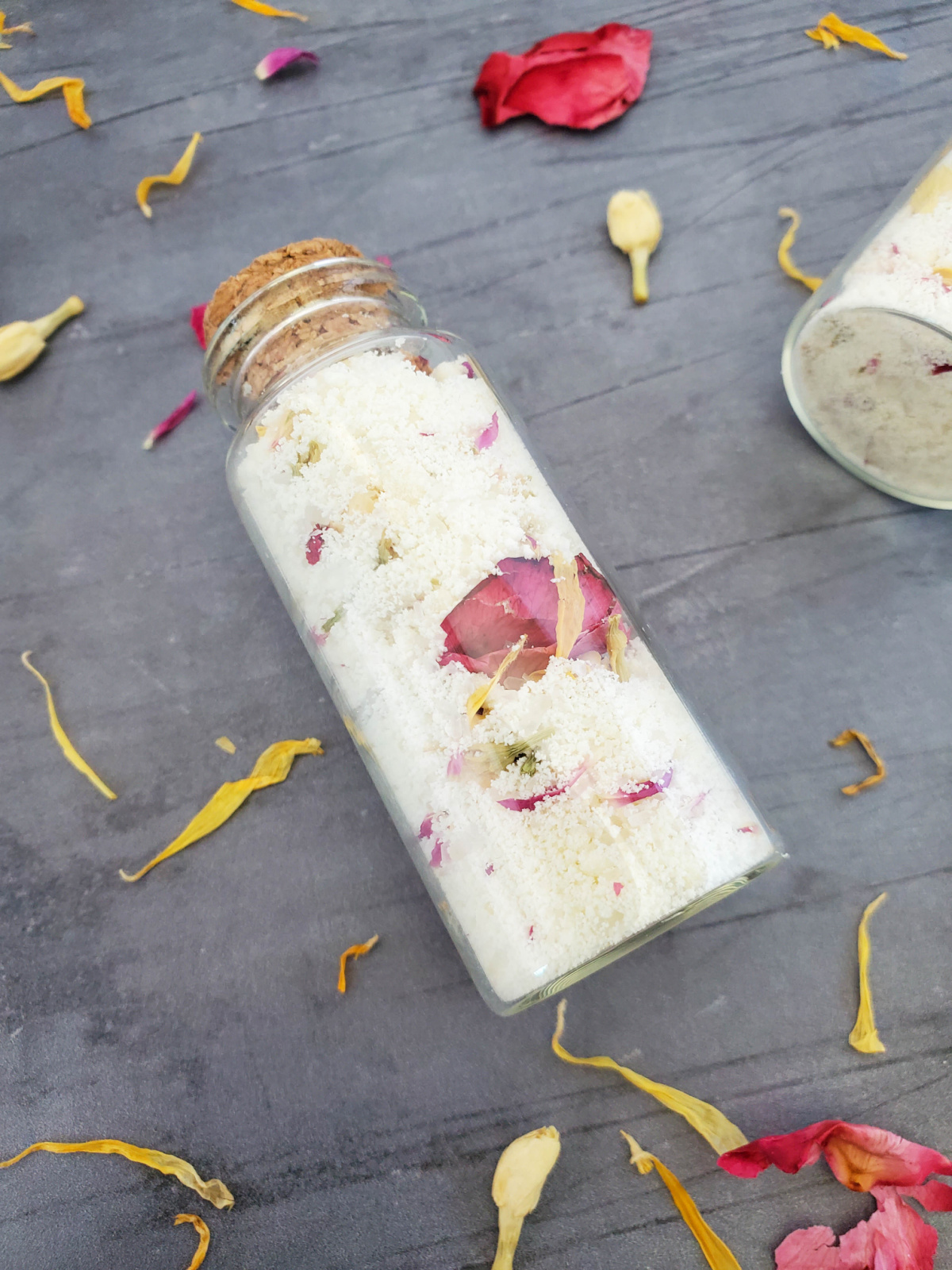 Additional Tips for a Blissful Bath
To make your milk and honey floral bath soak experience even more enjoyable, consider the following tips:
Skin Sensitivity: If you have sensitive skin or known allergies, perform a patch test before using the bath soak. Apply a small amount of the mixture to a small area of your skin and wait for 24 hours to check for any adverse reactions.
Ingredient Substitutions: Feel free to customize the recipe based on your preferences and ingredient availability. You can substitute powdered goat's milk with powdered cow's milk or a plant-based alternative like oat milk powder. Experiment with different dried flowers and essential oils to create unique blends that resonate with your senses.
Storage: Preserve the freshness and effectiveness of your milk and honey floral bath soak by storing it in airtight containers in a cool, dry place away from direct sunlight.
Bath Clean-up: After using the bath soak, clean the bathtub thoroughly to remove any petals or debris. Rinse with warm water or wipe it down using a non-abrasive cloth.
Create a Relaxing Ambiance: Set the mood for relaxation by dimming the lights, playing soft music, lighting scented candles, or adding aromatic essential oils to enhance the calming atmosphere. Incorporate additional elements such as a face mask, a good book, or a soothing beverage to enjoy during your soak.
Embrace Self-Care with a Homemade Spa Retreat
Creating your own DIY Milk and Honey Floral Bath Soak is an act of self-care that allows you to personalize your bathing experience and indulge in a truly blissful retreat. By infusing your bathwater with the beauty of nature's botanicals, you unlock the door to ultimate relaxation, nourishment, and rejuvenation. Take this opportunity to embrace the blissful sensation, let go of daily stresses, and make self-care an integral part of your well-being routine. Allow the soothing scents, nourishing properties, and the tranquility of your homemade spa retreat to envelop you, leaving you feeling refreshed, renewed, and ready to take on the world.
Remember, self-care is a personal journey, and finding moments to unwind and pamper yourself is crucial for your overall well-being. By immersing yourself in the luxurious world of a milk and honey floral bath soak, you can create a sacred space to unwind, rejuvenate your body and mind, and reconnect with yourself in the midst of the busyness of life.