I received press samples of the Red Carpet Manicure Gel Polish Pro Kit.  All opinions are my own.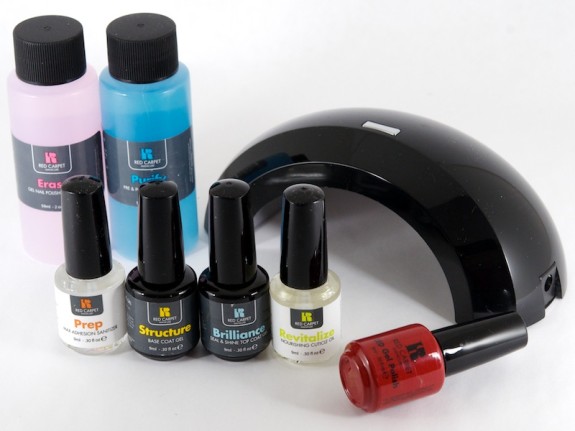 Years ago, I used to go once a week on my lunch hour and get my manicure.  Those days have changed, mostly due to there not being enough hours in the day.  I still like to have nice nails, and now, with the availability of the new nail kits, I can get really excellent results doing it myself.
Red Carpet Manicure has a Gel Nail kit that has EVERYTHING you need to get a great manicure at home.  Their Gel Polish  Pro Kit is just the ticket!  It contains everything you need – from the Ultraviolet LED light to cure the gel to a Gel Top Coat that stays shiny for days.
Besides the light, it contains Prep, a sanitizer and preparation coat, Structure, the Base Coat Gel, Brilliance, the Top Coat and Seal Gel, Revitalize, Cuticle Oil, Red Carpet Reddy, a gorgeous red Gel Polish, Purify, a post-polish application that removes the sticky residue, and Erase, the gel Polish Remover.  Plus great Instructions!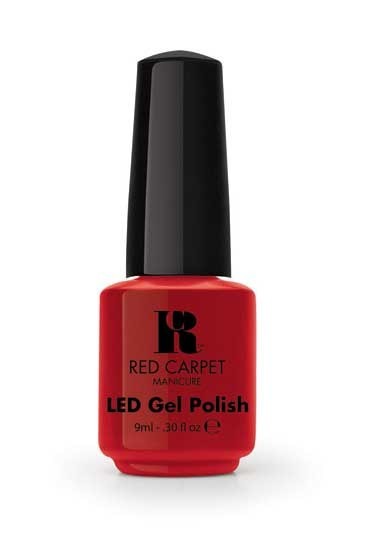 Gel Nail kits are fairly similar, but the things that make the Red Carpet Manicure Gel Polish Pro Kit stand out are that it has it contains a couple of extra products; Prep, which is used to help the Gel Nail bond to your nail and Revitalize, which will help nourish your cuticles.  Also, I would start with the Gel Polish Pro Kit.  Although Red Carpet has a portable LED light in their Starter Kit, it is battery operated, and takes twice as long to cure your nails.  The Pro Kit comes with a plug-on light and adapter, and is much quicker.
Their instructions and website are a wealth on information.  Here are some additional tips for applying Gel Nails:
Apply Base, Color, and Top Coat in thin layers, and cure between each layer.
 Make sure the base coat is sealed to the front edge of your nail, so water can't get between the gel and your nail.
You can fill and/or repair the nails very easily.  Just buff away the damaged surface (or fill area) and reapply to those areas.
 Although you can apply each layer to your 4 fingers (do thumb separately) and cure all at once, I feel I have more control to cure each finger separately.  I start with my pinky, apply base coat, cure, go to ring finger, base coat, cure, etc.
 Although you can mix or layer gel polishes, they do not mix with standard polishes.
The Gel Nails will stay a little tacky until you use the Purify.  This is normal, but only perform the Purify step AFTER applying the Brilliance Top Coat.
I love Gel Nails; they wear forever, the colors don't seem to fade, no chipping, they go on so smooooth.  I could go on and on, but, suffice it to say, I love Gel Nails.  Red Carpet Manicure has 54 different colors, finishes, and effects, making theirs one of the largest selections available.  The Red Carpet Manicure Gel Polish Pro Kit has just become one of my go-to products!