We all like wine, but sometimes we want something a little more cocktail-y. Something a little more special. Something like this Sparkling Berry Peach Sangria.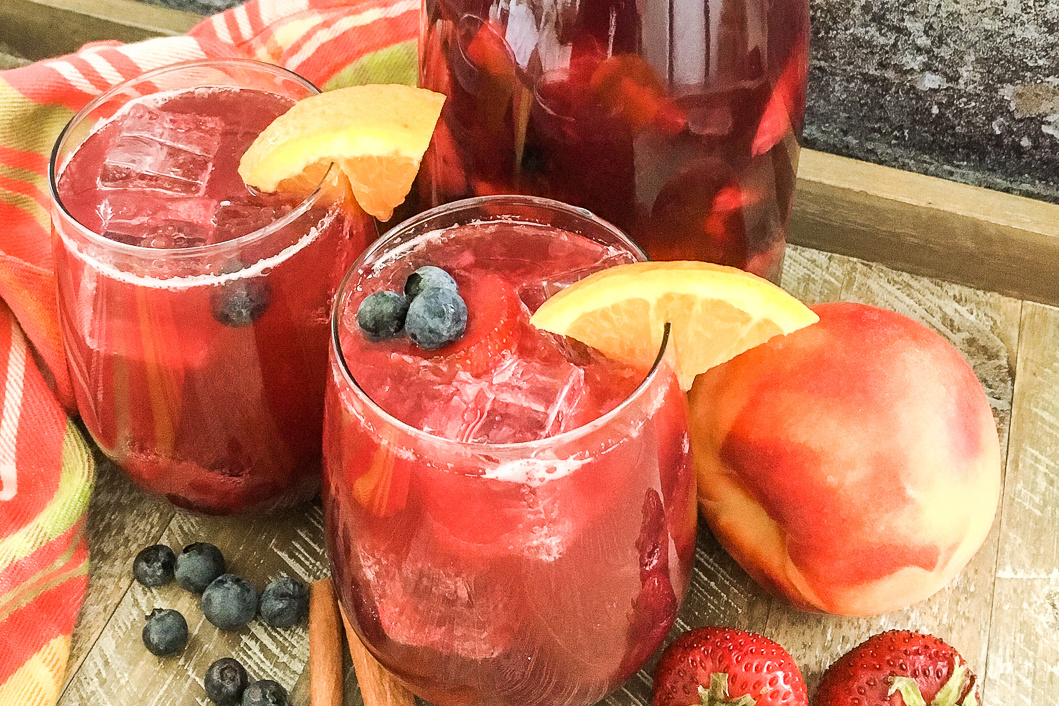 Sangria is one of the classic wine cocktails. The best part is it's easy to make and really difficult to mess up.
At the heart of it, Sangria is basically fruit infused wine. Now, you can use different fruits, and different types of wine to get different flavors of sangria. Right now, peaches and berries are at the height of the season, and they're perfect for this refreshing, summer-y drink.
Now, this sangria recipe is a little on the sweeter side. That's why you want to make sure to use a dry red wine. That's also part of the reason to use a sparkling water or club soda, instead of a prosecco or other sparkling wine.
Berry Peach Sangria
Links may be commissioned.
You don't need a lot of tools to make sangria. The most important tool is a big pitcher. Clear ones are the best, so you can see all the fruit and other goodies that are in there. I really love this one, personally. You'll also need something to help you muddle the fruit. You can use a fancy cocktail muddler, or you can use something like a good wooden spoon. If you drink a lot of sparkling water, you could also consider adding a Sodastream to your kitchen gadgets.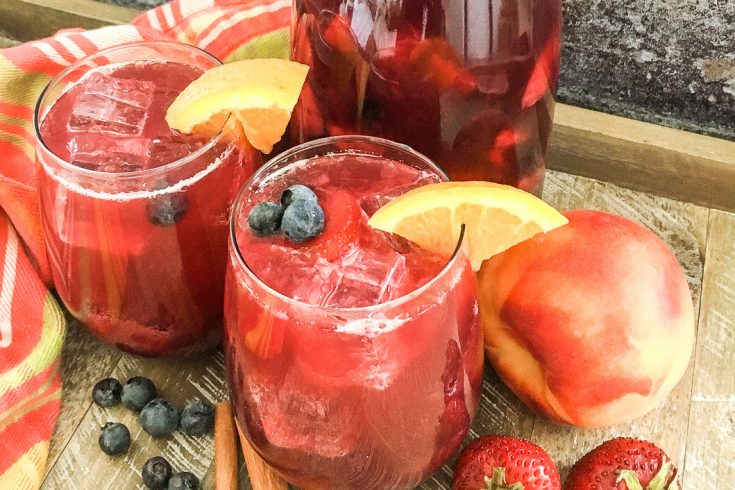 Yield: 6
Sparkling Berry Peach Sangria Recipe
Prep Time: 10 minutes

Additional Time: 4 hours

Total Time: 4 hours 10 minutes
Ingredients
½ c. blueberries
1 c. strawberries, sliced
1 large orange, sliced*
1 medium ripe peach, sliced
2 c. dry red wine
1 c. freshly squeezed orange juice
2 cinnamon sticks, optional
2 c. sparkling water or club soda
Ice, to serve
Instructions
Add the fruit to a large pitcher and gently muddle with a large wooden spoon to
release the juices.
Add the red wine, orange juice, and cinnamon sticks. Place the pitcher in the
refrigerator to chill for at least 4 hours.
To serve, fill individual glasses with ice and add sparkling water until
half full. Top off with the chilled sangria and fruit and give a quick stir to
combine.
Garnish each glass with an orange wedge before serving. Enjoy!


Nutrition Information:
Yield:
6
Serving Size:
1
Amount Per Serving: Calories: 127Total Fat: 0gSaturated Fat: 0gTrans Fat: 0gUnsaturated Fat: 0gCholesterol: 0mgSodium: 6mgCarbohydrates: 17gFiber: 2gSugar: 11gProtein: 1g

Nutrition is provided as a courtesy. It may not be accurate, and is an estimate only.

See how easy it is to make sangria? You practically can't mess it up. One other secret – it's a great way to use fruit that's either not quite ripe, or slightly past its prime.
Want to Make This Berry Peach Sangria a Non-Alcoholic Mocktail?
So, you want to make this delicious cocktail into a tasty mocktail? No problem! It's actually a really easy swap. Just change out the dry red wine for unsweetened grape juice, at the same rate.