Peter Pan is one of the classic children's fairy tales. We're all familiar with the story, and some of us can probably even relate. Who wants to grow up, anyway? This Tinkerbell DIY Halloween costume is pretty easy to put together.
Maybe your group of friends or your family does themed costumes. Pair Tinkerbell with our Wendy and Peter Pan DIY Halloween costumes, and you've got a great set.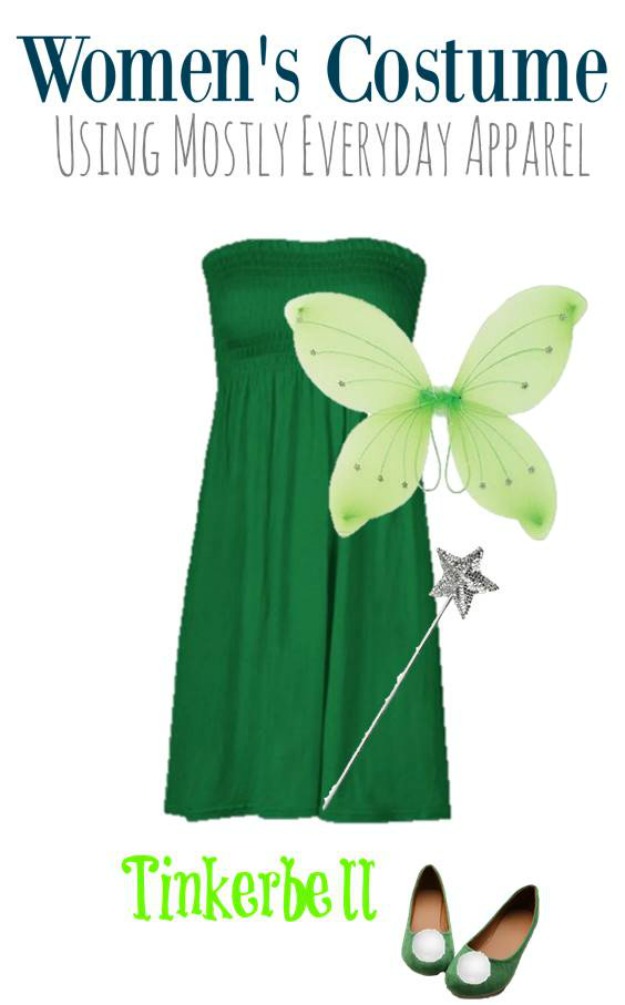 Tinkerbell DIY Halloween Costume for Adults
This post has been updated for 2022! Some items may be slightly different than the pic, but the feel will still be the same.
We're using all items that can either be found in your closet, or added to your wardrobe after Halloween is over. The items featured in this Tinkerbell DIY Halloween costume all come from Amazon. Links may be affiliate links.
GirlsWalk Strapless Beandeau Dress – Everyone knows that Tinkerbell needs a cute little green dress. You might want to pair this with some leggings, depending on your climate and planned activities. This green dress is a great alternative, with a little more coverage. And here's a great plus sized option, too.
Ollio Women's Ballet Flat in Green – This is really a cute shoe. It's simple and classic, and a reasonable price. Available in 15 colors.
Giant White Pom Poms – These are to go on Tinkerbell's shoes. If you don't want to ruin the shoes, or always have white pom poms on them, use some shoe clips. Simply add some hot glue or E6000 to the shoe clip, and smoosh the pom pom down. Let dry, then clip them to your shoes.
Sequined Star Wand – HECK YES! Everyone needs a star wand, and if this Tinkerbell DIY Halloween Costume is your excuse to pick it up, I'm all for it. Oh, and it makes a great addition to the costume. I mean, she does need a way to sprinkle her pixie magic.
Fairy Wings in Green – What kind of fairy doesn't have wings?!?! It's the small details that makes a costume great, and these wings are not so small details. These iridescent wings are really cool looking, too.
It's all the small details that really pull a DIY Halloween costume together. Don't skip over them!
Check out some of our other great DIY Halloween Costumes for Adults, too!