It's currently the middle of September, but I have to tell you – fall is coming. You'll want to look good, and these fashion accessories for fall 2020 are a great way to dress up your wardrobe.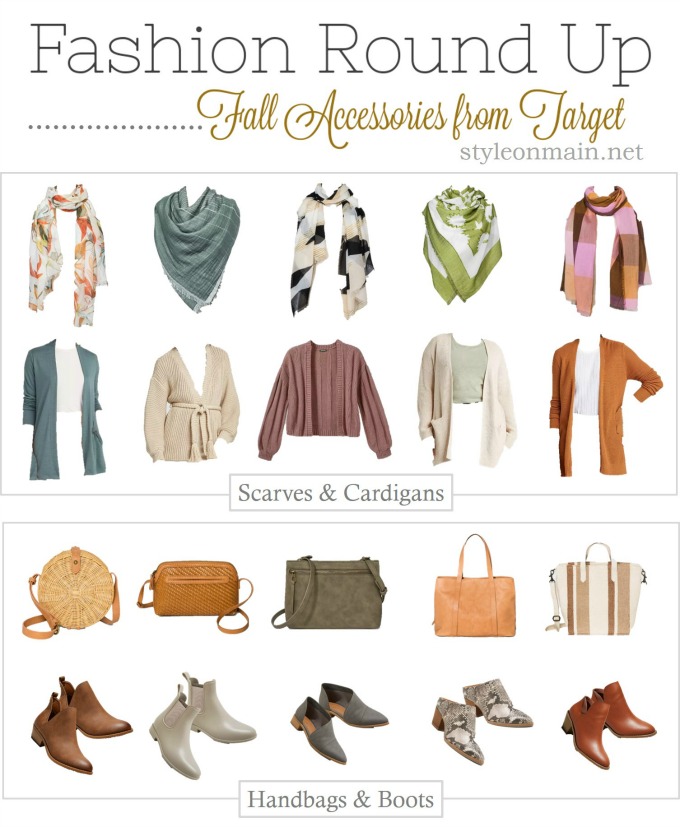 I went outside one day this week, and even though it was hot as Hades, there was definitely a little fall feeling in the air. The leaves will be changing, and it'll be apple picking season before we know it.
We've gathered up some great accessories that are sure to give your wardrobe a little boost, and help it transition from summer to autumn without an issue. These are almost all from Target, so you know they're budget friendly. Plus, you can just add one or two pieces to your order, and no one's ever the wiser. Oh no, I definitely needed that scarf and those shoes from Target. *wink wink*
Links may be commissioned. We'll make a few cents if you purchase through the link.


Fashion Accessories for Fall 2020 from Target
Scarves
1 Orange Floral Oblong Scarf – A great lightweight scarf that easily takes a t short and jeans up a notch or two. Plus, it's made with recycled fibers, so you can feel better about your purchase.
2 Striped Large Square Scarf – A large square scarf with subtle striping that almost looks like topstitching. A great neutral green shade, too.
3 Black abstract striped scarf – You can never go wrong with the classic color combo of black, white, and gold. The abstract stripes on this scarf look great when folded and worn, as it's not too linear. This will take you straight into fall and possibly into winter if you live in a mild climate, or for the office.
4 Green Floral Jacquard Square Scarf – A gorgeous scarf that looks like it's so much more expensive than it is. Pair it with jeans for a great wrap.
5 Pink/Orange Plaid Square Scarf – Very 1970s retro with a totally modern color palette. This 100% cotton scarf has a jacquard weave and will look great paired with everything from denim to a camel coat to a great dress.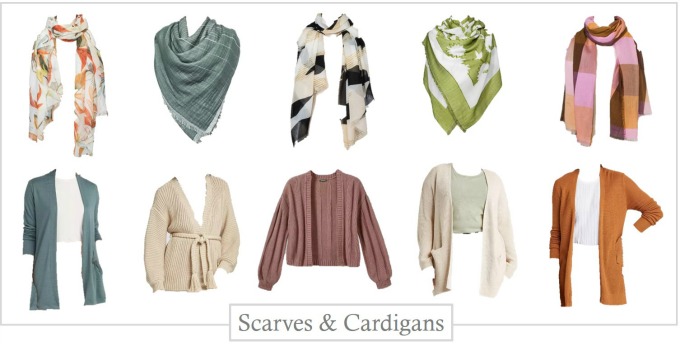 Cardigans
1 Open Neck Cardigan – A long cut cardigan that's open and falls below the hip. It's the perfect casual piece for when you need a little more coverage. It can go dressed up or dressed down. It's also available in a stripe that I'm debating picking up for myself. Here's a similar style available from Kohls.
2 Chunky Cardigan – The Target version is super cute, and also super gone. Womp womp. BUT this version from Old Navy is very similar, and comes in some great colors for fall. It also has a plus sized version.
3 Open Sweater Cardigan – This chunky knit sweater is the perfect layering piece for fall and autumn. It's a little longer than waist length, and has almost a bolero jacket styling. Plus it comes in a ton of colors.
4 Women's Cardigan – This cardigan has almost a cocoon jacket shape. It's oversized and has that boyfriend-type fit and feel. It comes in about 8 colors and in sizes from XS all the way up to 4X. YASSS!!!
5 Open Layer Cardigan – You'll reach for this cardigan again and again. It has a slightly oversized fit, but almost feels like a blazer in the styling, rather than a slouchy feel. The purple shade isone of the ideal fashion accessories for fall 2020.
Handbags
1 Rattan Circle Crossbody Bag – Straw bags have been popular for a while now. This one has a great shape and will look amazing with your fall wardrobe. Plus it has a definite retro vibe that will have people wondering if it's a fantastic vintage find, or a new item.
2 Bolo Zig Zag Woven Multi Compartment Crossbody Bag – Such an upscale look for a small pricetag. Woven leather is having a moment as one of the top fashion accessories for Fall 2020, and lots of the really high end designers are featuring the yellow as one of their hot colors. Get in on the trend at a bargain basement price.
3 Zip Closure Crossbody Bag – This is a small crossbody bag that's ideal for running errands or going out shopping. It's perfect for a trip to the apple orchard when you don't want to lug a big bag. Plus it comes in several colors that are great for fall and autumn. And it's under $20.
4 Triple Compartment Tote Handbag – You always need a tote bag, and this is a great one. Large enough for all your needs, but not so big that you feel like you're dragging your whole life with you. Available in 3 fab colorways, too.
5 Rowan Small Tote Handbag – A great convertible bag that can be a shoulder bag or a handbag. Looks a whole lot more expensive than it is, too. Available in 5 fab fall colorways.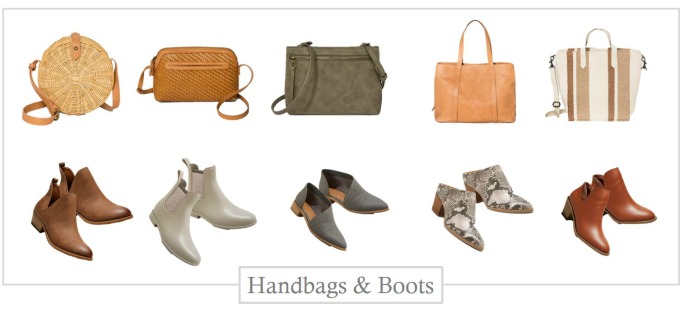 Shoes
1 SO Angelfish Ankle Boots – Sooo…the ones pictured from Target are gone. BUT, these are from Kohl's, and are almost identical. And they're around the same pricepoint with a whole lotta color options. Seriously, these are available in TWELVE colors, prints, and textures. UM HELLO!!
2 Chelsea Rain Boots – A classic rain bootie that belongs in just about everyone's closet. The burgundy shade looks soooo regal and elegant.
3 Wenda Cut Out Bootie – Is it a bootie or is it a flat? It's a little bit of both. The great bootie styling minus the heel and upper. So very wearable with pants, skirts, dresses, and even shorts or leggings. Available in Cognac or Black.
4 Jayden Double Zip Ankle Bootie – This natural/grey snakeskin color is one of the MUST HAVE fashion accessories for Fall 2020. These booties NEED to be in your closet, and at this price, it's a fab way to hop on a trend without breaking the bank. They also come in a fab cognac and basic black version.
5 Emma Ankle Bootie – These are that all purpose bootie that you need in your shoe wardrobe. A low stacked heel and a low upper give you that classic bootie profile without being hard to wear or feeling overdressed. Comes in 4 great colors and patterns.
Aren't these fab fashion accessories for fall 2020? Tell me which is your favorite in the comments!