The weather has turned cooler, and we're bundling up more. You know what that means, right? It's sweater weather baby! Specifically, budget friendly sweaters.

That's right. We're all about the comfy cozy sweaters for fall and winter. Pair them with a pair of great shoes for fall, and you'll be halfway there.
10 Budget Friendly Sweaters for Fall and Winter
These sweaters are all from Amazon. Most, if not all, are available with Prime shipping, too. That means you can be ballin' on a budget, and have your new item in just a couple days. Links may be commissioned.

Budget Friendly Sweaters 1-5
1 Blencot Chunky Cardigan – I am ALL ABOUT a cardigan, and this chunky slouchy version will go everywhere with you. Available in 5 great colors, you'll definitely want to pick up a couple.
2 Farysays Chunky Cableknit Pullover Sweater – This sweater is super on trend. The oversized shape and the oversized cable knit pattern really combine for a unique combo. Add in the cropped length, and you have something totally modern. Available in 9 great colors, too. I'm kinda digging the blue myself.
3 Exlura Turtleneck Sweater – Another great cropped sweater. The seed stitch, combined with the almost rolled hem, makes this one another kicked up basic sweater. It's a great weight for fall, and could be layered for cold weather. Available in 6 autumn perfect colors, and it's under $20.
4 Plaid Pashmina Shawl – This isn't a sweater per se, but it still fits into the category. This shawl is perfect to dress up your basic jeans and tee or leggings and tunic, and still be warm. You can add a belt, drape it, toss it over your shoulder, or wear it like a giant scarf. The possibilities are endless.
5 Long Sleeve Hooded Long Cardigan – This is a basic that you really should have in your closet. It's an updated take on the classic cardigan, and is a piece you'll each for again and again. The hood will help you battle the elements during those windy fall days or surprise sprinkles. And the length is perfect for skinny jeans and leggings. It comes in almost 30 colors and patterns.

Affordable Sweaters 6-10
6 Oversized Turtleneck Colorblocked Sweater – This is a statement sweater at a budget friendly price. I definitely believe in splurging on investment pieces, but this is a one season sweater. However, you're gonna wear it a lot, because it's amazing. Fab colors and the oversized cut make this turtleneck sweater a must have piece for fall that looks really high end. You can't go wrong with any of the 4 color combos, either.
7 Off the Shoulder V Neck Sweater – Super cute sweater that has that lived in look. Pair it with a camisole or bralette for a little peekaboo style. Perfect with jeans and a pair of tall boots or duck boots. 7 great colors that are all fab for fall and winter.
8 Casual Popcorn Chunky Knit Long Cardigan – Much like the cardigan from #1, but in a fun textured yarn. Super cuddly and warm, and a great length. This cardigan sweater is perfect if you work somewhere that's always cold, or you have to walk across campus or from building to building. Available in more than 20 fab colors.
9 Cashmere Blend Oversized Sweater – This sweater has so much going for it. It's oversized and slouchy, has a fab cable knit detailing and is warm and cozy. Oh yeah, and it's a wool/cashmere blend for less than $50. Oh yeah! One caveat – this is a one size fits most, so there's no adjusting for the fit. Comes in a ton of colors, too.
10 Chunky Cable Knit Cardigan Sweater – Such a cute cardigan. Oversized, but not sloppy, and the chunky cables really add a lot of look to this affordable sweater. There's no buttons on this style, but there's a similar style available at the same link that does have buttons. This is the kind of sweater that you'll reach for again and again. Available in 7 colors. Personally, I'm digging the grey.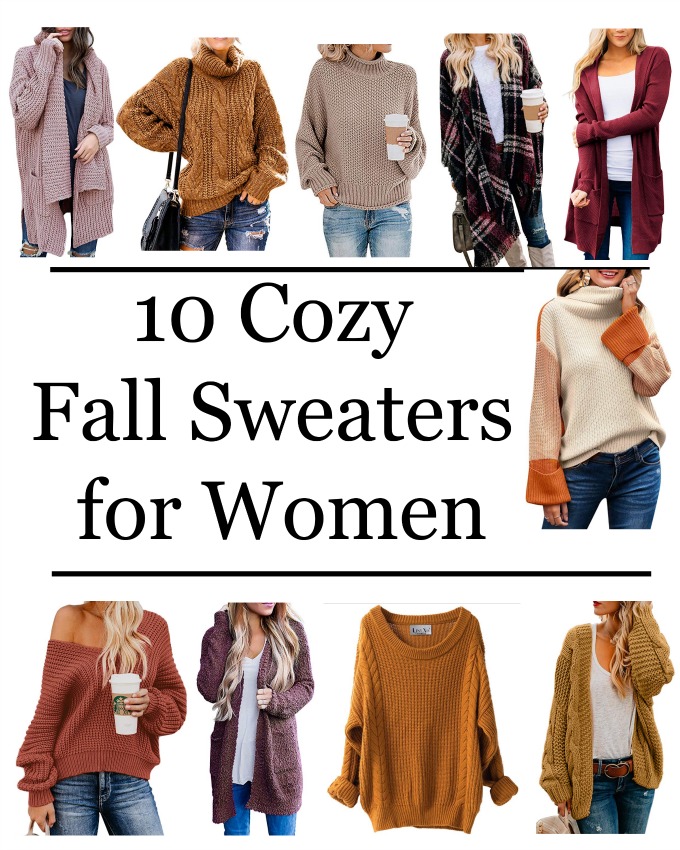 Aren't these affordable sweaters amazing? The best part is that they're all under $50, and as of this writing, all under $40. Several were around $30, which makes these budget friendly sweaters total steals. They're also different that what you'll probably find locally, so the chances of having the same thing as your co-worker or a friend is drastically reduced.
Tell me – which of these affordable sweaters is your favorite? And which one of these budget friendly sweaters would you never wear??