As the scorching sun graces us with its presence, it's time to elevate your summer gatherings with delicious and refreshing drinks and dishes.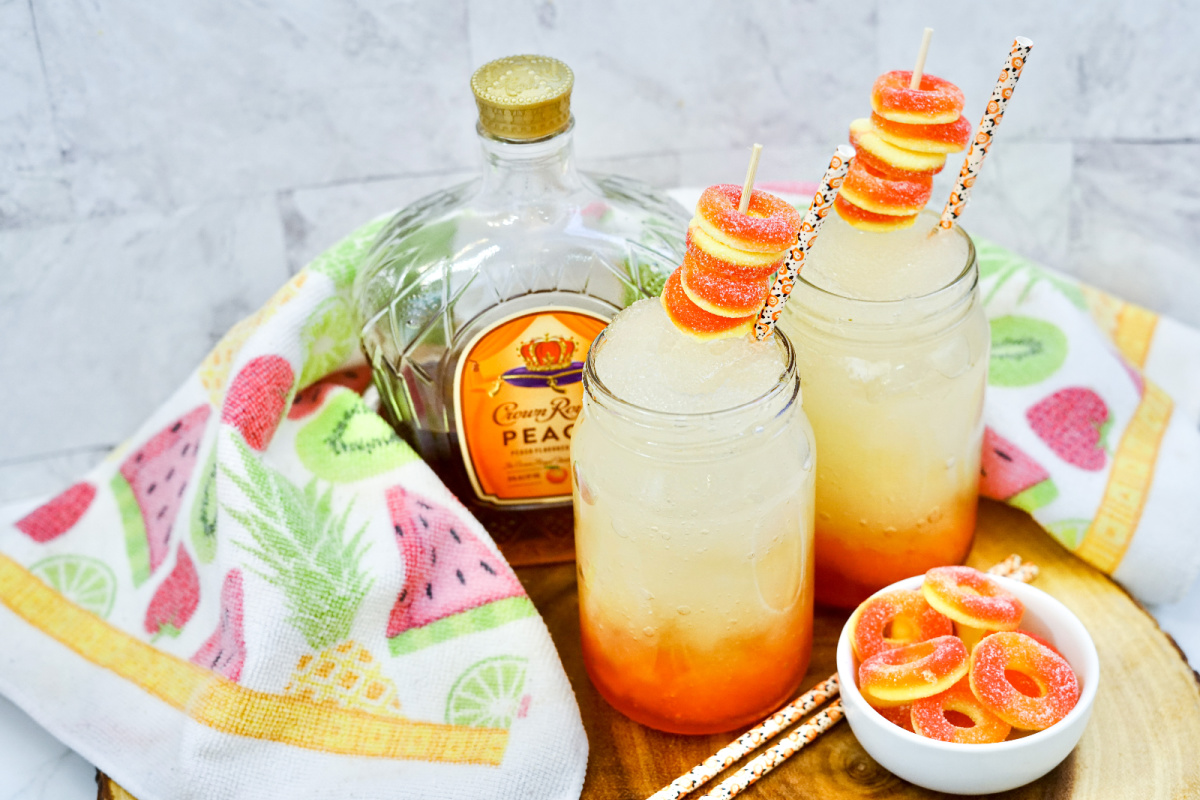 What better way to beat the heat than with a delightful cocktail like a Crown Royal Peach Slush? We'll guide you through the steps to create this fruity and frosty concoction, along with a few fantastic food and drink pairing suggestions. So, grab your shades and let's dive into a summer of sipping and savoring!
Links may be commissioned.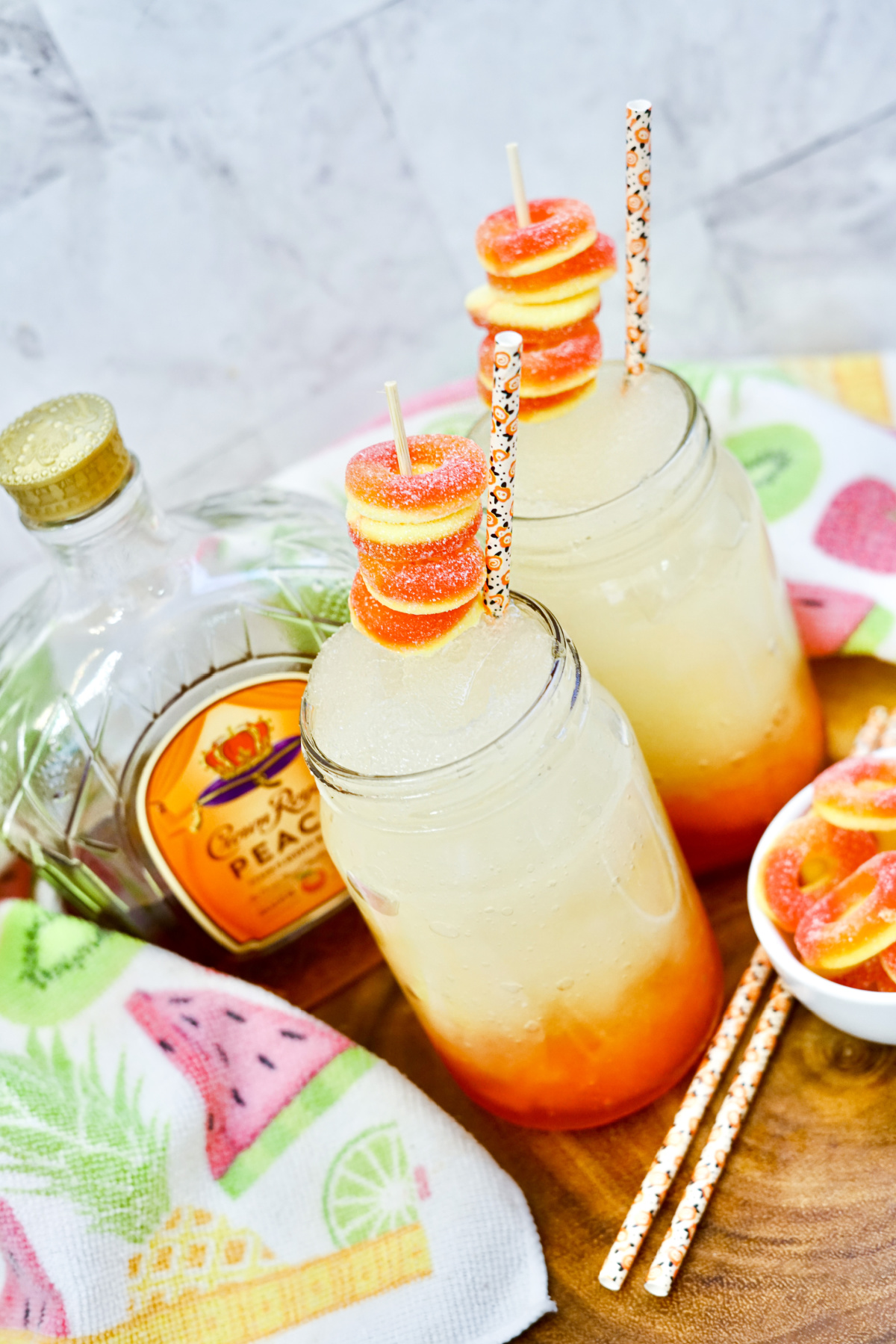 Crown Royal Peach Slush Recipe
First things first, let's talk about the star of the show – the Crown Royal Peach Slush! This refreshing beverage combines the smoothness of Crown Peach whiskey with the sweetness of Peach Punch and a touch of grenadine for that irresistible allure. The best part? It's super easy to make!
Here's what you'll need:
2 oz Crown Royal Peach (Crown Royal Peach flavored whiskey)
2 oz Peach Nectar (any peach-flavored beverage or juice will do)
1 Tbs Grenadine (for that lovely layered effect)
1 Cup Ice (because summer calls for icy goodness)
Gummy Peach Rings (for a stylish garnish)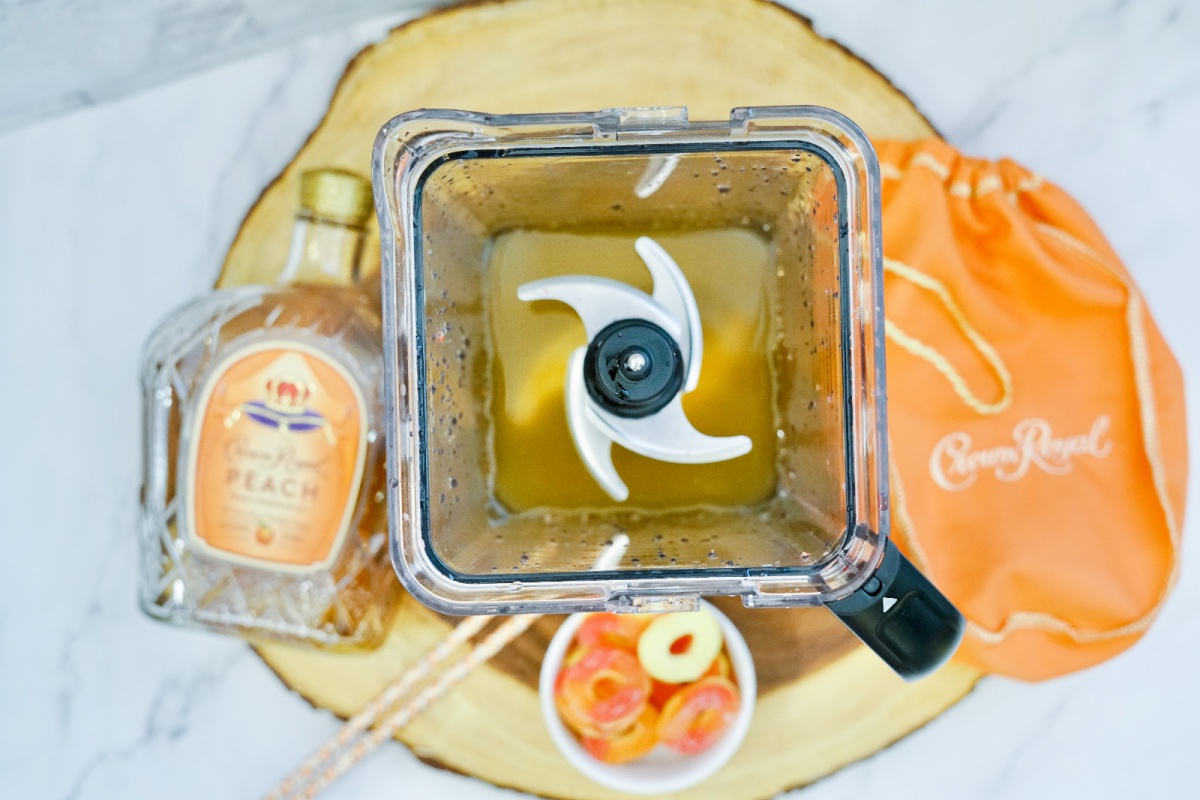 Directions:
Toss the Crown Royal Peach and Peach Nectar into a blender, just like old pals reuniting for summer fun.
Add the ice, like tiny icebergs bobbing in a sea of peachy goodness.
Blend away until you achieve a smooth and slushy texture – think of it as your summer oasis in a glass.
Take a separate glass and pour in that tempting grenadine, it's like a secret layer of sunset hues waiting for your sipping pleasure.
Now, carefully pour the blended Crown Peach mixture into the glass over the grenadine, creating a magical sunset effect.
Top it all off with a few gummy peach rings – the crown jewels of your cocktail kingdom.
Add a straw or two. Raise your glass, say cheers to summer, and let the sipping commence!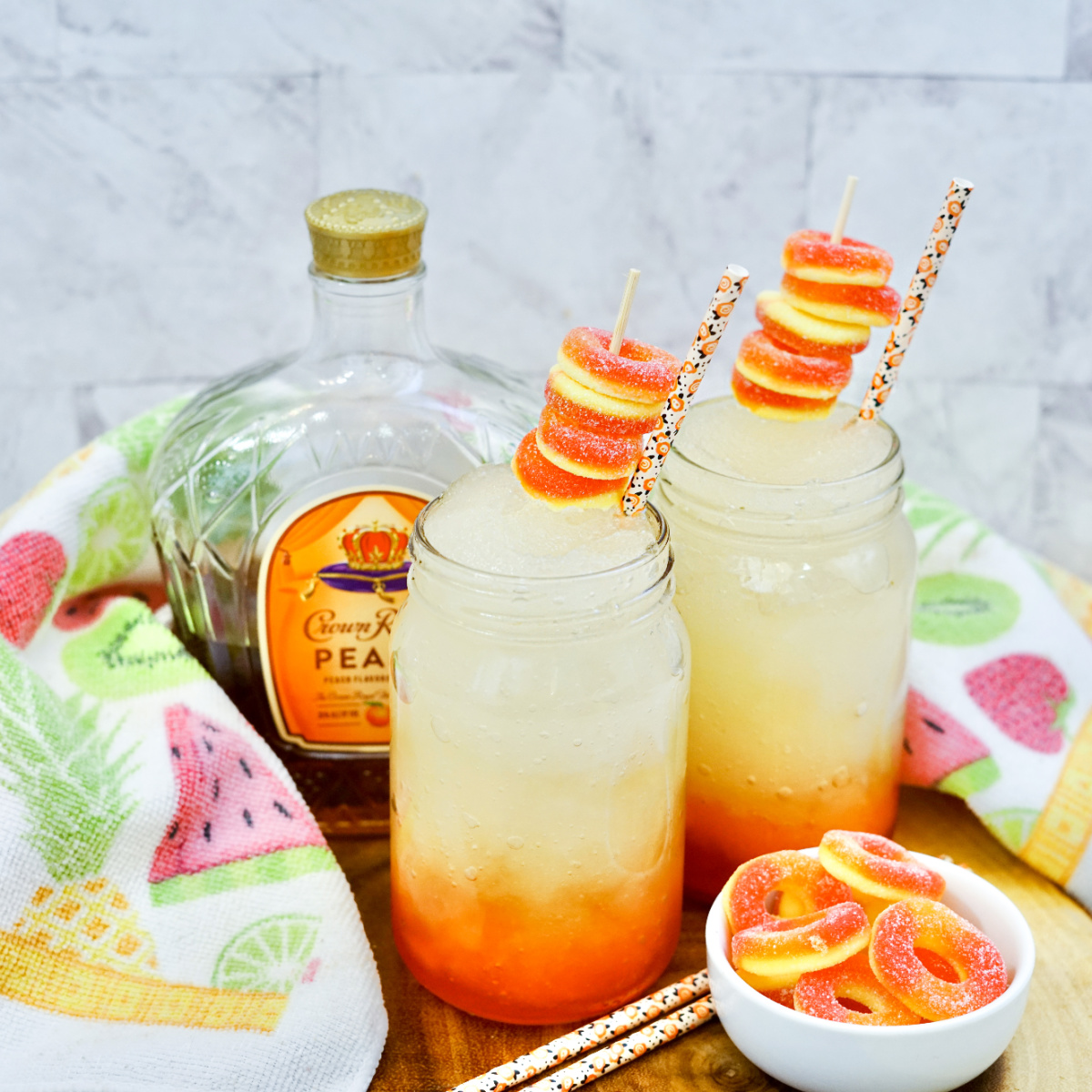 Additional Refreshing Recipes
But wait, there's more! We've got a treasure trove of mouthwatering recipes that'll keep your taste buds dancing all summer long: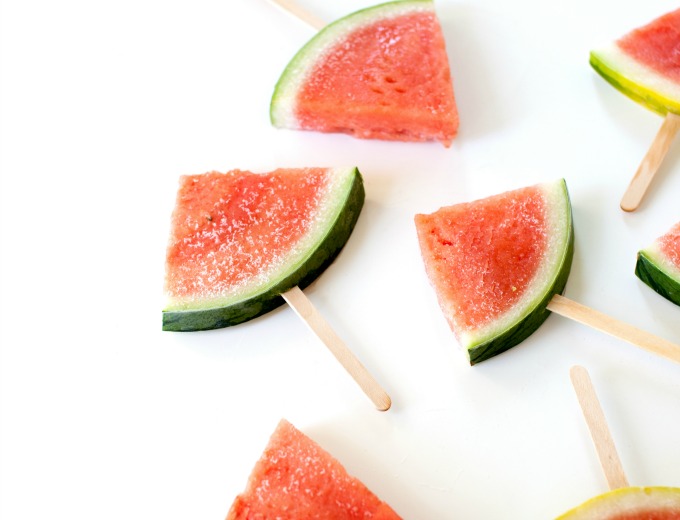 Frozen Watermelon Margarita Slices: Imagine a fiesta on your taste buds! The Frozen Watermelon Margarita's juicy sweetness is a perfect adult treat for those hot summer days. They make a great complement to the Crown Royal Peach Slush cocktails.
Pineapple Coconut Mojito with Tropical Fruit Skewers: Sip, savor, and sway! The Pineapple Coconut Mojito brings the beach vibes, and when paired with Tropical Fruit Skewers, you've got a match made in summer heaven.
Grilled Shrimp Tacos: Dive into the deliciousness of Grilled Shrimp Tacos with a side of Peach Salsa. The smoky shrimp and the juicy sweetness of peach salsa create a fiesta of flavors in your mouth.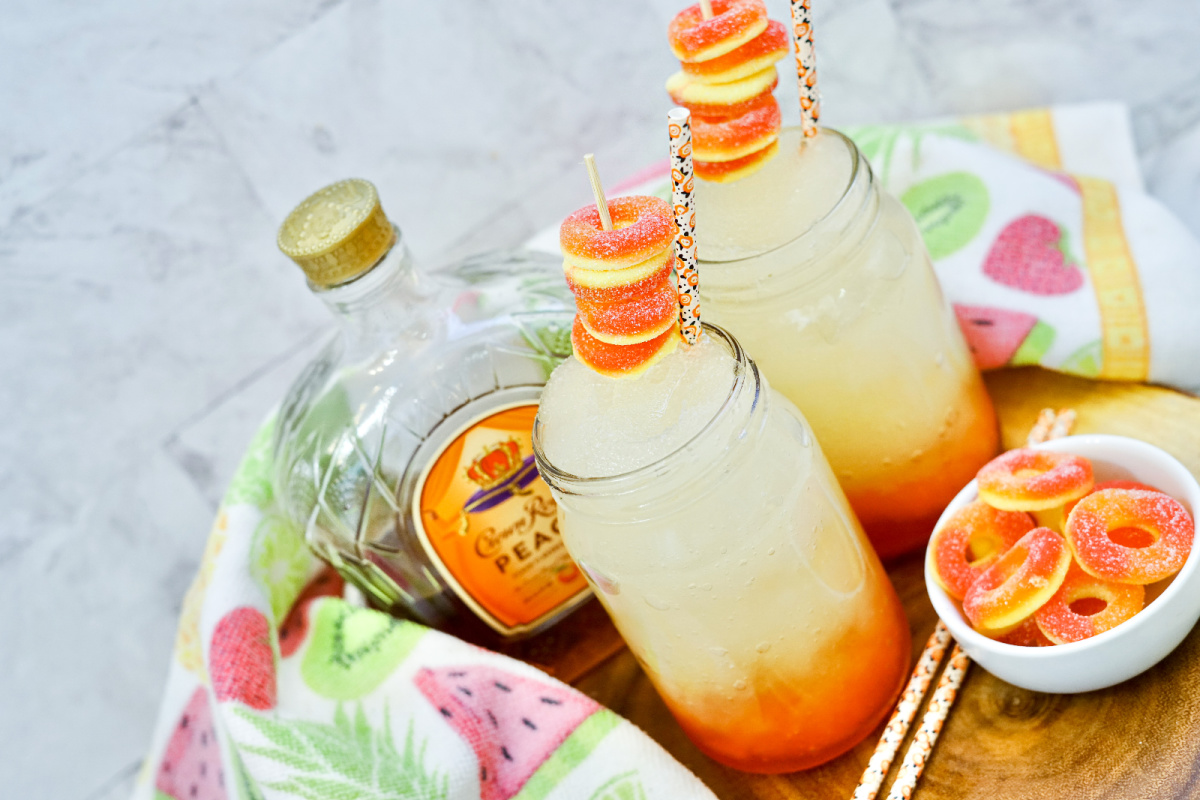 Why You Need These Items:
Now, we can't let you embark on your summer culinary journey without the right gear!
Crown Royal Peach Whiskey: Because every summer needs a signature cocktail! Crown Royal Peach whiskey is the heart and soul of the Crown Royal Peach Slush, bringing that delicious peach flavor to the party.
Blender: You need this magical machine to create the perfect slushy texture for your Crown Royal Peach Slush. No blender, no slush – it's as simple as that!
Margarita Glasses: Why settle for any glass when you can enjoy your Margarita in style? Margarita glasses add a touch of sophistication and fun to your summer sipping experience.
Gummy Peach Rings: These are great for accents on this Crown Peach Slush. Plus, they're just tasty to eat, too!
There you have it – a summer filled with refreshing sips and delicious bites! From the Crown Royal Peach Slush to the tantalizing food and drink pairings, your taste buds are in for a treat. With the right ingredients and equipment, you're all set to become the summer cocktail connoisseur and the grill master at your next gathering.
Cheers to sunny days, good company, and a summer full of flavorful adventures! Enjoy responsibly, and let the summertime festivities begin