Press Sample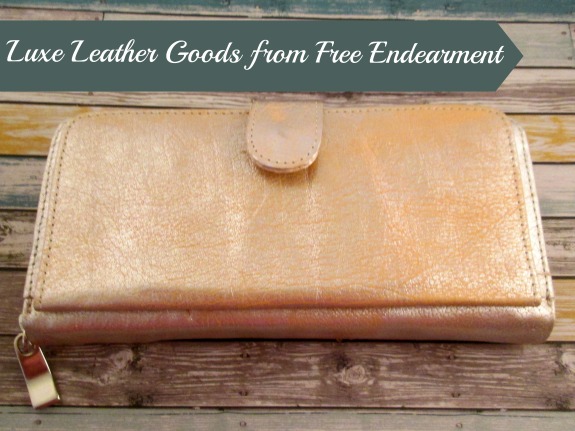 I have to admit it – I'm the kind of person that loves to splurge on little things.  While I don't generally go all out, and I stick to a definite budget, there are a few places that the budget is quite a bit larger than others.  What are those splurges, you ask- shoes, makeup (because I'm a junkie!), and wallets & bags.
Why do I splurge on shoes and bags?  Is it just the typical girl thing?  NO!  Well, not in my case at least.  I find that pricier items are generally higher quality and they're a better investment.  There are several smaller, boutique brands that are really putting out quality items.  One of these brands is Free Endearment.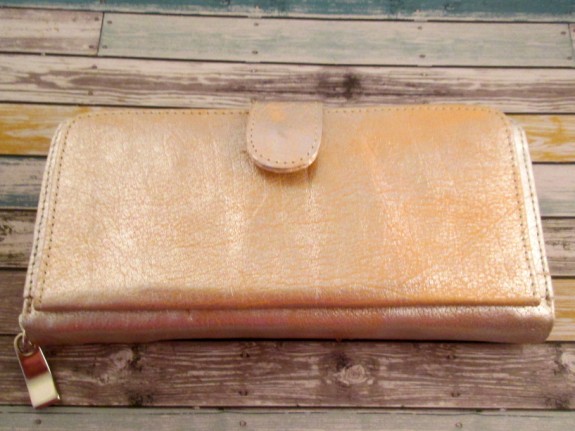 The Erin wallet from Free Endearment is a perfect example.  The first thing you notice is the gorgeous leather.  It's sort of a subtle tan-orange shade that has a fantastic metallic platinum finish.  It's really quite gorgeous.  And it smells good!  Of course, I love the smell of leather, so that may be a feature that only I care about!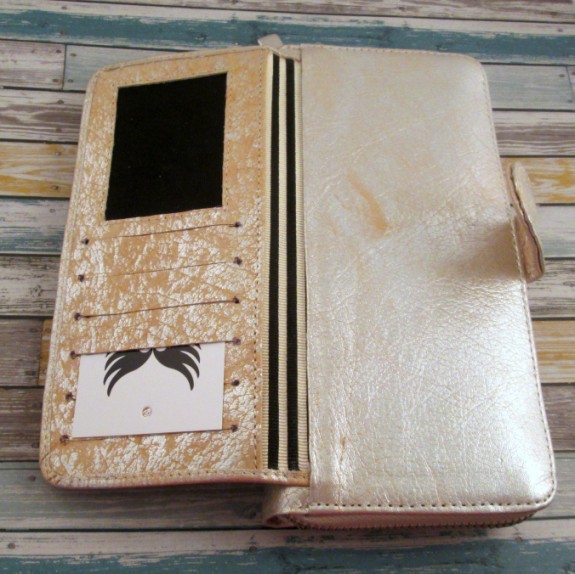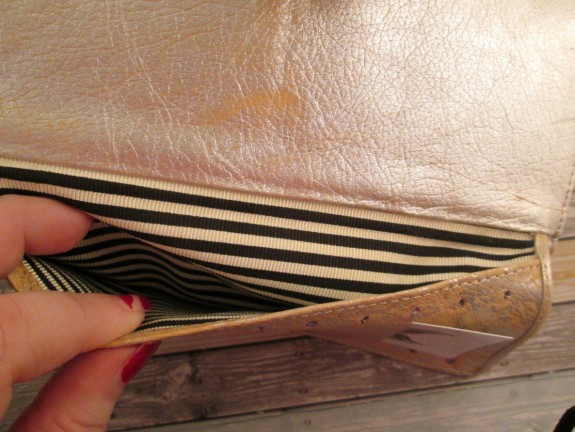 There's an outside flap that has a magnetic snap for those things you need easy access to.  There's 5 slots for your debit card, a credit card, some business cards, and your ID.  This flap also includes a pocket that's perfect for you to stash a couple bucks.  I don't know about your office, but we have snacks we can buy, and it's great to not have to dig out all your money when you want something.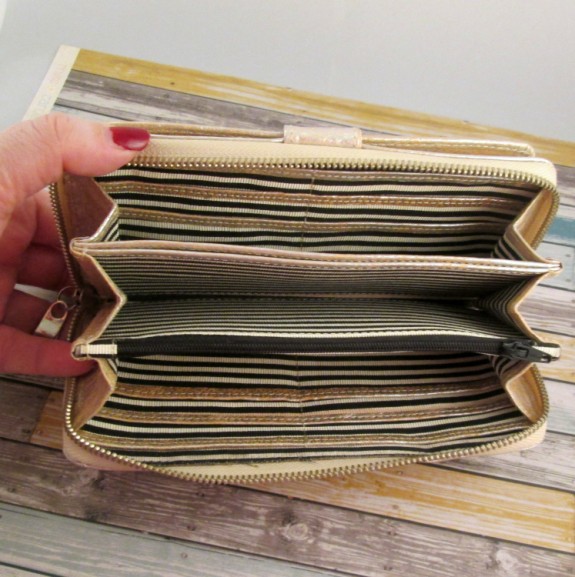 The Erin wallet also has  a fabulous zippered section.  There are 4 pockets that you can use to organize your goodies.  Keep your dollar bills in one, receipts in another.   I mean, I know I always have receipts that I need to keep track of. I like to keep them together so I can file them appropriately later.   Heck, there's even a zippered pocket for your change.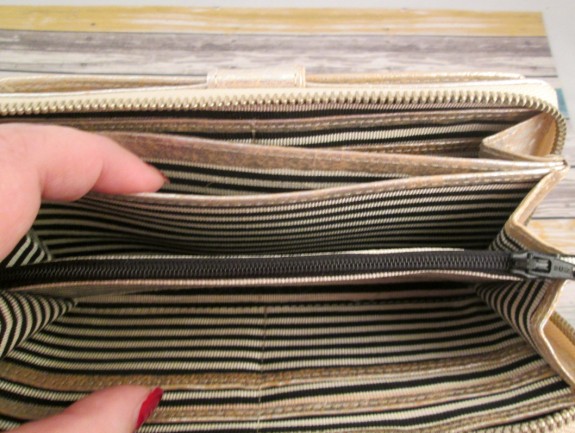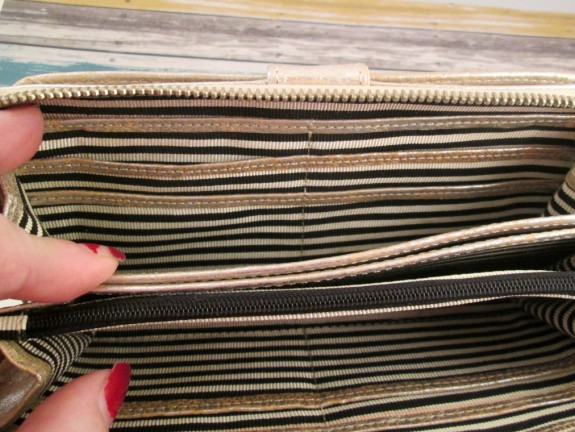 As if that wasn't enough, there are an additional 12 pockets to keep the various cards you need.  You know, the random frequent shopper cards, your gift cards, and the various things like that.  Now, you have room for all of them!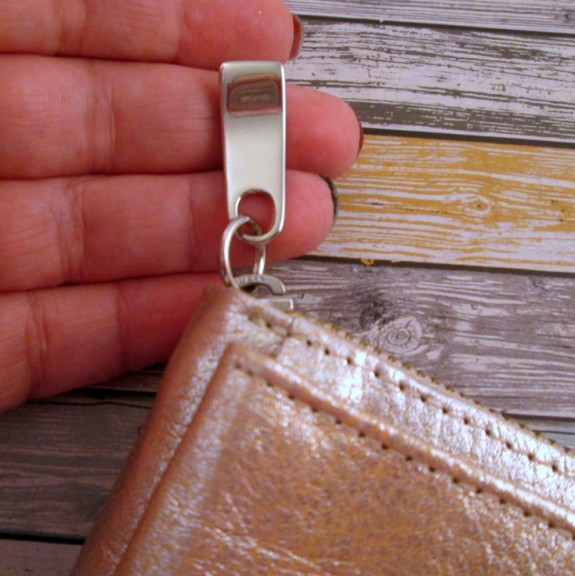 The zipper is a perfect weight and opens and closes so smoothly.  If you've ever had a wallet with a junk zipper, you know where I'm coming from! And the zipper pull just fits perfectly in your hand.  I know this sounds  weird, but it's those tiny little things that make items luxe.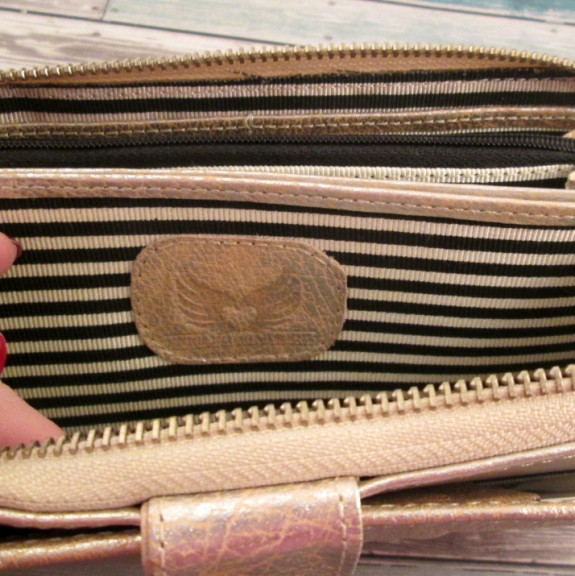 One other feature that I adore about the Free Endearment Erin wallet is the striped lining.  I'm a sucker for stripes. So you had me there. The striped lining coordinates beautifully with the striped dust bag. All in all, The Erin wallet from Free Endearment is a gorgeous piece.
While others are fighting over the larger, name brand status symbol bags, I'll be over here enjoying  the quality-made goods from brands like Free Endearment.