This Coco Peppermint DIY Foot Balm recipe will treat your feet like never before.  It makes a great gift, too.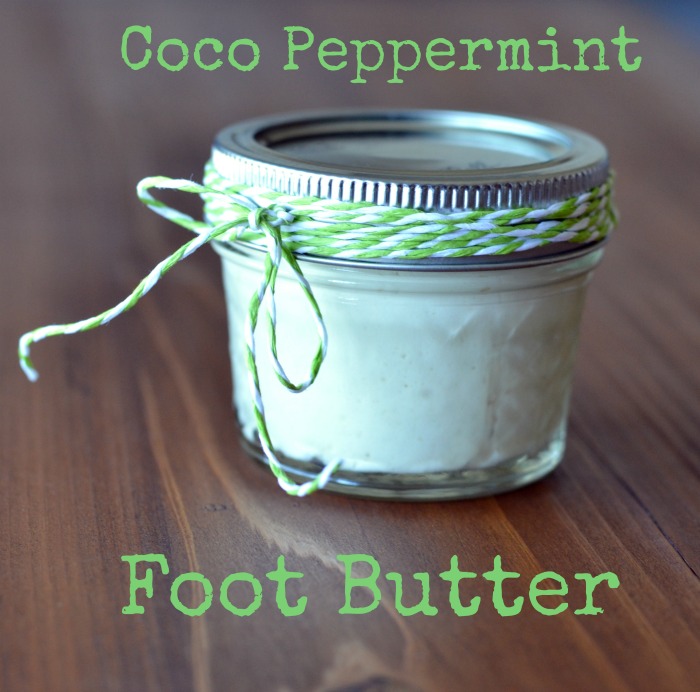 Winter really plays heck with your feet.  They're always cold, and they feel like ice cubes.  They're trudging through snow and ice and those frigid water puddles.  Not to mention pounding that pavement or the sidewalks that feel extra hard this time of year.  Don't your feet deserve a little TLC?
This Coco Peppermint Foot Balm recipe will fix your feet right up.  Moisturizing and invigorating to make your tootsies feel amazing.  Factor in the combination of coconut oil, shea butter, and peppermint, and your feet won't know what hit them with this foot balm recipe.
Coco Peppermint Foot Balm Recipe
Ingredients
Links may be commissioned. Purchasing through them helps support our site at no additional cost to you.
2 Tbsp Nutiva Organic Coconut Oil
5 Tbsp Shea Butter
40 drops Peppermint Essential Oil
Directions
1. In a double boiler over low heat, gently warm the coconut oil and shea
butter. Be careful not to melt the oil and butter – heat just enough to
blend easily. Once incorporated, transfer the oil and butter mixture to a
bowl.
2. Using an electric mixer, blend the coconut oil and butter on low to
medium speed until well incorporated, 1-2 minutes. Use a spatula to scrape
down the sides of the bowl and avoid having any clumps in the final product.
3. Increase the speed to medium for several minutes until the mixture is
thick and buttery. Continue to incorporate the ingredients by scraping the
sides of the bowl with a spatula.
4. Add the essential oil and blend to incorporate. The whole mixing process
should take 5 to 6 minutes.
Yields 4oz. Transfer to a container like a wide-mouth canning jar for easy
scooping.
The peppermint oil gives this foot balm recipe a wonderful, tingling sensation for tired feet. You can also substitute lavender essential oil for a foot balm recipe with a calming effect.