Since probably November, I have been on a makeup buying bender. Seriously, it's bad. One of the items that I've purchased has been the Lorac Party Palette. It is a limited edition, and available only at Ulta.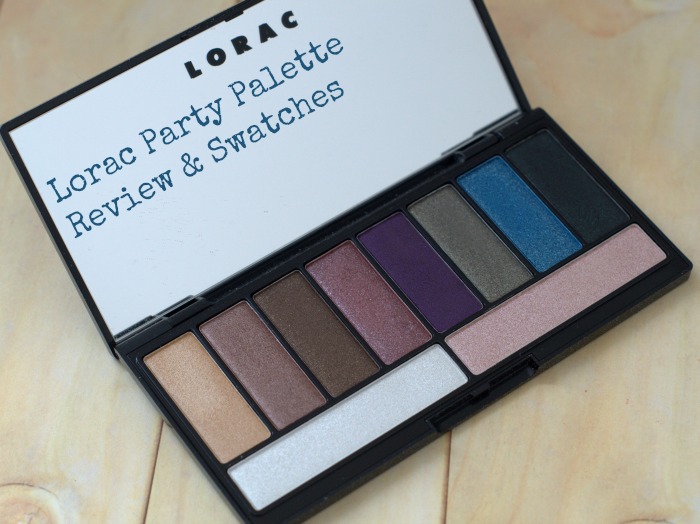 Anyway, the Lorac Party eye shadow palette has 8 great shades of eye shadow, along with two highlighters. These colors don't really have names – just color descriptions: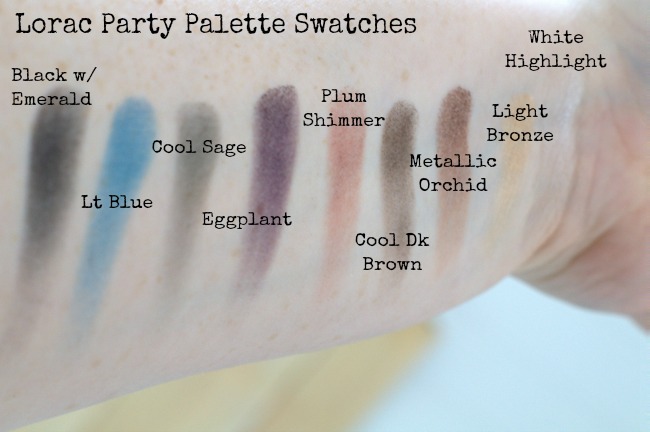 Lorac Party Palette Descriptions
Light Bronze Shimmer – A gorgeous golden shade
Metallic Orchid Shimmer – Orchid? No. Warm coppery bronze? Absolutely.
Cool Dark Brown Shimmer – Like dark chocolate with coppery shimmer.
Plum Shimmer – A neutral pinky-brown shade with purple undertones. More like the flesh of a plum than the outer color.
Deep Purple Shimmer – Beautiful eggplant shade. Not super shimmery, but not matte, either.
Cool Sage Shimmer – More of a mousey brown going into pewter. A little metallic-y, but not green at all.
Light Blue Shimmer – Really more of a turquoise shade with micaesque shimmer rather than glitter shimmer.
Black with Emerald Sparkle – Matte black with emerald glitter-esque sparkles.
White Shimmer Highlighter – shimmery white, just like the name says. Very pretty
Light Pale Pink Shimmer – Love this! It's a little more subtle and gives that "Is she or isn't she?" look.
The palette is broken down into two quads. One with the neutral shades, and one with the colorful shades.
The eye shadows are a little difficult to work with. They really apply best with a finger, which is okay, but is more difficult to get precise. Many people complained of fallout, but I didn't really notice that too much. Or maybe I'm just a total mess. Either is possible. 😉
The Lorac Party Palette doesn't have quite the same creamy texture as the regular Lorac palettes, either. While they're decent quality, the shadows aren't what you think of when you hear the name "Lorac."
Would I recommend this palette? Ehhh…it depends.  Do you like shimmers?  Then consider this palette.  There are other palettes out there that may be better options and are in the same general price range.  $24, at Ulta.