Halloween is just around the corner, and what better way to celebrate than with a chilling cocktail that perfectly embodies the spirit of the season?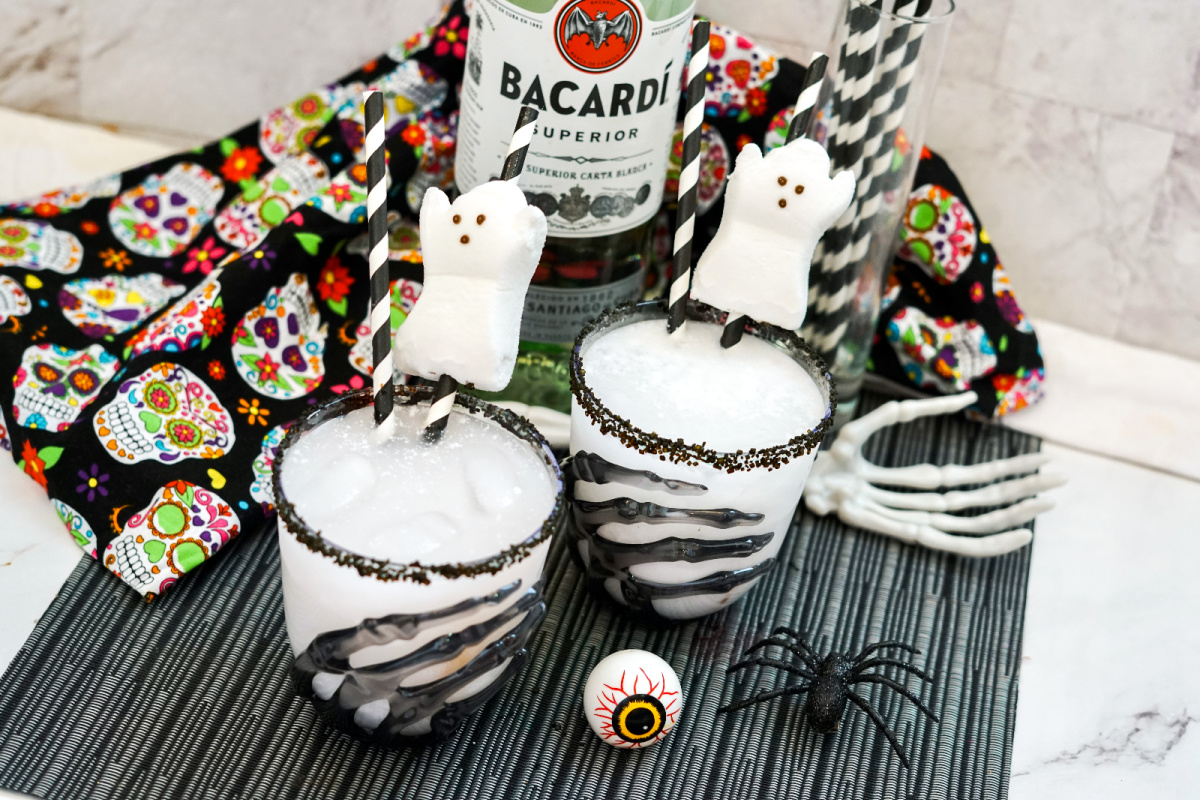 The Drunk Ghost Cocktail is not only hauntingly delicious but also visually captivating. As you gear up for your Halloween festivities, follow this simple recipe to concoct a potion that will spook and satisfy your guests.
Links may be commissioned.
The Drunk Ghost Cocktail, with its blend of Bacardi Rum, pineapple juice, and coconut, has the flavors of a classic pina colada, with a slightly spooky twist. Plus, we've gathered a list of items you might need to make your Halloween party planning a breeze.
Drunk Ghost Cocktail Recipe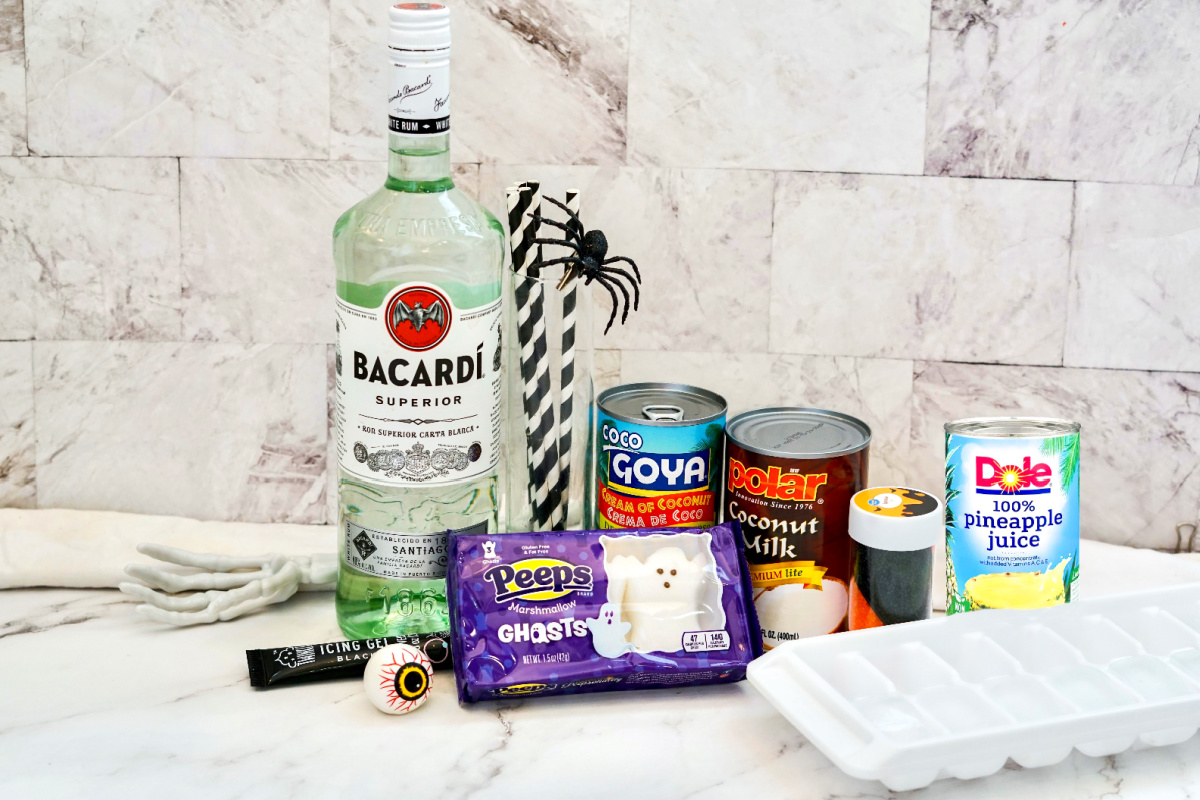 Ingredients:
2 oz Bacardi Rum or other light rum
2 oz Pineapple Juice
1 oz Coconut Milk
1 oz Creme of Coconut
Black Sugar Sprinkles
Black Icing
Ice Cubes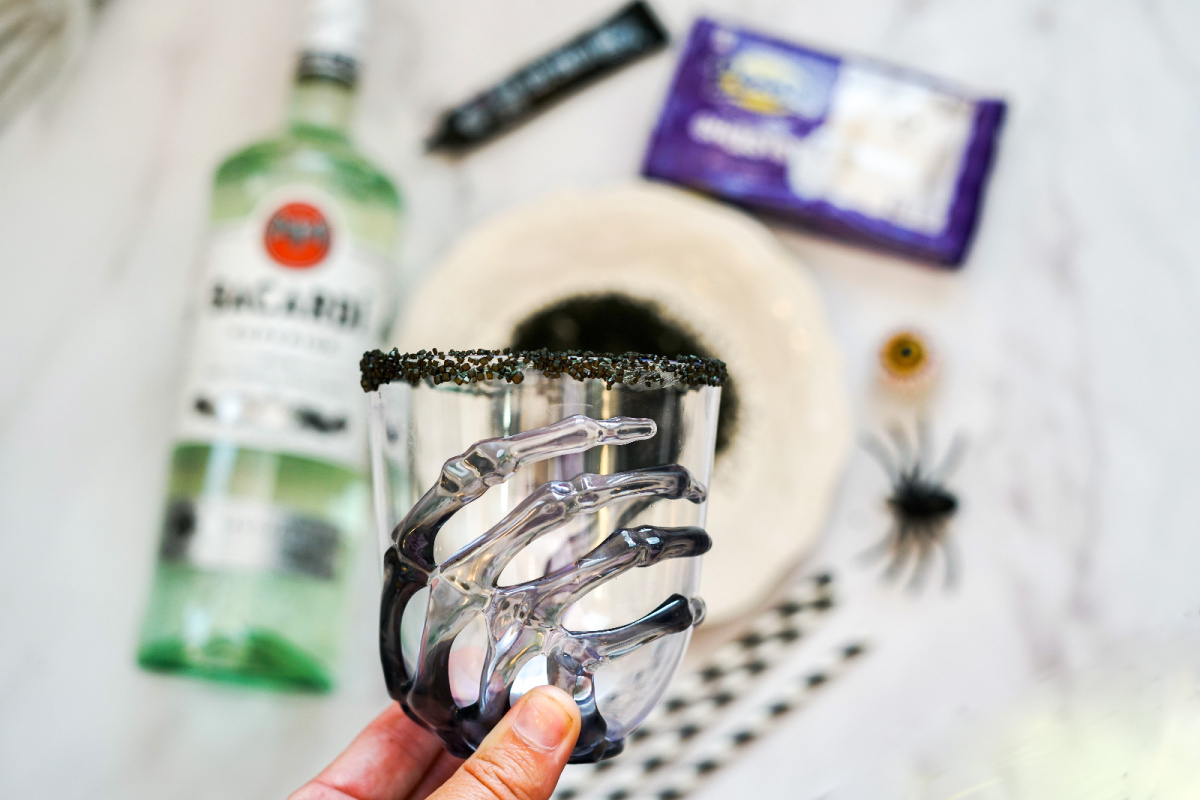 Instructions:
Prepare the Glass: Start by rimming a glass with black icing and then dipping it into black sugar sprinkles. This simple step adds a touch of darkness to your drink.
Mix the Liquids: Fill the glass with ice cubes. Pour in 2 oz of Bacardi Rum, 2 oz of pineapple juice, 1 oz of coconut milk, and 1 oz of creme of coconut. Give it a quick stir with a black paper straw.
Ghostly Garnish: Top off your cocktail with a Ghost Peep, letting it float on the surface. This not only adds a spooky vibe but also a marshmallowy sweetness to balance the flavors.
Final Touch: For an extra eerie effect, drizzle some black icing over the Ghost Peep or sprinkle a few more black sugar sprinkles. It's all about the presentation!
Serve and Sip: Your Drunk Ghost Cocktail is ready to be enjoyed. No elaborate rituals, just a simple and delicious drink that's sure to be a hit at your Halloween gathering. Cheers to a spook-tacular night of sipping and celebrating!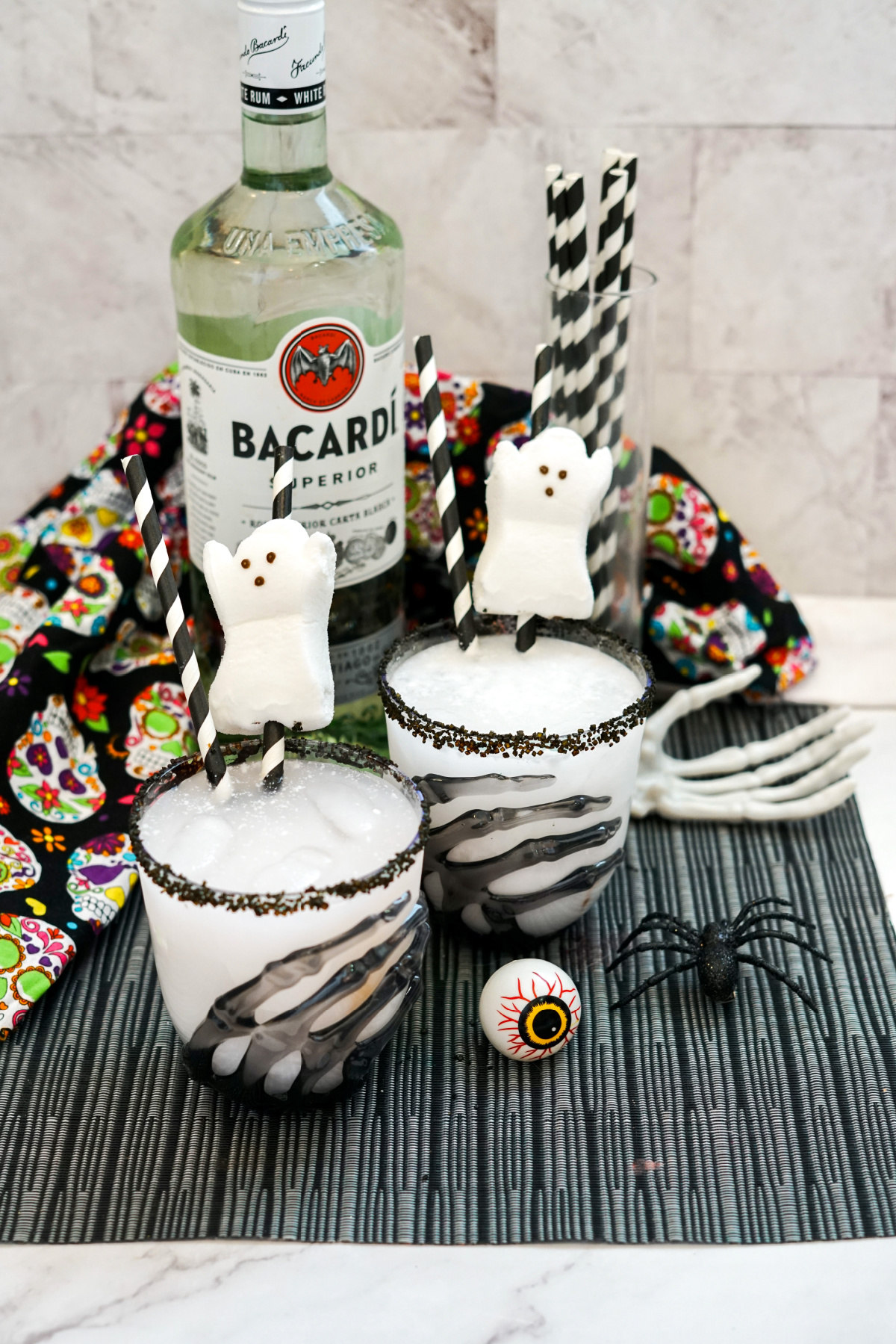 Helpful Hints
Personalize Your Cocktail: Feel free to adjust the ingredient proportions based on your taste preferences. If you prefer a stronger kick, add a bit more Bacardi Rum. If you love the tropical sweetness, increase the pineapple juice.
Make it a Mocktail: If you want a non-alcoholic version, simply omit the Bacardi Rum. The mix of pineapple juice, coconut milk, and creme of coconut still creates a delicious and creamy mocktail that everyone can enjoy.
Prep in Advance: You can prepare the black icing and rim the glasses with black sugar sprinkles in advance. This saves time and makes serving your guests quick and easy.
Ghost Peep Variations: If you can't find Ghost Peeps, you can use regular marshmallows or other Halloween-themed marshmallow shapes. Alternatively, you can make your own ghost-shaped marshmallows using a simple mold.
Presentation Is Key: The visual appeal of this cocktail is part of its charm. Take your time with the presentation, and don't hesitate to get creative. The more eerie and ghostly it looks, the more fun your guests will have with it.
Stay Safe: Lastly, always drink responsibly. If you're hosting a party, make sure your guests have safe transportation options if they've been indulging in spirits.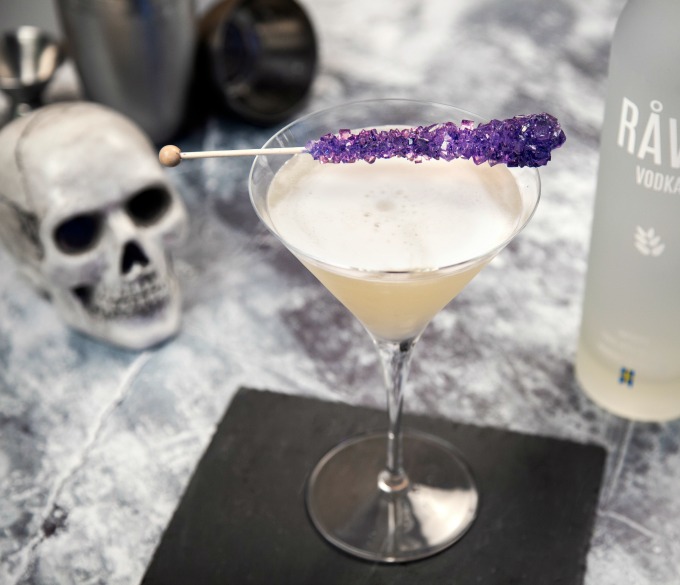 More Halloween Cocktails
Eyeball Jello Shots – Halloween themed jello shots? Oh heck yes!
Day of the Dead Margaritas – A collection of vividly colored margaritas that are fruity flavored.
Spirited Specter – A delicious lemon vodka spritzer
Spooky Vampire's Bubbly – A fizzy gin-based cocktail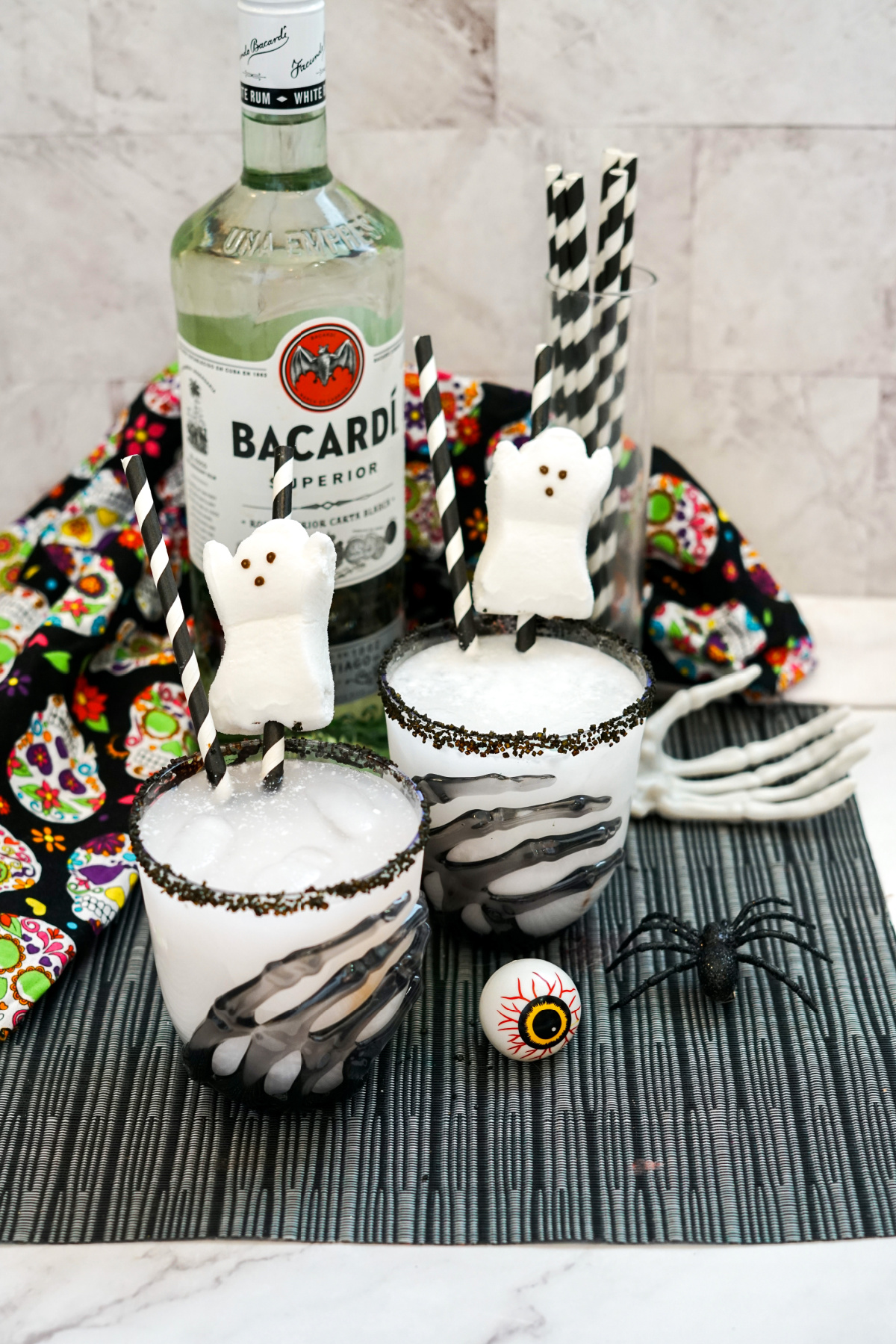 Items You Might Need
Cocktail Glasses: How fun are these Dancing Skeleton glasses? If you're having a lot of people over, something like these disposable wine glasses are kind of fun and elegant, and they can be tossed at the end of the day…errr night.
Bacardi Rum: Get your Bacardi Rum online for the perfect base for your spooky cocktail.
Ghost Peeps: Add a playful touch to your drinks with ghost-shaped Peeps or other Halloween-themed marshmallows.
Cocktail Stirrers: Stir up the fun with Halloween-themed cocktail stirrers or glittery swizzle sticks.
Ice Cube Trays: Create spooky ice cubes with Halloween-themed ice cube trays, like these skull shaped ones.
Cocktail Recipe Books: Explore more spooky drink ideas with this Witches Brew cocktail recipe book. It's more magickal and mystical than pumpkins and bats, but has some really creative cocktail ideas.
Home Bar Accessories: Upgrade your home bar setup with essentials like shakers, strainers, and muddlers.For something fun try these decorative cocktail shakers.