Halloween is one of the biggest entertaining events of the year, and it's rapidly approaching. If you're hosting a party, you'll want to have a great cocktail, like the Vampire's Bubbly.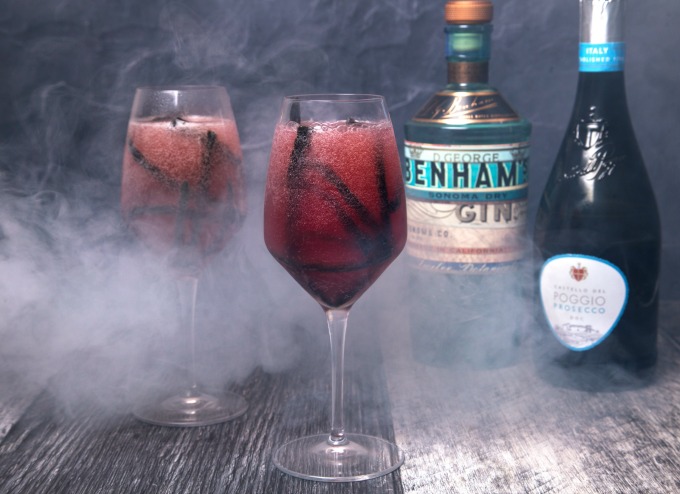 This is really showy, and will definitely impress your guests. They don't have to know how easy the Vampire's Bubbly cocktail really is.
The unexpected combination of prosecco and gin really works together well. Prosecco is a sparkling wine that lightens up the other flavors. The botanicals of the gin pairs well with the anise of the licorice, and it looks sooo cool! Add in a little grenadine for sweetness and and the bloody factor, and this Halloween cocktail feels really festive, yet tastes so grown up.
Vampire's Bubbly Cocktail Recipe
This drink is built in the glass, so you don't even need a cocktail shaker. WHOA! You will need some licorice and a wine glass though. And a bar spoon.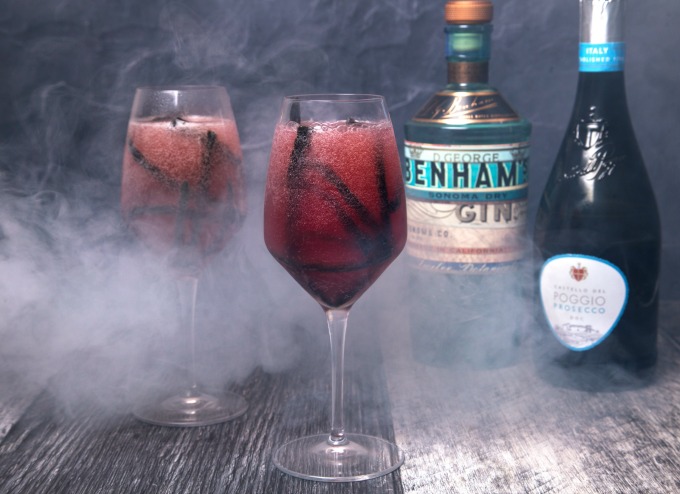 Yield: 1
Spooky Vampire's Bubbly Cocktail for Halloween
Prep Time: 2 minutes

Cook Time: 1 minute

Total Time: 3 minutes

A spooky gin based cocktail that's perfect for Halloween
Ingredients
3 oz. Benham's Gin
1/2 oz. lemon juice
1 tsp. grenadine
Castello del Poggio Prosecco
Black Licorice
Instructions
Place a couple pieces of licorice and 1-2 ice cubes to a wine glass.
Add the gin, lemon juice, and grenadine.
Top with prosecco.

See how easy that is? It takes basically no bartending skills, which is great for the home entertainer. To really up the ambiance, add some dry ice to your table for the smoky effect.
Planning of doing some Halloween entertaining? Check out our other Halloween cocktails, too!