With the spooky season all about parties and spirited fun, your fashion should be just as much fun as the holiday. While Halloween may be one night, it truly has become a celebration of the whole month of October.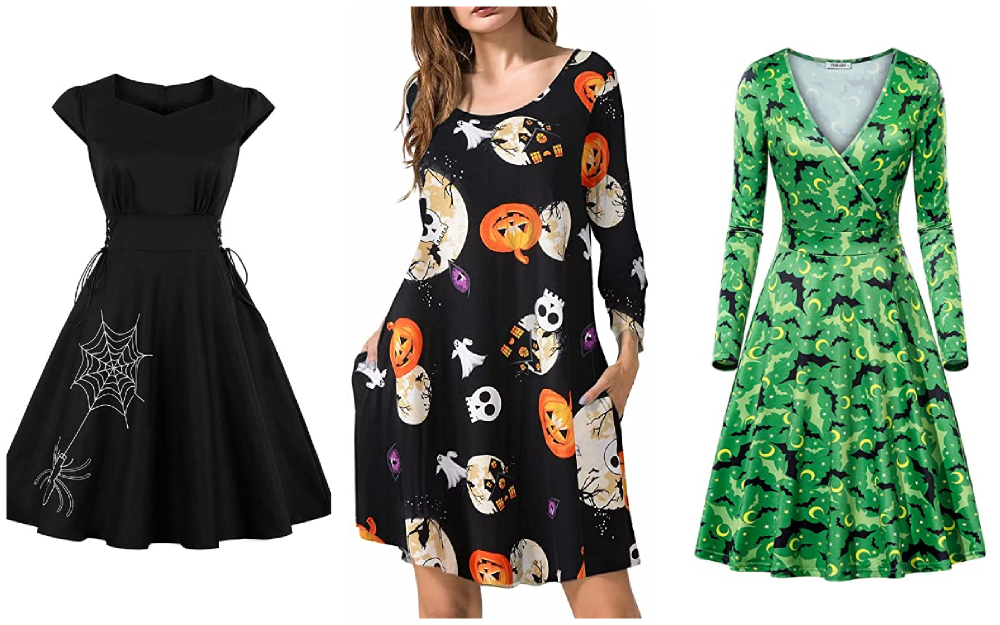 If you are lucky enough to not have a strict dress code at work, these Halloween dresses are perfect for your work fashion. As a bonus, they can double over to head straight to any party you have on your agenda. Not into costumes? These fab Halloween dresses are also a great way to share in the fun of all things Halloween without having to dress up in a costume.
10 Fabulous Halloween Dresses
Links may be commissioned. We'll make a very small percentage if you purchase though a link.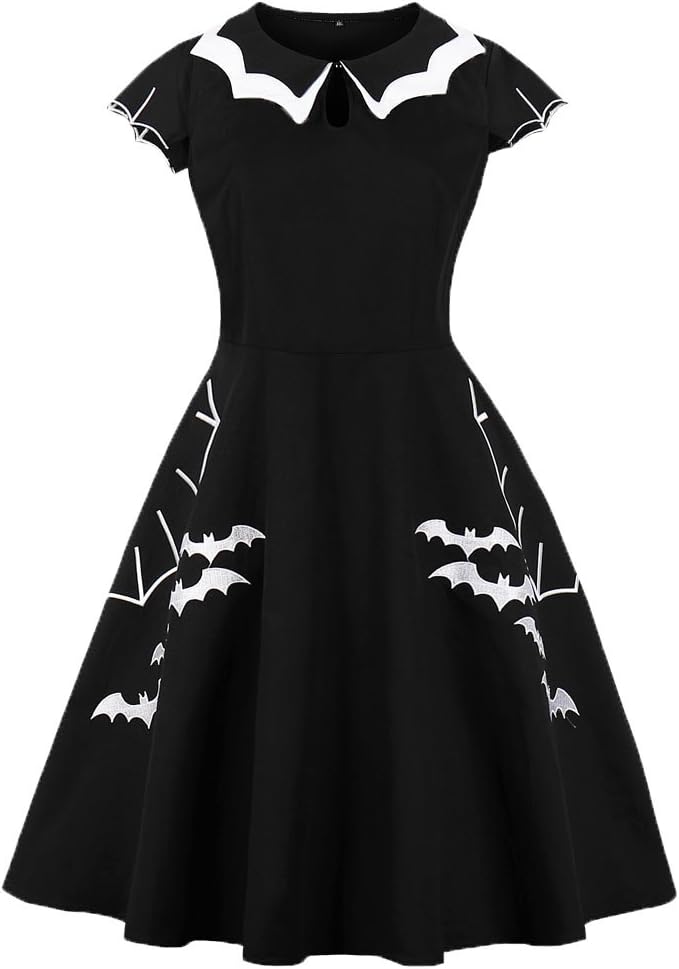 Vintage Inspired Bat Embroidered Dress. – How fun is this dress? To me, it's channeling a little bit of those Wednesday Addams vibes, and it would be perfect for an Addams Family Halloween costume. Even better, it's available in both regular and plus sizes.
Vintage Inspired Lace Up Spider Web Dress. This is a great vintage styled dress that has just a little Spider detail. I mean, it's a bold spider detail, but it's not like Halloween threw up all over you. Pair with some red lipstick for a super vamp-y look.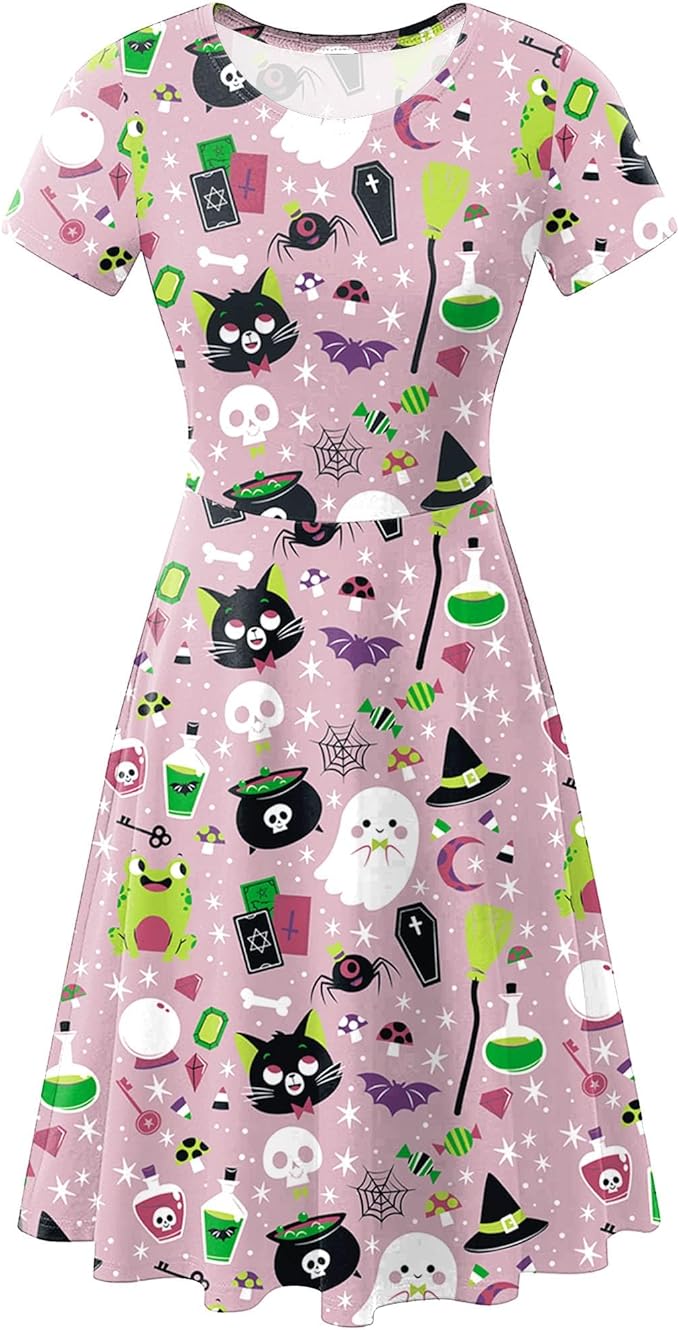 Casual A-Line Ghost Potion Dress. – This dress is Halloween-y, but you could probably extend the wear time on it, since it's not so black and orange. This dress comes in tons of prints, including a great sugar skulls pattern, skeleton cats, and a couple variation of ghosts/bats/pumpkins. Plus, it has pockets!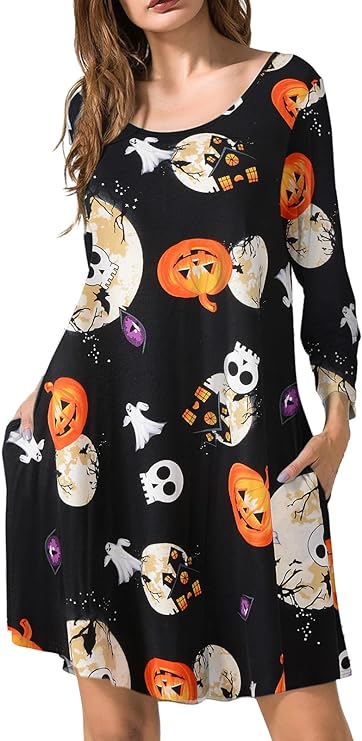 3/4 Sleeve Casual Swing Loose T-Shirt Dress. – This casual Halloween dress is giving me Nightmare Before Christmas vibes, and I am here for it! If you like this style, but not the pattern, there's also a really great orange/grey tiedye dress that's totally fall and Halloween. If you live in a cooler climate, pair this dress with a some leggings or some really cute tights.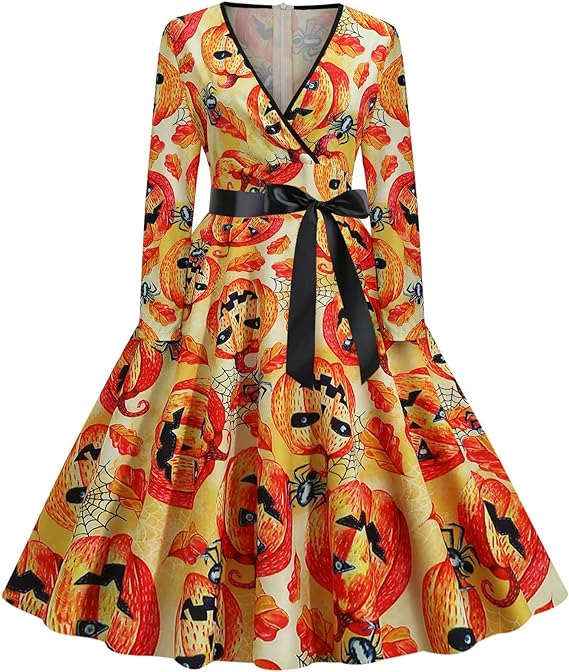 Long Sleeve V Neck Jack-O-Lantern Face Wrap Dress. – There are some seriously fab Halloween dresses trough this link. They're super cute prints with a totally flattering wrap style. The purple ghosts is great for something different, and the jacquard pumpkin dresses? So fab.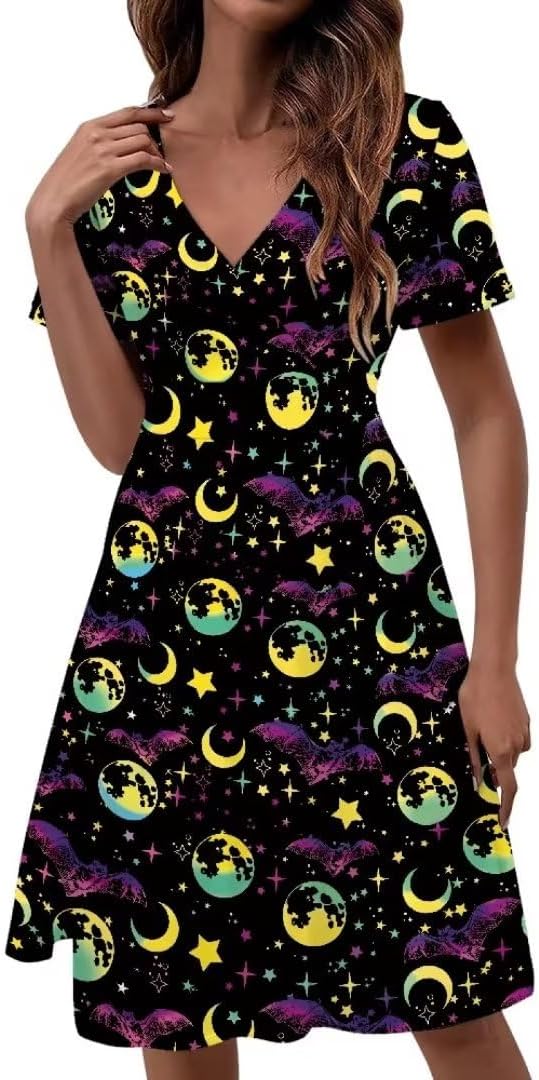 Casual Short Sleeve Wrap Dress With Bats. – This is another dress that is perfect for casual outings, or going to work. It doesn't scream Halloween, but still feels festive. You could totally extend the wear time with this dress. If you're in a cooler climate, pair with a great cardigan sweater and some cute booties. There are tons of other spooky Halloween options at that link, and even some great Christmas dresses. There's a great selection of plus size Halloween dresses here, in a similar style.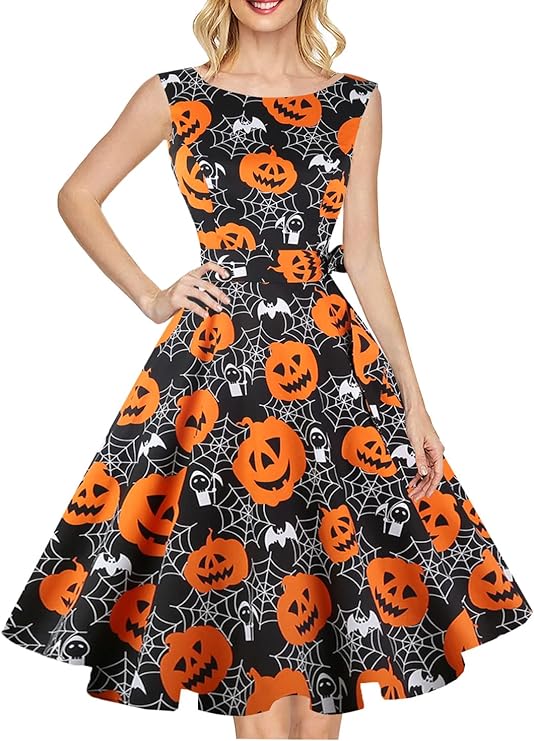 1950's Vintage Inspired Tea Dress with Pumpkins and Spiderwebs – This is one of those dresses that's better in a warm climate, or if you're going to be indoors. If you live somewhere like Florida, Hawaii, or SoCal, this dress is screaming your name! The retro style looks good on almost everyone, and it's got that subtle sexy thing going on. Throw your hair up in Victory Rolls or romantic waves for even more retro style.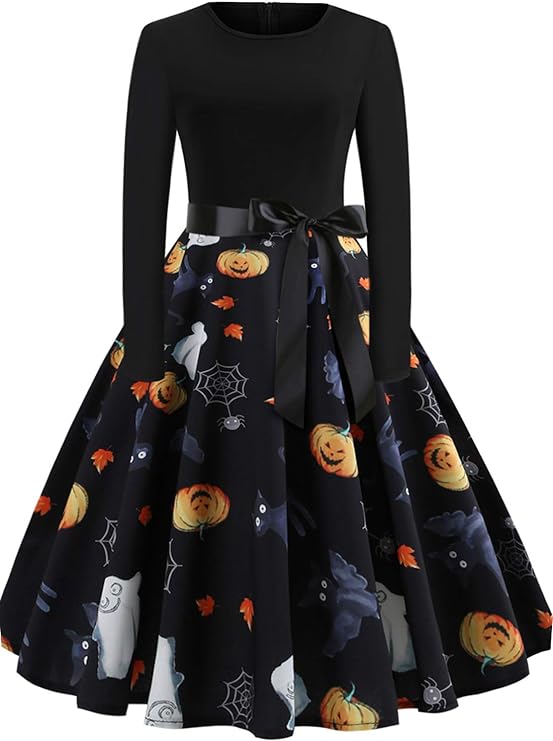 Long Sleeve Pumpkin and Skeleton Cocktail Halloween Swing Dress. – How cute is this? This A-line dress is universally flattering, and the print of the dress is flattering without being too over the top. Add a great chunky necklace for a little sumtin-sumtin.
Short Sleeve Casual Flared Midi Dress With Haunted House and Flying Bats. – Depending on your work environment, you may need to add a pair of pants to this dress, or leggings on casual fridays, but this Halloween dress is sooo cute! The border print adds a little something extra, too.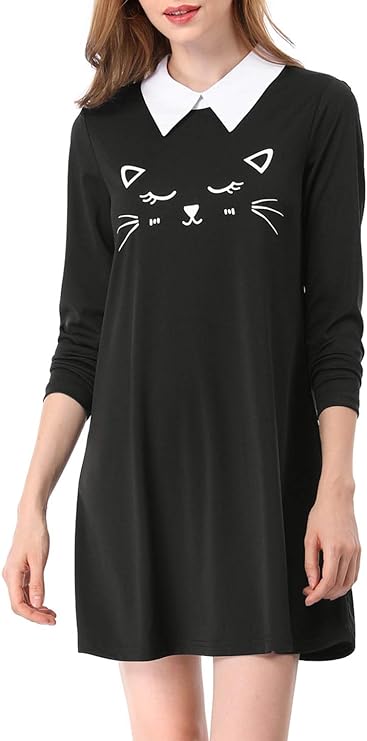 Cat Face Contrast Collar Mini Swing Dress – Okay, how adorable is this?? It's perfect for Halloween, but really great for three season wear. Pair it with jeans or leggings and a fab pair of loafers for a perfect everyday outfit. It' available in 8 great colors, including Black, Caramel, and White, among others.

So tell me, which of these fab Halloween dresses are you going to bring in the Halloween spirit with?