One of the quintessential moments of childhood is having Bomb Pops during the summer. Those giant red, white, and blue popsicles that we got from the ice cream truck were a total treat. Now that we're grown up, we can have the adult version – a boozy frozen Bomb Pop cocktail that's sure to hit the spot.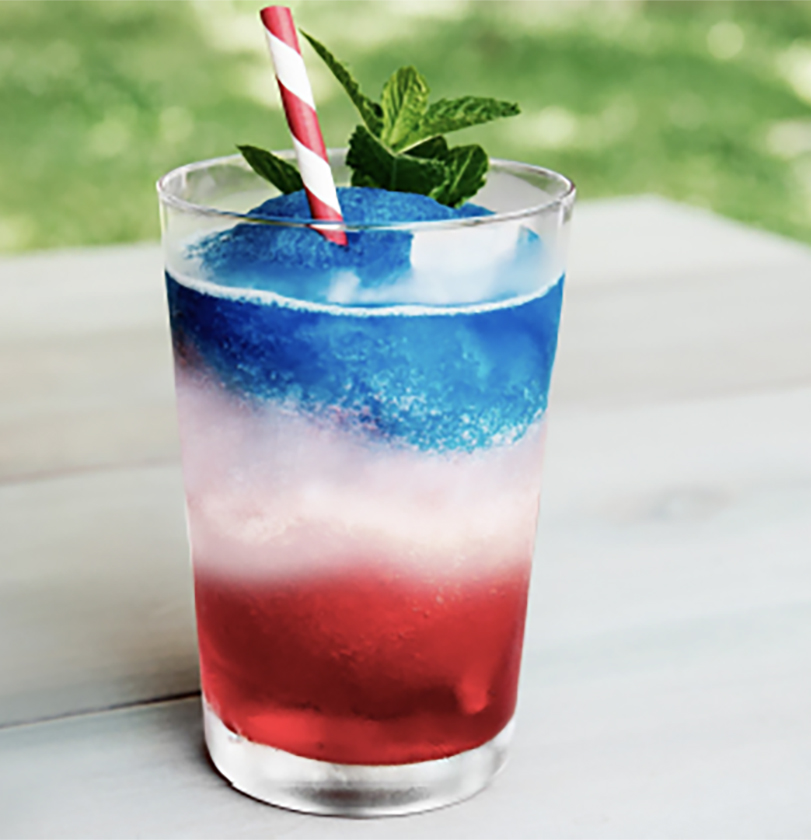 These drinks are fairly easy to make, even though they look – and frankly sound – complicated. They take a little more planning, but these alcoholic adult treats that lean toward slushies are so worth it.
Boozy Adult Bomb Pop Cocktail recipe
Links may be commissioned.
The first thing you'll want is a clear cup to hold your concoction. Because, let's be honest – it's a layered drink, and that's half the appeal. If you can't see the work that went into these, there's no point to make them layered. These are great if you're entertaining at home, or somewhere that has an actual freezer you can use. If you're gonna be out on the boat, or at a picnic, they're probably not the best choice. These striped paper straws look really cute for serving, but these spoon straws are fabulous, too.
One note – this recipe creates TWO servings.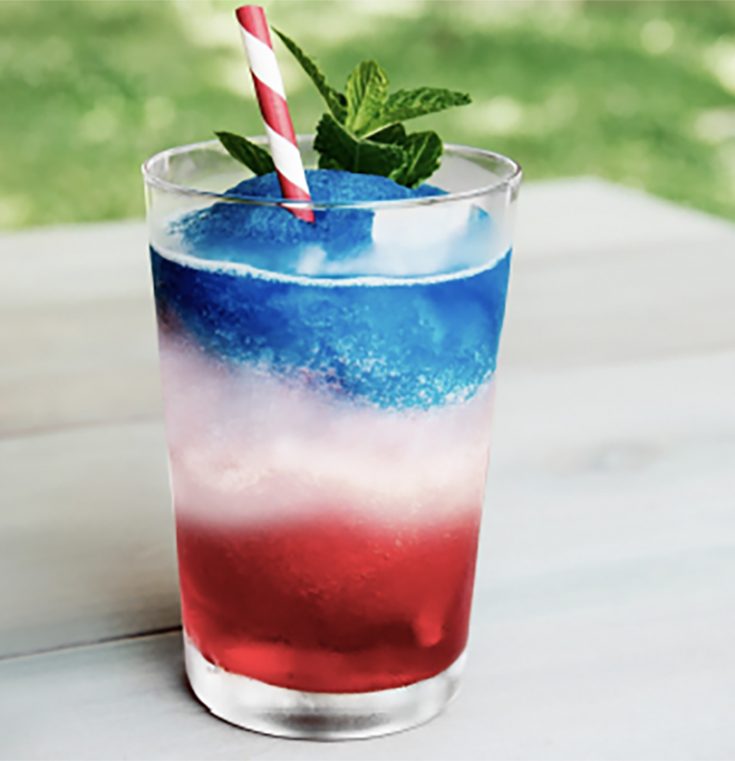 Yield: 2
Boozy Adult Bomb Pop Cocktail Recipe
Prep Time: 5 minutes

Cook Time: 5 minutes

Additional Time: 4 hours

Total Time: 4 hours 10 minutes

A boozy adult version of the classic Bomb pop, made into a layered cocktail.
Ingredients
Red Layer:
1 oz. Van Gogh Raspberry Vodka
3 oz. fruit punch
½ oz. grenadine
White Layer:
2 oz. Van Gogh Pineapple Vodka
1 heaping tsp. coconut cream
1 oz. pineapple juice
Blue Layer:
1 oz. Van Gogh Vodka
½ oz. blue curacao
3 oz. lemonade
Instructions
Combine the ingredients for the red layer. Pour in a glass and place in the freezer until a good slush consistency is achieved
Combine the ingredients for the white layer. Gently spoon it on top of the red layer and place in the freezer.
Combine the blue layer ingredients and fill to the top of the glass. Freeze until ready to drink.
Garnish with a mint sprig and a striped paper straw before serving.
Notes
This recipe creates two servings.
Nutrition Information:
Yield:
2
Serving Size:
1
Amount Per Serving: Calories: 230Total Fat: 1gSaturated Fat: 0gTrans Fat: 0gUnsaturated Fat: 0gCholesterol: 0mgSodium: 10mgCarbohydrates: 20gFiber: 1gSugar: 17gProtein: 0g

Nutrition is provided as a courtesy. It may not be accurate, and is an estimate only.

See how easy that is?? These are perfect for 4th of July, Labor Day weekend, or any time that you want a super fun cocktail that has a little something extra! Try our other 4th of July cocktails like a Tito's Sparkler or a summertime fave like Boozy Watermelon Slices.