Nail polish is one of those things that just puts the finishing touches on your appearance. You can be wearing a ratty old tee and your housework jeans, hair in a messy bun, and have a great manicure, and people will think that you're effortlessly chic. Crazy how that works, right!?!?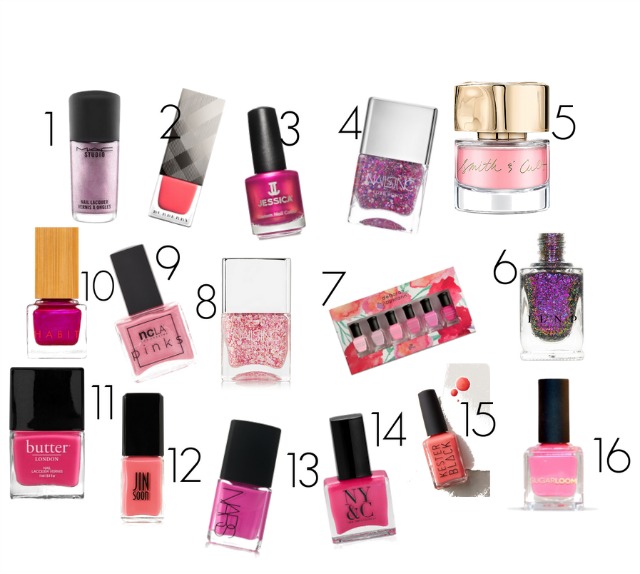 With Valentine's Day right around the corner, and spring popping up right behind that, these great nail polish shades will get you through the holiday and carry you straight into the new season. These perfect pink polishes range from shy and demure to punch you in the face party shades. But sophisticated, not tacky.  Check out our other Valentine's Day nail polish shades, too.
Gorgeous Pink Nail Polish Shades
Links may be affiliate links.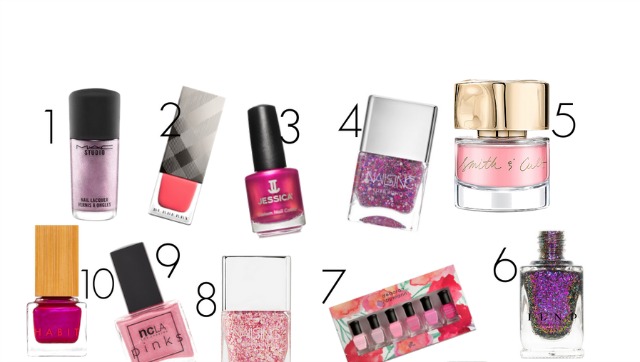 1 Girl Trouble Nail Lacquer by Mac Studio ($18) – Love this shimmery iridescent light pink nail polish.
2 Coral Pink by Burberry ($20) – Burberry polish is just a step above. It has hardeners and a gloss finish built in to the polish, so it lasts longer.  Plus, the colors are pretty amazing. Sometimes it's really worth it to pay a little extra.
3 Foxy Roxy by Jessica ($6.45) – A super fun opalescent punchy pink shade. Adds that little sumtin-sumtin to your look.
4 Notting Hill Lane by Nails Inc ($15) –  I am a sucker for a glitter polish.  The hot pink, bluey purple, and nude peach hex cut glitter adds a great effect to this polish. This is one you'll reach for again and again, straight through Spring and Summer
5 Basis of Everything by Smith & Cult ($18) – This is actually a really fab base coat.  You definitely want your manicure to last, right? Of course you do. The pale pink tint helps brighten your natural nails.
6 Metropolis by ILNP ($12.50) – A gorgeous color shifting metallic polish that's an ahh-mazing topper.  Or, apply 3-4 layers for a solid of this.  WHOA!
7 Deborah Lippmann Pretty in Pink Nail Lacquer Set ($34) – Get set for Spring with this great collection of pink polishes. These are mini sized, but who uses a whole bottle of polish?  Not me!
8 Portobello Crescent by Nails Inc ($15) – A gorgeous peachy-pink-purple glitter topper with just a smidge of green. This is another one that you'll reach for again and again, and the look changes depending upon the base color.
9 Pink Champagne by NCLA ($16) –  Fab shimmery pink bubblegum shade that has a creme finish. Soft and romantic, yet totally modern.
10 Darling Nikki by Habit Cosmetics ($18) – Gorgeous magenta fuschia shade with a great shimmery finish. Certified by PETA as cruelty free and vegan.

11 Primrose Hill Picnic by Butter London ($13) – A gorgeous hot pink shade that's not too over the top for every day wear. Butter London has great polishes that are vitamin fortified and 8 free.
12 Tea Rose by Jin Soon ($18) – A gorgeous light coral-pink shade. This has a chip proof formula and is 8-free.
13 Schiap by NARS ($20) – A bright, almost shocking pink the befits its namesake, style icon Elsa Schiaparelli. This also has UV protection built in to maximize the color intensity.
14 Vibrant Pink by New York & Co ($6) – A great bright pink creme.  This is a fab color for your toes, too.
15 Perennial by Kester Black ($15) – This is more towards the coral shade of pink, and is stunning.  It's made in small batches, and cruelty free.
16 Bubble Gum by Sugarloom ($15) – Fantastic shade that is definitely reminiscent of its name. Sugarloom polishes are all cruelty free, too.
So tell me – Which of these gorgeous pink nail lacquers are your favorite?