I'm a huge fan of mules and clogs. I don't know why, but it's like if a shoe has a back, I have to think about it. One of the hottest shoe trends for Spring 2017 is the resurgence of the Mule shoe, and these high end mules are the cream of the crop.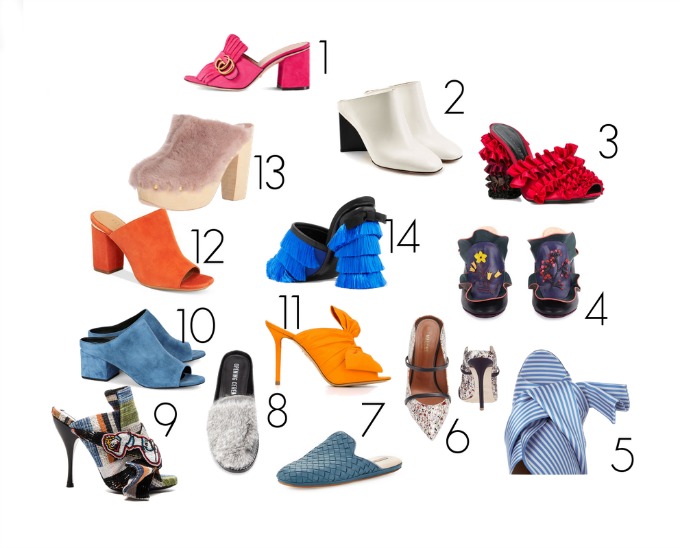 I'm sure part of my love of mules and clogs has a lot to do with the ease of wear. The ability to kick off my shoes at a moment's notice is so alluring.  We've rounded up 14 of the greatest, most fun, craziest mules we could find. After all, we're sort of known for our love of crazy shoes here. It just so happened that they were all high end designs from those luxe designers we covet. Stay tuned for an affordable collection of mules for spring, too.
14 Designer High End Mules that We're Lusting After for Spring
Links may be affiliate links. They help support our crazy shoe habit.
1 Gucci Mid Heel Slide in Hot Pink Suede ($680) – These are also available in metallic silver ($795)
2 Maison Margela Leather Mules ($890)
3 Marco De Vincenzo Ruffled Mules ($637) – I've seen these in black and blue as well, but couldn't find links for them.
4 Fendi Floral Ruffled Leather Mule ($1550)
5 NO21 Blue and White Striped Satin Bow Mules ($615)
6 Malone Souliers Maureen Double Strapped Splatter Snakeskin Mules ($695)
7 Bottega Veneta Intrecciato Napa Flat Mule ($590)
8 Opening Ceremony Nubella Mules ($425)
9 NO21 Bow Mules ($690)
10 Philip Lim French Blue Suede Cube Mules ($330)
11 Charlotte Olympia Ilona Mules in Orange ($277) – These are also available in a great black and white dot, metallic silver, and basic black.
12 Calvin Klein Cicelle Peep Toe Mules ($109) – Shown in Orange, but also available in a bone color, black, and lovely caramel suede,
13 Brother Vellies Women's Shearling Clog Mule ($477)
14 Marco De Vincenzo Leather Trimmed Fringed Satin Mules ($835)
See how easy it is to fall in love with a great pair of high end mules?  There's some really fabulous handwork happening, and unexpected colors and materials. I'm sort of partial to the fringe and the ruffled mules, myself. One of the other trends I'm seeing a lot of is felting and needle felting.
Sooo…tell me!  Which of these designer high end mules is your favorite?