I am an absolute sucker for nail polish.  I know I've mentioned this a time or two hundred, but it's true.  I just love all the colors, finishes, and textures that nail polish and nail lacquers come in these days.
I adore them so much that I rarely leave a store without picking up a shade or two.  How else can you change up your mood, style or look with such little effort? We've compiled several of the best nail polish shades for Valentine's day.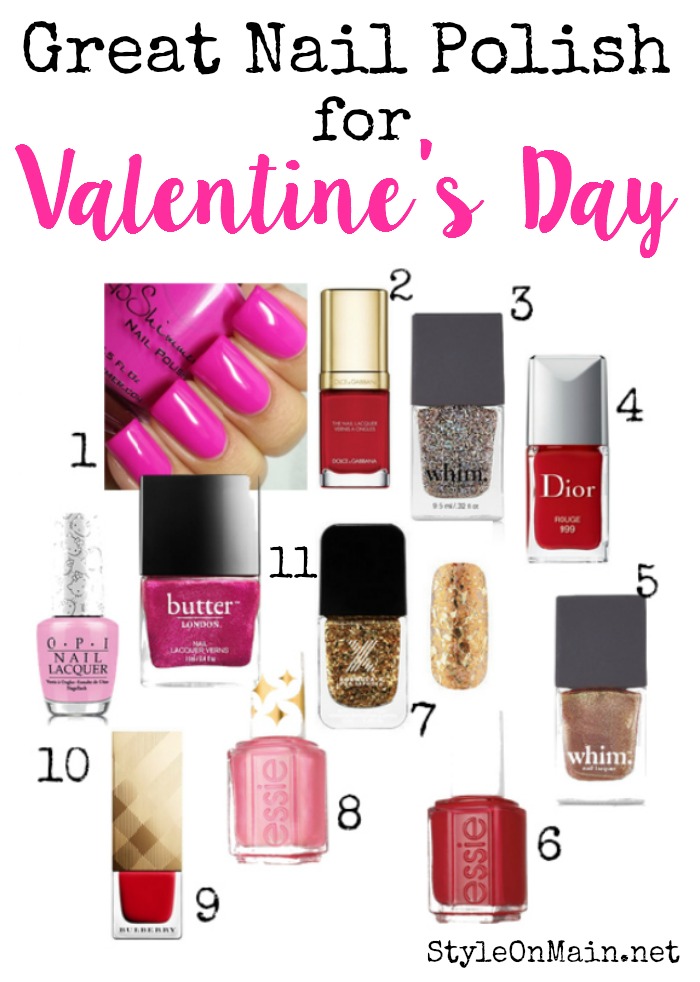 Great Nail Polish Shades for Valentine's Day
Links may be affiliate links.
1 KBShimmer Beach Please ($7.50) – KBShimmer is an indie brand, and this pink is such a fun, fab shade that will take you right through summer.
2 Dolce & Gabanna Red Royal ($27.50) – Gorgeous, deep rich red shade that will never go out of style. The brush is specially designed to not get polish on your cuticles, too.
3. Whim Girl's Best Friend ($10) – I love a good glittery polish.  Of course, I love glittery pretty much anything. This one has a slightly pinky tint to the silver holo glitter, yet isn't so pink it's like "I'M PINK!!"
4. Rouge Dior Vernis Gel Shine Nail Lacquer ($27.50) – A bold red polish never goes out of style.  This one from Dior is a true, classic sexy red.  The long wear gel-like formula, without the harshness of gel polishes, just makes it all that much better.
5. Whim Cocktails and Fairytales ($10) –  An amazing metallic rose gold shade that adds something different to your nail lacquer collection. Wear this instead of gold for a really elegant and sophisticated manicure.
6. With the Band by Essie ($8.50) – A slightly darker, slightly brooding red.  One of the perfect nail polish shades for Valentine's Day.  So rich and elegant, you'll reach for this one again and again.
7 Transformers Top Coat in Out of Sight ($12.50) – Transformers do just what the name implies – they change your polish.  This one is a chunky gold glitter that looks amazing!  Try it over various colors of base coat for a different effect every time.
8. Bikini with a Martini by Essie ($8.50) – A super fun frosted, iridescent pink nail polish shade. Part of the Retro Revival collection, it's so sixties! Super fun for Valentine's Day and Spring.
9. Burberry Nail Polish in Military Red ($22) – A fabulous slightly orange-red polish that is one of the iconic shades.  Goes on like buttah, and dries to a jewel like finish.  So worth the money.
10 OPI Look at My Bow ($9.50) – This is a fabulous light pink shade that has just a touch of lavender.  Perfect for spring. Part of the limited edition Hello Kitty collection by OPI.
11. Butter London Pistol Pink ($15) – Gorgeous metallic glittery fuchsia shade.  So great for year round wear.  Butter London is known for their amazing coverage, and a fabulous 7 free formula.
Hopefully, one (or more) of these shades is perfect for your Valentine's Day manicure.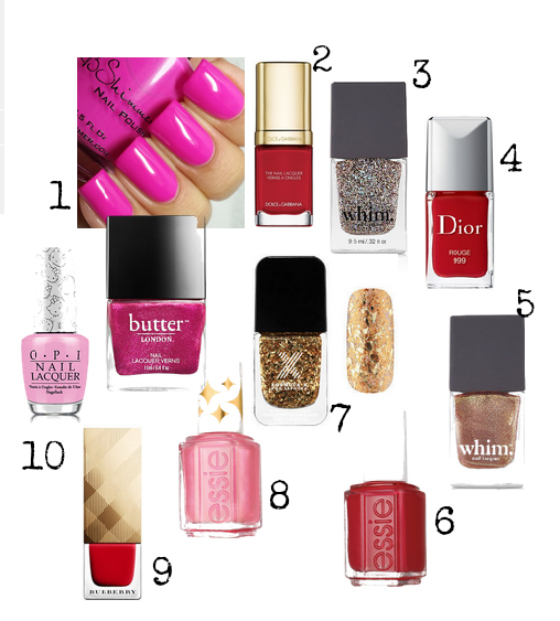 For more Valentine's Day fashion, beauty and style ideas, visit a few of my favorite bloggers: