I love Torrid. It's one of my absolute favorite stores to shop at. They have great, modern styles in fantastic prints. And, perhaps best of all, they're the SAME THINGS that we people can get at stores like Hot Topic. WHOA!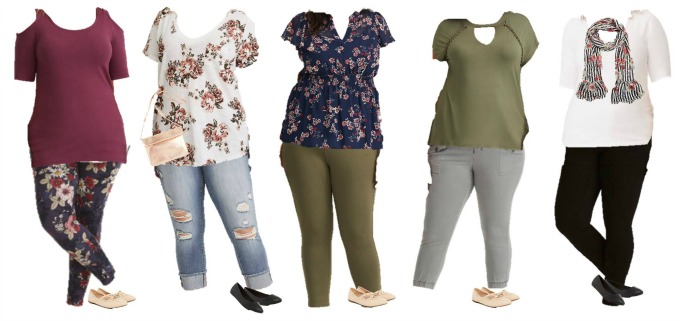 Isn't that what plus sized people want? The same styles in the same fabrics that they have in regular sizes. Hint – IT IS. Anyway, this Torrid Mix and Match wardrobe is perfect for Spring.
We've taken 14 pieces from Torrid and created 15 looks. This includes shoes and a couple accessory pieces. Chances are, you probably already have a couple of these pieces in your closet. If so, you're just that much closer to being on point for Spring.  Links may be affiliate links. We make a small commission if you buy, and that helps keep us looking good!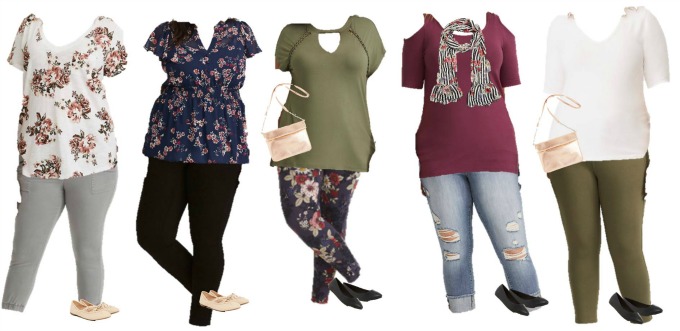 Torrid Mix and Match Wardrobe for Spring
Outfits 1-5
1 Plum Foxy Cold Shoulder Tee (also in black and olive) + Grey Cropped Cargo Pants + Metallic Foldover Clutch + Studded Criss-Cross Strap Flats
2 White Floral V Neck tee + Olive Cropped Ankle Pants + Studded Criss-Cross Strap Flats
3 Olive Braided Cutout Tee + Black Ponte Jeggings + Floral Striped Ruffled Scarf + Faux Leather Almond Toe Flats
4 White Foxy Deep V Tee (as shown, sold out. Similar here and here)+ Daisy Print Leggings + Studded Criss-Cross Strap Flats
5 Navy Floral Flutter Sleeve Blouse + Distressed Stretch Boyfriend Jeans + Faux Leather Almond Toe Flats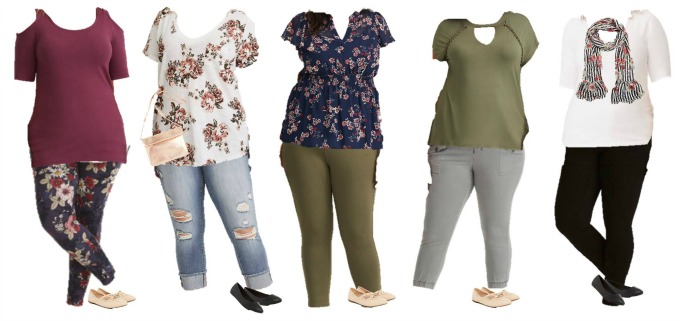 Outfits 6-10
6 White Floral V Neck tee + Grey Cropped Cargo Pants + Studded Criss-Cross Strap Flats
7 Navy Floral Flutter Sleeve Blouse + Black Ponte Jeggings + Studded Criss-Cross Strap Flats
8 Olive Braided Cutout Tee + Daisy Print Leggings + Metallic Foldover Clutch + Faux Leather Almond Toe Flats
9 Plum Foxy Cold Shoulder Tee (also in black and olive) + Distressed Stretch Boyfriend Jeans + Floral Striped Ruffled Scarf + Faux Leather Almond Toe Flats
10 White Foxy Deep V Tee (as shown, sold out. Similar here and here) + Olive Cropped Ankle Pants + Metallic Foldover Clutch + Faux Leather Almond Toe Flats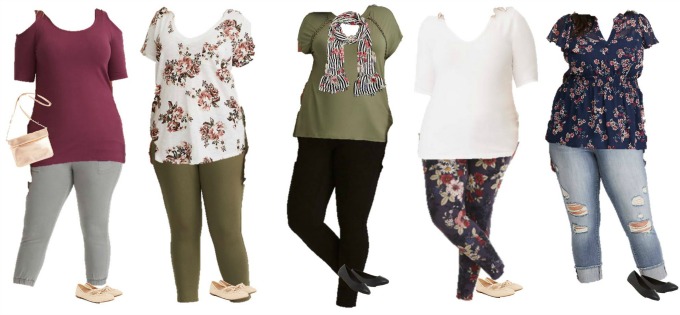 Outfits 11-15
11 Plum Foxy Cold Shoulder Tee (also in black and olive) + Daisy Print Leggings + Studded Criss-Cross Strap Flats
12 White Floral V Neck tee  + Distressed Stretch Boyfriend Jeans + Metallic Foldover Clutch + Faux Leather Almond Toe Flats
13 Navy Floral Flutter Sleeve Blouse + Olive Cropped Ankle Pants + Studded Criss-Cross Strap Flats
14 Olive Braided Cutout Tee + Grey Cropped Cargo Pants + Studded Criss-Cross Strap Flats
15 White Foxy Deep V Tee (as shown, sold out. Similar here and here) + Black Ponte Jeggings + Floral Striped Ruffled Scarf + Faux Leather Almond Toe Flats