Moscow Mules have been the rage for a couple years now, and with great reason.  They're tasty, easy to make, and look so showy in that fab copper mug. We're making an elegant spin on the classic cocktail with this Blood Orange Moscow Mule recipe.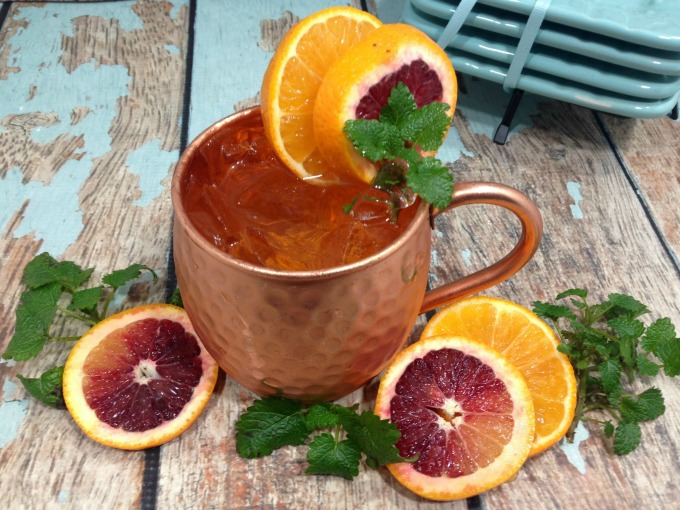 A typical Moscow Mule drink has a great fresh, slightly citrus-y flavor. This blood orange version kicks that flavor up a notch or 20. Blood oranges are generally available January through May, and we're at the point in the season when these tasty morsels are at their best. What better way to welcome Spring?
This is a great beverage for a party or a brunch, since it's so easy to make.  Blood oranges tend to be sweeter than regular oranges, and can have a slightly raspberry-ish taste. Add that to the gorgeous red tone of the flesh, and you have something that's really special and elegant.
Blood Orange Moscow Mule Cocktail Recipe
Links may be affiliate links. We'll make a small commission if you buy through them.
You're going to want a couple things to make this drink recipe easier. One is a way to juice the blood oranges. You can get an old school juicer like this set. Personally, I really like this style of juicer. It works so well with a lot less effort. You're also going to want some of these amazing copper mugs. How gorgeous are these Gold Moscow Mule mugs?

Blood Orange Moscow Mule Cocktail
Ingredients
2oz Citron Vodka
2oz oz Fresh Squeezed Blood Orange Juice
4oz Ginger Beer
Ice
Blood Orange Wheels, for garnish
Instructions
Add ALL ingredients to copper mug
Fill mug ¾ of the way with ice
Stir lightly to combine
Add a slice of blood orange for garnish
See how simple this classic cocktail recipe is? It really could not be any easier to make a Blood Orange Moscow Mule.