Fall is coming, sooner rather than later. The days are already getting shorter, the weather is starting to cool down, and in some areas, the leaves are already starting to change. One of the other things that's changing is our wardrobes. We're starting to transition from summer into fall.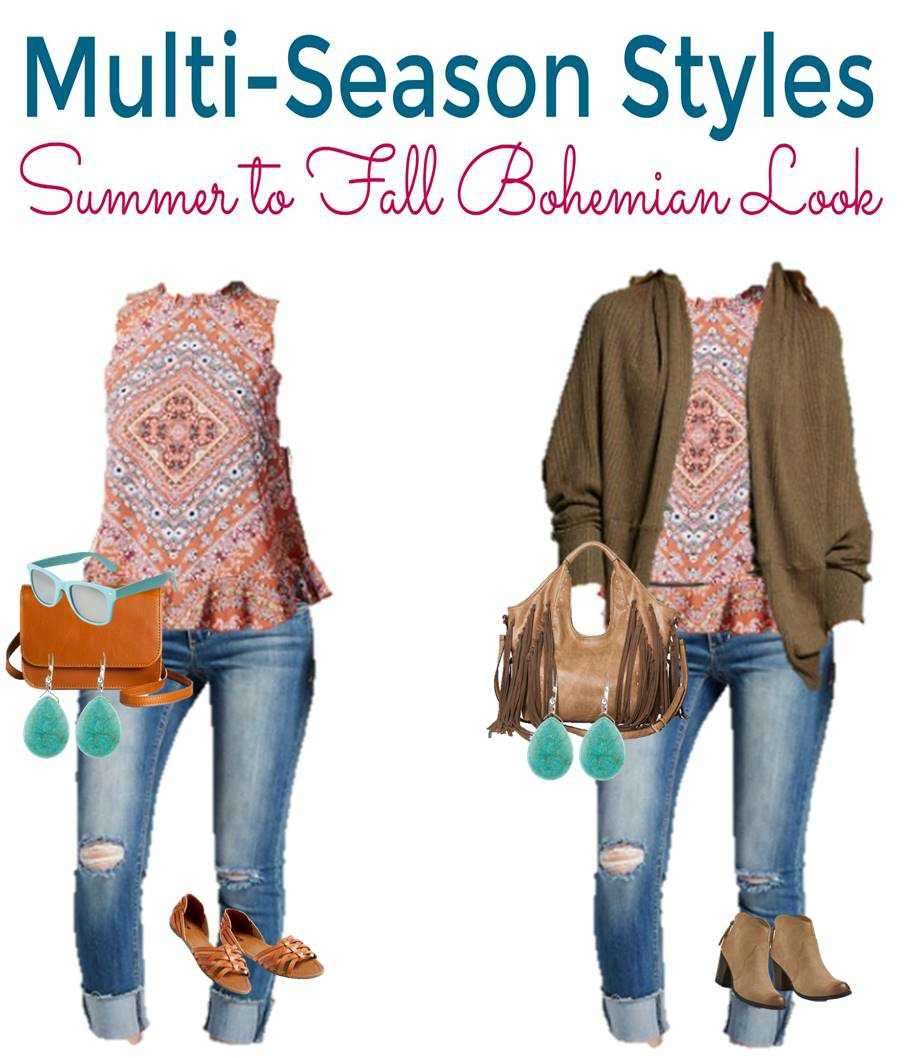 We don't have to get rid off all of the summer wardrobe, but by adding a few pieces we can transition from those long, sunshine-y days into outfits that are cooler weather appropriate.
Transition Boho Chic from Summer to Fall
It's not that difficult to transition a favorite piece, or outfit, from one season to another. Usually a simple change of accessories will do the heavy lifting. See how we're transitioning this great summer Boho Chic look from Summer to Fall with a few minor changes. Most pieces are from Target, and links my be affiliate links.
Summer Boho Chic Look
Ruffle Trim Flounce Tank in Coral ($18) – This top has a super fun flirty and casual feel, but add a blazer or a cardigan with a pencil skirt, and you could wear it to the office.
Mid Rise Rolled Cuff Destructed Knee Jeans ($33) – Distressed and destructed jeans are everywhere, and have been everywhere for a couple years now. This trend looks to continue going strong.
Mossimo Gena Hurrache Sandals ($25) – Who doesn't love a great sandal?  These hurraches are a perfect fit for your Boho outfit.
Merona Faux Leather Crossbody Bag (similar, $25) – A crossbody bag is great for summer, because it keeps your hands free.  Whether you're traveling, shopping, or going to a concert, that can be handy.
Xhilaration Surf Sunglasses ($12) – Um, L-O-V-E these. I'm a sucker for a good pair of shades that make a statement, and these fall into that category.
Sterling Silver Turquoise Earrings ($13) – These earrings are small and delicate, but sometimes, honestly, that's all you want. These should be in everyone's jewelry box.
Fall Boho Chic Look
We're using the same earrings, top, and jeans for the fall outfit. We're adding a sweater and a few accessories.
Long Sleeve Rib Cocoon Cardigan ($25) – Super cute for fall, the slouch style is perfect for so many looks.  This is great with leggings, too.
Bliss Western Boots ($38) – Western is making a comeback, and these little booties are a great way to give a nod to the style. They're perfect for fall, and who can argue with the price?
A great Hobo Bag – The bag shown is no longer available, but a couple of great alternatives include this simple and classic Hobo bag. Fringe is big for Fall 2016, and this Hobo Bag with tassels is a great option.
See how simple it can be to transition your wardrobe from Summer to Fall?