I am all about a style I call eclectic sophistication. It's sort of random, but has a thread of easiness that runs through it. It's pretty much equal parts preppy, boho, and vintage.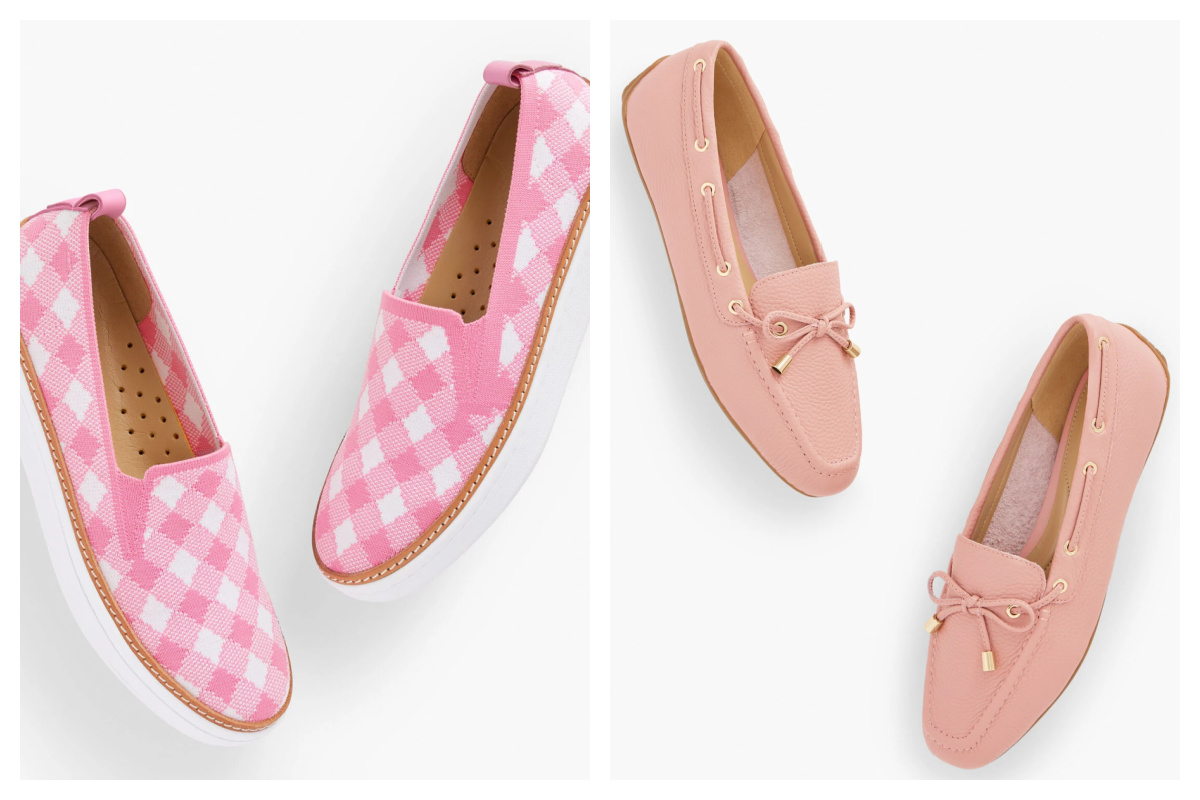 One of the brands that fits right into this aesthetic is Talbots. Their items have that easy sophistication that helps you look good without putting a lot of work into it.
One of the top accessories for looking good effortlessly is your shoes. People forget about this important part, as they buy one or two pairs of shoes that they like, and wear them every day. Talbots recently sent me two pairs of their fab pink shoes, which are perfect for Valentine's Day, spring, and beyond.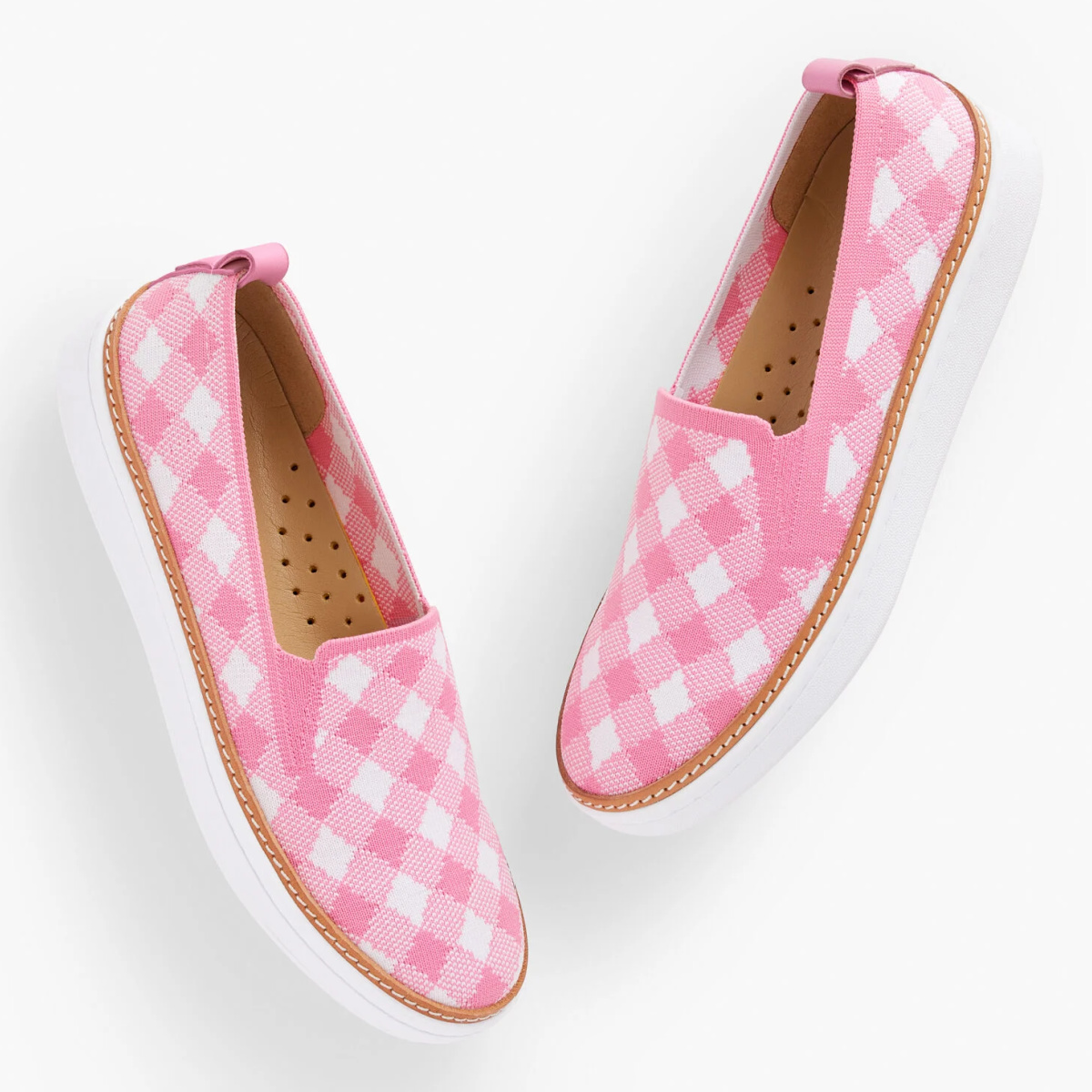 Brittany Gingham Slip On Sneakers
When I was a kid, Vans were among the coolest shoes you could have. Especially the checkerboard slip ons. Brittany in Pink Gingham is the grown up, slightly more understated preppy version. It's like you traded your 12 year old self's skateboard for a nice set of wheels.
The pink gingham lends the same feel as the checkerboard print, with a feminine twist. They are the perfect casual pink shoes for Valentine's Day, Spring, and beyond. The lightweight fabric makes for a comfortable shoe. It has the feel of canvas, but with the added spandex and the built in gusset, it gives these shoes the perfect little bit of stretch.
And because comfort and style are at the forefront of Talbots goals, the Brittany slip on sneaker has a memory foam insole. That makes wearing these shoes like walking on clouds. The insole forms to your own foot and provides support where you need it most.
Best of all the Brittany Gingham Slip On Sneakers are true to size. They're not too long, or too wide, and didn't really take any time to break in. They were ready to wear. Now, if you were going to do a lot of walking around, I'd wear them around the house for an evening first. Just to make sure they don't slip or rub uncomfortably.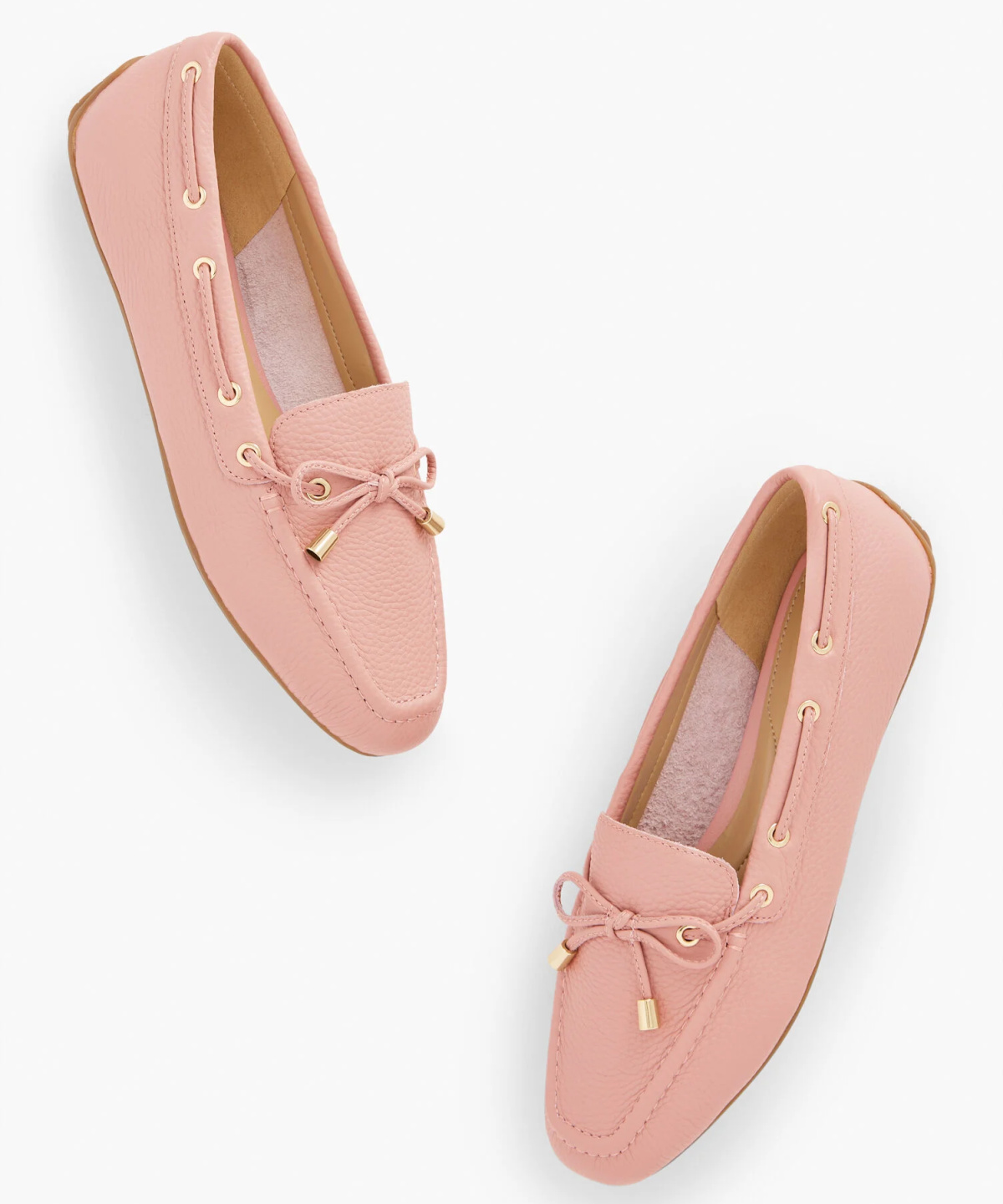 Jessie Pebbled Leather Driving Moccasins
Moccasins are one of those styles of shoes that will always be chic and in style. Driving moccasins are no different. The Jessie driving moc is an eponymous classic shoe that everyone should have in their wardrobe.
Jessie is a shoe that's classic in styling, but thoroughly modern with the accents. The goldtone hardware on these pale pink shoes adds a hint of elegance, while still remaining understated. And can we talk about the color? This soft pink shade is the perfect blush color. They almost give that nude shoe effect, but with all the comfort you can imagine.
These shoes have a great flexible outsole that makes them easy to walk in. Sometimes driving mocs have weird soles that are less than ideal for day to day life. Not these! The memory foam insole also makes wearing the Jessie a pleasure all day long. They're true to size, but if you have a little bit of a chubby foot (like me!) you'll want to wear them around the house a little bit before wearing them all day for the first time.
These Jessie driving moccasin shoes look good with pants, with jeans, and even capri pants or clamdiggers. They also pair well with dresses or skirts, and depending on the style of your shorts, you can even get away with wearing driving mocs and shorts.
I can definitely tell that these pink shoes are going to be in heavy rotation in my wardrobe. How about you? Are you feeling the pink shoe trend?