I love a good mojito. It's sweet and crisp, yet refreshing and not heavy like some other cocktails can be. Plus, who doesn't like rum?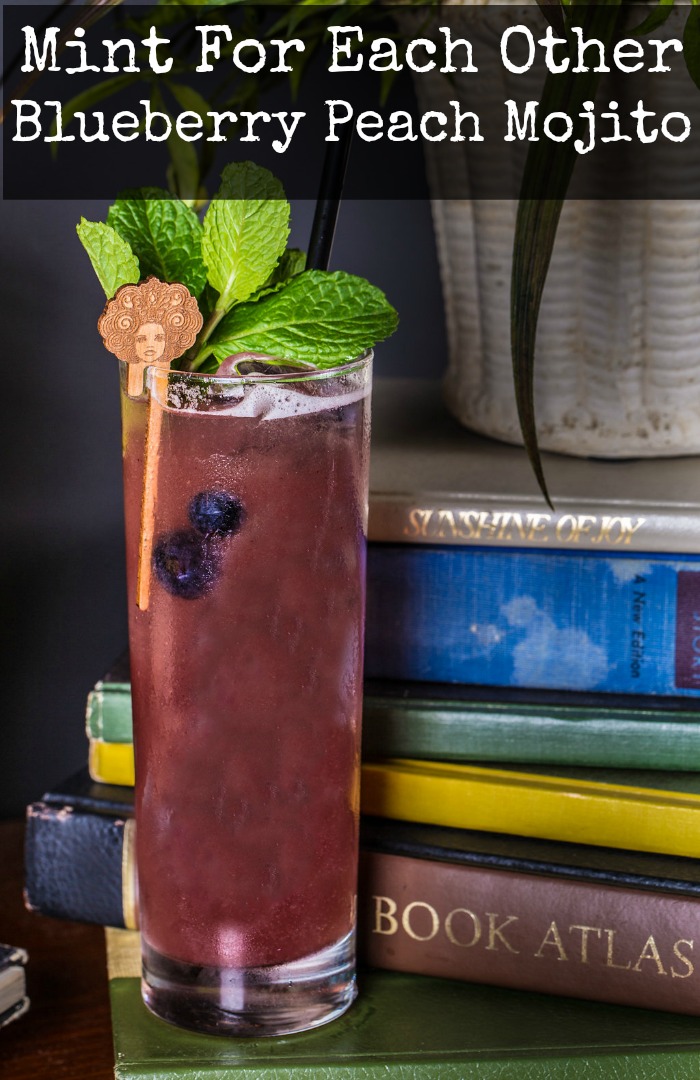 As mojitos have gained in popularity, there's been all kinds of new twists on them. The Mint for Each Other is a great southern take on the classic mojito. It was created in Nashville, after all!  It adds the great summer fruits of blueberries and peaches to an already wonderful drink.  Even better, it can be made in a pitcher.  Say what?!?!
Mint For Each Other Blueberry Peach Mojito Cocktail
Mint For Each Other Blueberry Peach Mojito Cocktail
A great Southern US take on the classic Mojito cocktail. This can be made in a pitcher, too, for batch serving.
Ingredients
12 ounces Afrohead Briland 07 Rum
6 ounces White Peach Puree
4 ounces Blueberry Syrup
12 ounces Premium Spring Soda Water
32 Fresh Mint Leaves
Fresh Blueberries
Fresh Mint Sprigs
Ice
1 C Blueberries
1 C Sugar
1 TBSP Lemon Juice
¾ LB White Peaches
1 oz Lemon Juice (approx 1 lemon)
Instructions
To make your white peach puree, wash and quarter ¾lb of white peaches, keeping the skin on. In a blender, add 1 ounce of lemon juice 1 ounce of rich simple syrup (2:1 sugar to hot water ratio), and quartered peaches together and puree until the mix is smooth. Strain your mix through a fine sieve or chinois. You may use a large spoon to work the puree through by scraping the inside of the sieve back and forth to allow the sediment to open up.
To make your blueberry syrup, combine 1 cup of blueberries with ¼ cup of water in a pot. Crush the blueberries and bring the mix to a simmer on low heat for 15 minutes. Strain the juice through a sieve or chinois pressing hard to extract all juices. Combine 1 cup of sugar, and ½ cup of water in a pot and bring to a boil, stirring until sugar dissolves. Add the blueberry juice and 1 TBSP of lemon juice and boil for 1 minute. Let the syrup cool.
In a blender, combine 12 ounces of Afrohead Briland 07 rum, 6 ounces of white peach puree, 4 ounces of blueberry syrup, and 4 ounces of water. Gently pulse for 20-30 seconds.
In a pitcher combine your ice, mint leaves, and 1 pint of blueberries. Pour your cocktail mix into the pitcher, and top with Fever Tree Premium Spring Soda Water. Gently stir all ingredients together. Feel free to garnish your beverages with fresh blueberries and mint sprigs.
I have a serious love for Nashville. It's a vibrant city chock full of creativity and a thriving arts scene. There's no wonder that this cocktail came from there. It was created by Ryan Yamada of Sinema Restaurant + Bar