What are the holidays without a great cocktail to sip on? They can be classic Christmas cocktails like a spiked eggnog or a Cranberry Spritzer. Or they can be a holiday twist on a non traditional Christmas cocktail.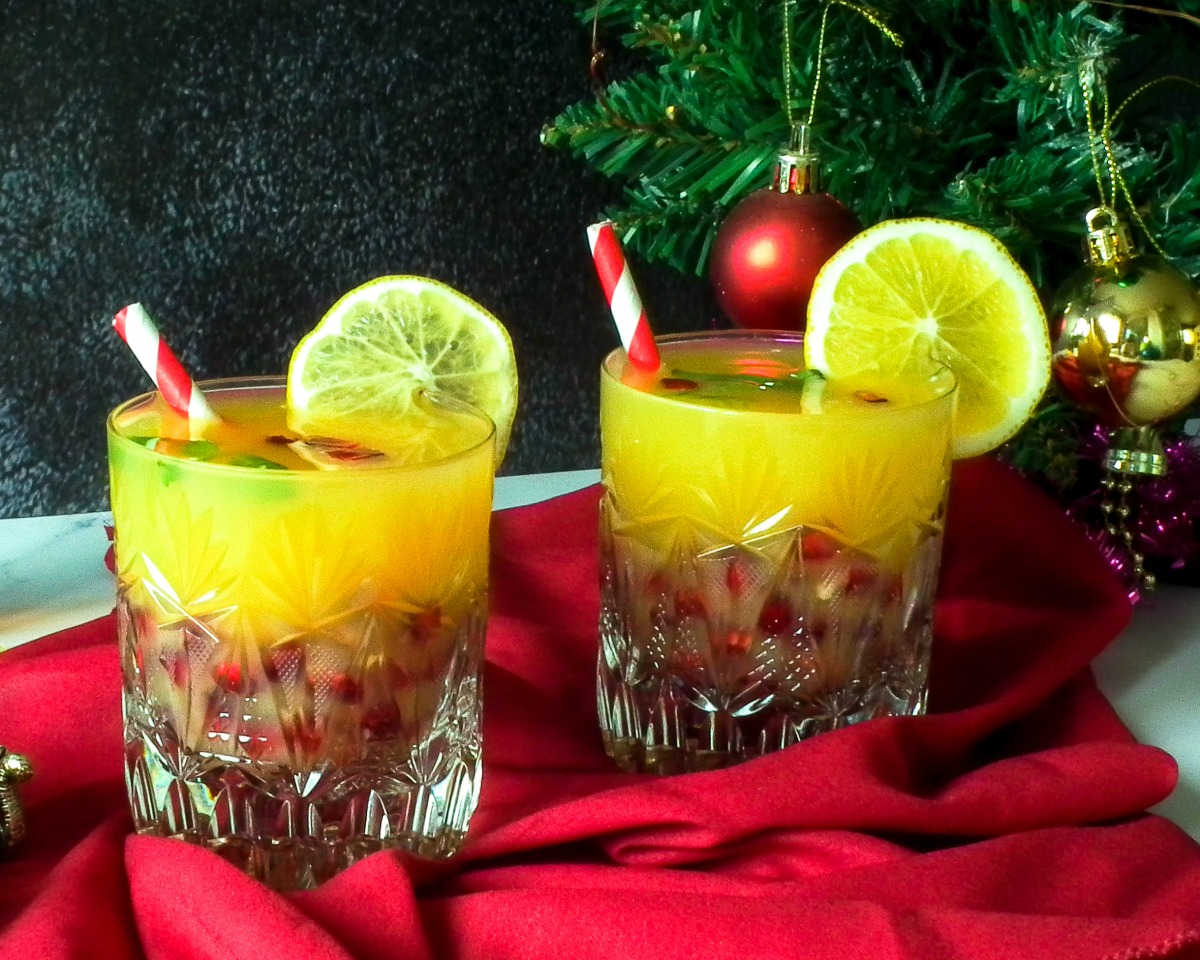 The Holly Jolly Christmas Cocktail falls into the nontraditional holiday drinks category. It's sort of a twist on a Fuzzy Navel or a Pierced Fuzzy Navel and a Moscow Mule. If the two drinks had a baby, you'd have this drink.
The drink itself isn't difficult to make, and it looks so pretty. Let's admit it – we eat – or drink, in this case – with our eyes first. It has a lot of familiar flavors that add that comfort factor. Even better, you can make this Holly Jolly Christmas Cocktail punch style, and it becomes a cocktail for a crowd.
The ginger beer adds a great spicy flavor, while cutting down on the citrus juice, and lightening the whole drink. If making this as a punch, I'd add the ginger beer as the beverage is being ladled into servings. Just top it off and give a little stir while serving. So easy. even your guests can do it.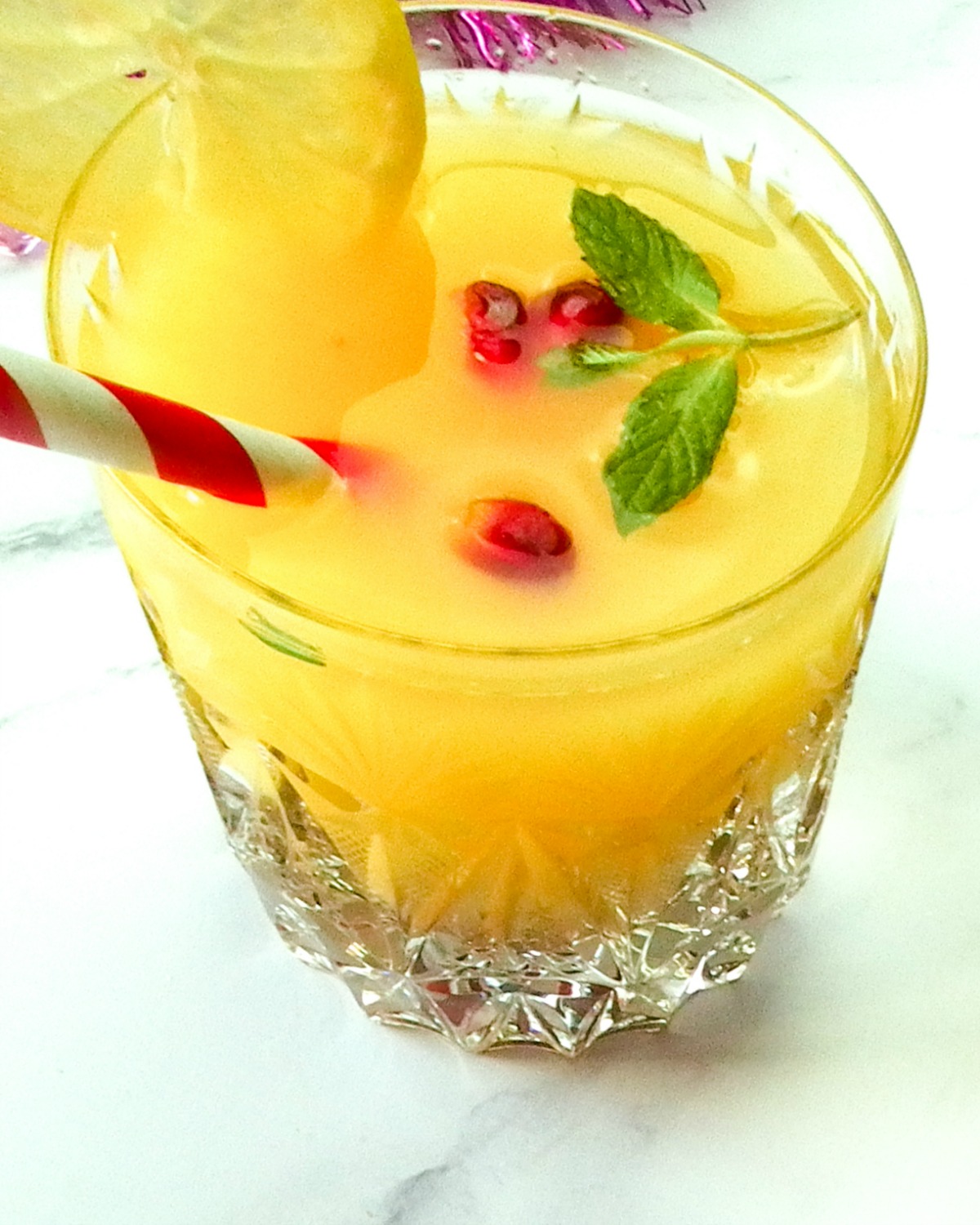 Holly Jolly Christmas Cocktail
Links may be commissioned.
This Holly Jolly Christmas Cocktail is so easy to make, and it's sure to get you in the festive spirit. Even better, much like the Snowball Martini, it doesn't have the traditional flavors of the holiday, so it can be made year round. Just call it something else. *wink wink*
You will need a bar spoon and a cocktail shaker to make this. These are pretty standard bar accessories, and you can purchase a good set for around $30-40. This cocktail shaker set is great quality, and comes in several really pretty finishes – including a rose copper and a black. It won't break the bank, either. You'll also need a bottle of peach schnapps. This adds to the flavor, and there's not really much else that gives a similar flavor to your drink.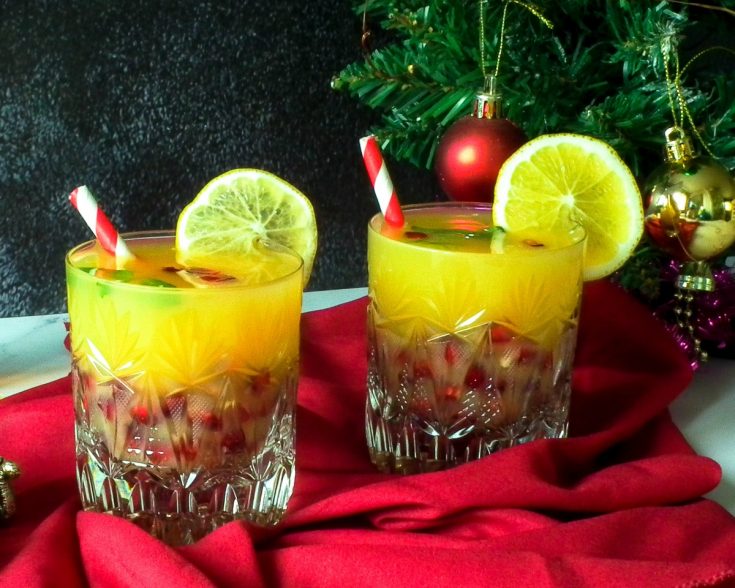 Yield: 2
Holly Jolly Christmas Cocktail Recipe
Prep Time: 5 minutes

Total Time: 5 minutes

A delicious Christmas cocktail that has nontraditional flavors. If a Moscow Mule and a Fuzzy Navel had a baby, this would be it.
Ingredients
2 ounces (60 ml) Vodka
½ ounces (15 ml) Peach Schnapps
2/3 cup (160 ml) fresh squeezed orange and/or grapefruit juice
Soda or Ginger beer for topping off
Pomegranate arils for topping
Lemon slices (Optional)
1 sprig Fresh thyme
Ice
Instructions
Fill your cocktail glasses with ice.
Fill a cocktail shaker with ice, and add the vodka, peach schnapps, and citrus juice.
Pour into cocktail glasses. and top off with ginger beer. Stir gently with a bar spoon.
Top with pomegranate arils, a lemon slice, and a small piece of fresh thyme.
Nutrition Information:
Yield:
2
Serving Size:
1
Amount Per Serving: Calories: 373Total Fat: 2gSaturated Fat: 0gTrans Fat: 0gUnsaturated Fat: 0gCholesterol: 0mgSodium: 25mgCarbohydrates: 89gFiber: 7gSugar: 67gProtein: 3g

Nutrition is provided as a courtesy. It may not be accurate, and is an estimate only.

See how easy it is to make this festive holiday drink that's not such a cliche holiday flavor? There's no mint, pumpkin, or anything similar in sight.