We all know and love KISS, right? I mean, they're only one of the icons of rock and roll.This is a great costume that's pretty easy to put together for a group, a family, or just choose one of the members to go as alone.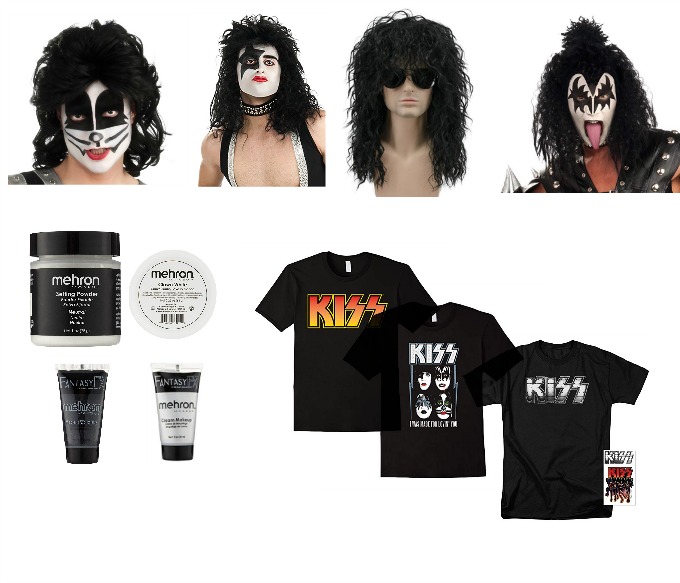 It's really an easy costume concept, and you can get as simple or as complex as you want. We're going medium difficulty here, and aiming for comfort as well.
DIY KISS Halloween Costumes
We're using all items that can be found on Amazon. One stop shopping, everyone has access, and it'll get there quick. Those are all wins in my book. Links may be commissioned, and we'll make a few cents if you buy through them.
Peter Criss wig – Peter Criss was the original drummer, and was The Catman.
Paul Stanley wig – Paul Stanley is the Starman and the rhythm guitarist.
Gene Simmons Wig – Gene Simmons is the lead singer from KISS, and was The Demon.
Ace Frehley wig – Ace was the lead guitarist, and Spaceman.


You'll probably also want a wigcap. It just makes life easier. This kind is great if you have long hair. If you have short hair, go with these wigcaps.
Face Makeup – We all know that the members of KISS painted their faces. That was basically a major part of their costume. You'll need white, black, and silver face paints, along with some setting powder. We're recommending Mehron, as it's a great brand that's been used in professional shows for decades. And it's affordable.
To paint your face, head to Google to see what design you need for your character. Or you could freehand it, and create your own.
Kiss T Shirt – Rather than trying to put together the crazy KISS stage costumes (gargoyle capes and platform boots, anyone?) try dressing in a KISS t-shirt. Pair it with jeans or leather pants, if you're particularly daring. We've gathered a few of our favorites. Here and here too.
Don't forget to check out some of our other DIY Halloween costumes, too. Like a Ballerina, a Fortune Teller, and Snow White.