I don't know about you, but i tend to wear the same things over and over again. It's partly habit and partly not bothering to find anything else to wear. Who has time for those pesky things like folding laundry and unpacking suitcases?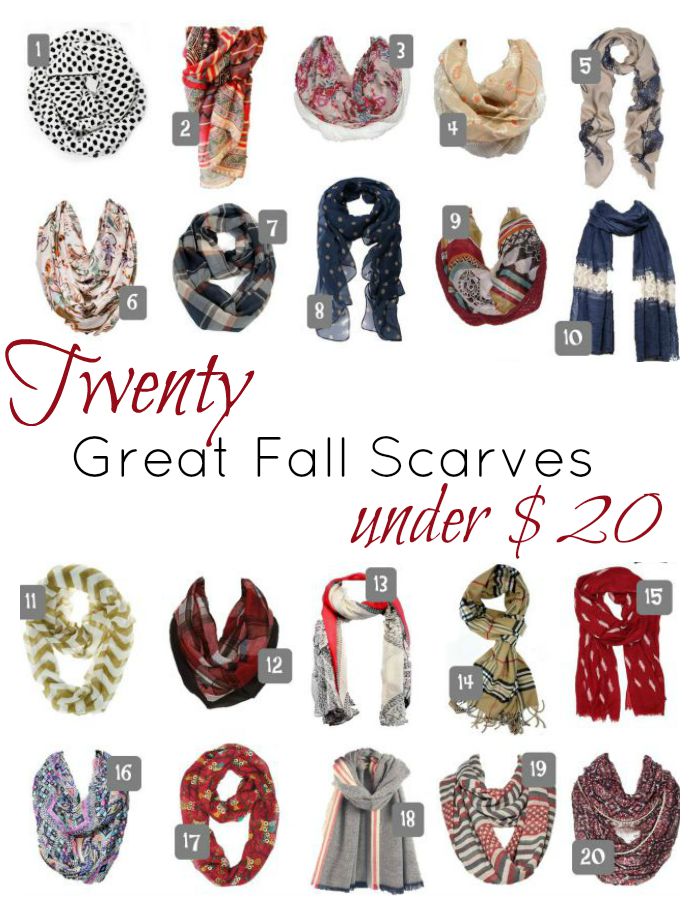 One of the ways that I change up the look of what I'm wearing is with accessories.  And one of my favorite accessories is scarves. They're cute, come in about a million styles and designs, and can be really affordable. Fall is a perfect time to add a scarf to an outfit.  Check out our 20 Boots under $35, too!
These great fall scarves are all under $20, with many being under $10.  Sounds like it's the perfect time to add some fall scarves to your wardrobe.   These may be affiliate links.  Hey, a girl's gotta get some fall scarves somehow!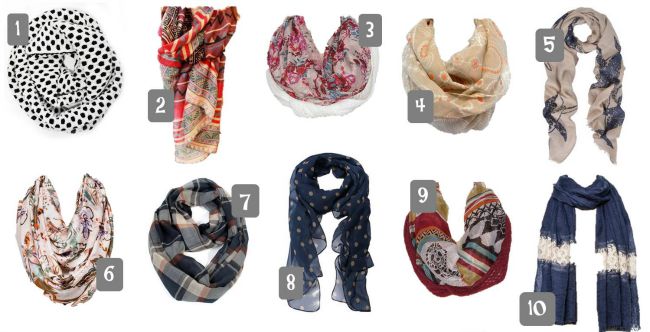 20 Great Fall Scarves under $20
1.  Wrapables Thick Knitted Infinity Scarf ($10-16) – This scarf comes in almost 40 colors and patterns, so there is literally something for everyone.  These aren't so girly that the fellas can't wear this, either. Solids are around $10, while the prints are up to $16.
2. Novawo Retro Women's Bohemian Scarf ($8-10, 5 colors) – This is a very large, oversized scarf that's very lightweight.  This style is so super versatile.
3. Floral Two layer Infinity Scarf ($15) – With a knitted layer and a linen look layer, this scarf makes the transition from summer to fall nicely.  You may be able to wear the layers separately, too, which makes this a great addition to your fall scarves.
4. Circle Print Infinity Scarf ($15, 3 colors) – This one is a great fashion scarf for year round wear. The print is slightly retro mod, and the colors are perfect for anyone's wardrobe.
5. Shark Print Scarf ($8, 5 Colors) – I am kind of in love with the block print design on this scarf. Plus SHARKS!  Hello!! For $8, you really can't go wrong for a conversation piece.
6. Floral Print Infinity Scarf ($7.50) – This has sort of a watercolor-abstract feel to it.  It almost looks linen-y, and way more than the $7.50 it costs.
7. Plaid Tartan Infinity Scarf ($8-12) – We all know that PLAID is such a super hot trend.  Jump on the bandwagon in a subtler way with this infinity scarf.  With 35+ different colors and options for fall scarves, there's something for everyone.
8. Polkadot Voile Scarf ($2.39-$3) – This is such a fantastic, timeless scarf. Colors are classic, yet modern.  Wear this one in your hair, around your neck, as a belt.  The possibilities are endless.
9. Stripe Print Two Layer Infinity Scarf ($15) – This combines all of my favorite things – bright colors, Ikat, stripes, and more.  It's not too loud, and the second knit layer makes a nice transition from summer into fall.  It appears, like its cousin above, that this fall scarf's layers can be worn separately or together.
10. Blue Long Scarf with Lace Inset ($18) – Lace is another one of the trends that continues on and on, with no signs of letting up.  This is a fab scarf for those that like the mixed media look.  I think this would look great with jeans and a motorcycle jacket.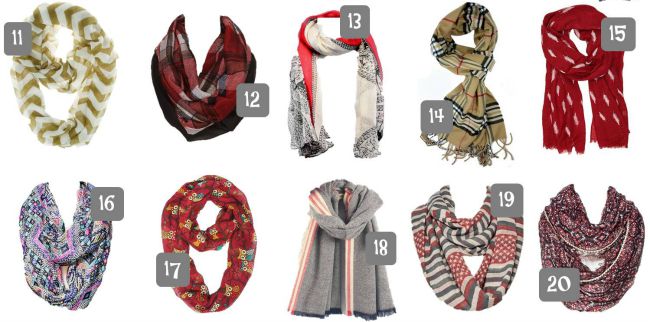 11. Lightweight Chevron Infinity Scarf ($7-9) – These scarves have been all the rage on the boutique websites for a couple years now. I know I've purchased a few at a much higher price. 29 color options, too! These are great year round scarves, not just fall scarves.
12. Plaid Two Layer Scarf ($15) – This is another way to get plaid worked into your wardrobe. The large scale play on the classic pattern works perfectly with the black lightweight companion.
13. Deer and Forest Scarf ($18) – I am IN LOVE with this scarf.  I've shared it a couple times, and I still really dig it.  It's a deer scarf that has a subtle medallion of deer.  Perfect for sharing your love of the animal without it being too juvenile.
14. Camel Faux Cashmere Classic Winter Scarf ($16) – This is a great copycat of the iconic Burberry plaid scarf.  Such a classically chic look. This is one of the perfect fall scarves for colder climates.
15. Oversized Gauze Wrap Scarf ($12) – Personally, I really like the feather prints.  There are also mustaches, dolphins, hearts, and other great designs.  This scarf measures in at a gigantic 70 x 27 inches.
16. Geometric Dot Print Infinity Scarf ($15) – How cool is this?!?!  It's like a combo of tribal and snakeprint and abstract all in one.  It's even got a little throwback 80's in there, yet isn't too busy. This is an amazing addition to your fall scarves.
17. Cartoon Owl Infinity Scarf ($8-12) – Super cute owls on branches are scattered across this scarf.  Very cute, perfect for the teen or young woman.  Available in 18 colors.
18. Tartan Scarf Pashmina ($17) – This is another must have addition to your fall scarves.  It's perfect for a wrap, a ruana, or bundled up around your neck.
19. Stars and Stripes Infinity Scarf ($18) – It's patriotic, but doesn't scream I LOVE AMERICA!This scarf has a much more retro-vintage vibe.  I think this would look cute at a football game.
20. Tribal Print Infinity Scarf with Stud Trim ($17) – Tribal is such a hot trend, and so are studs.  The stud trim is subtle, and not overdone, which is nice. The tribal is a nice pattern, too.  It almost looks like the Rorschach test, haha.
As you can see, there are tons of really budget friendly fall scarves options that are totally unique. Express your personality, and be on trend.
What are your favorite fall scarves from this list?
For more fall fashion and beauty posts, check out a few of my favorite blogs: