Pretty soon, the leaves are going to start changing colors, and the air will turn crisp. Apples will be in abundance, and pumpkin spice everything will take over our lives. One of the greatest joys of Fall are all of the cute boots that we get to wear.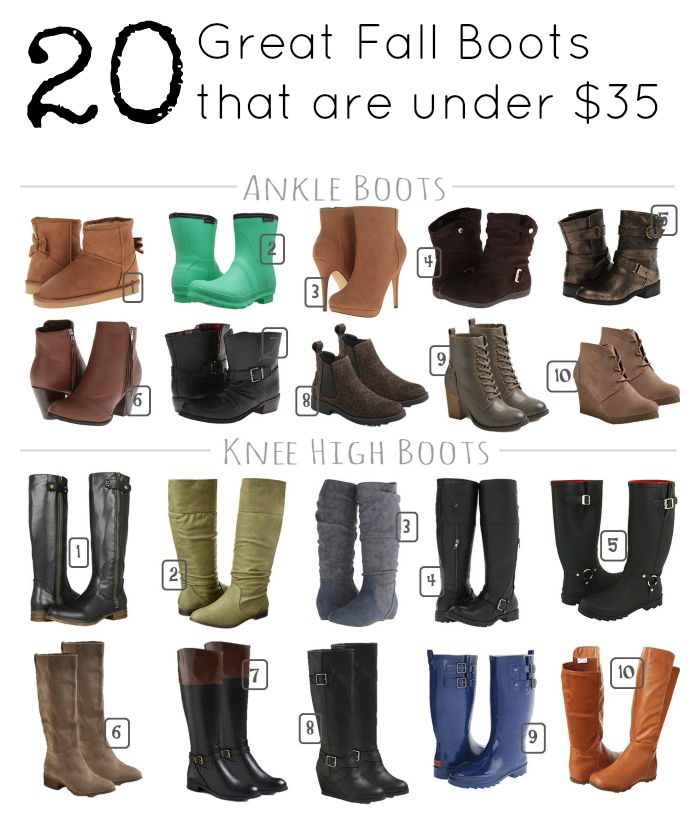 Be ready for the new Fall season with this year's hottest boot trends. Take a look at this selection of fabulous boots for fall we've gathered up for you. The best part – they're all under $35. UM HELLO! You're not even going to HAVE to choose which ones you want. You can afford them all! Well, at least a couple pairs.
We've broken these boot selections down into two styles – ankle boots for Fall and knee high boots for fall. Links may be affiliate links. Prices were valid at publication time, and like everything in life, are subject to change.
Boots for Fall under $35

Ankle Boots for Fall
1. C Label Cupcake Boots ($20, Also available in Chestnut and Grey)
2. Kamik Jenny Lo Boots ($23, available in 7 colors at varying pricepoints)
3. Miss A Malin stiletto bootie ($23, available in blush, wine, cognac, and stone)
4. Rampage Camelia Boots ($23)
5. Dirty Laundry Show Pony Boots ($24)
6. Charles Albert New Zip Up Ankle Boots ($21, available in brown or black)
7. Dirty Laundry Chickadee Low Moto Boots ($25, available in black or caramel)
8. Connie slip on booties in leopard ($35)
9. Yolanda Lace Up Bootie ($35, available in Black, Navy, or Stone)
10. Terri Wedge Booties ($35)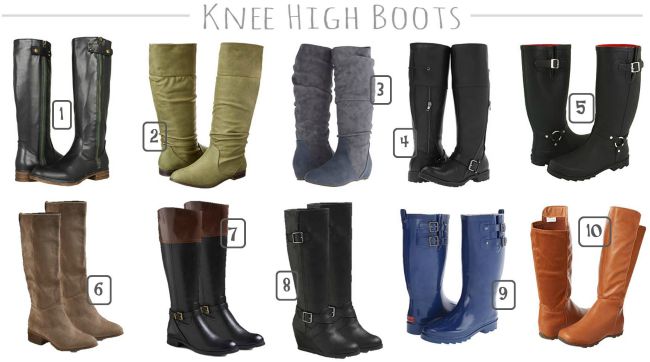 Knee High Boots for Fall
1. Mia Cammi Knee High Boots ($26, Available in Black or Luggage)
2. Michael Antonio Baxter ($26 in Olive, $40-ish in Black or Brown)
3. Michael Antonio Nellie Sueded Scrunch Boot ($26 in Navy, also available in black or brown)
4. Volatile Clyde ($27)
5. Dirty Laundry Roadhouse Rubber ($30)
6. Ellis Sueded Boots ($35, available in 4 colors)
7. Estelle Riding Boots ($35)
8. MSC Avis W Boots ($35)
9. Chooka Posh Tall Boots ($31, available in Black, Navy, Olive and Red)
10. Wanted Raven Knee High Boots ($32.24, available in Black, Brown, or Tan)