Clogs are one of my favorite styles of shoes. Maybe it's the crazy shoe love coming out in spades, or perhaps it's the Swedish heritage.  Whatever it is, I've had tons of pairs of clogs over my lifetime, and generally have somewhere between 4 and 10 pairs in my shoe wardrobe at any one time.  I don't know – it may be an issue.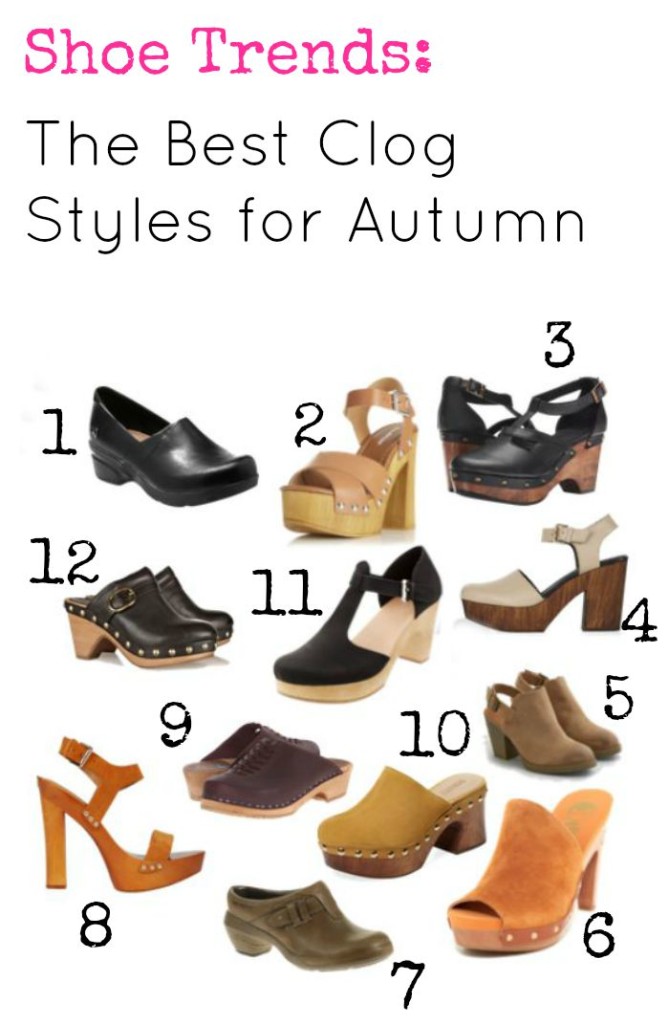 I will say this – if loving clogs is wrong, I don't want to be right. Whatever, I have issues.
We've rounded up 12 pretty awesome pairs of clogs, at all pricepoints.  These range from around $30 to a few hundred dollars. Some have a standard sole, and some are wood soled.  There's really a clog here for every aesthetic.  Links may be affiliate links, which helps support our clogs habit.
1 . Keen Mora Clog ($130) – Available in Black or Flame, which is kind of a cognac color.
2. Faye Crossover Leather Clog in Tan ($44) – These are also available in Black for $26.
3. Cordani Zoran Heeled Platform Clogs ($189) – Available in black or walnut, with an attractive darker heel and platform.
4. Smile Two Part Clog in Nude ($90)
5. BC Like Clockwork Clog Bootie ($90)
6. Flogg Socialite Clog Heel in Luggage Suede ($80) – Also available in a fab silver-grey suede.
7. Merrell Luxe Plunge Clog ($48)
8. DSquared2 70's Wood Clog Sandals ($248) – Also available in a really great grape purple color.
9. Mia Heidi Clogs in Wine ($79) – Also available in Luggage
10. Schutz Bethy Nubuck Clog in Canari ($119)
11. Old Navy T Strap Platform Clogs ($33)
12. Isabel Tarant Tamara Studded Leather Clogs ($240)
As you can see, there's really a style of clog for every person.  And these have just scratched the surface.
Are you a fan of clogs? What's your favorite style?