A great DIY Vanilla Cinnamon Latte body scrub recipe that makes a fantastic pampering gift.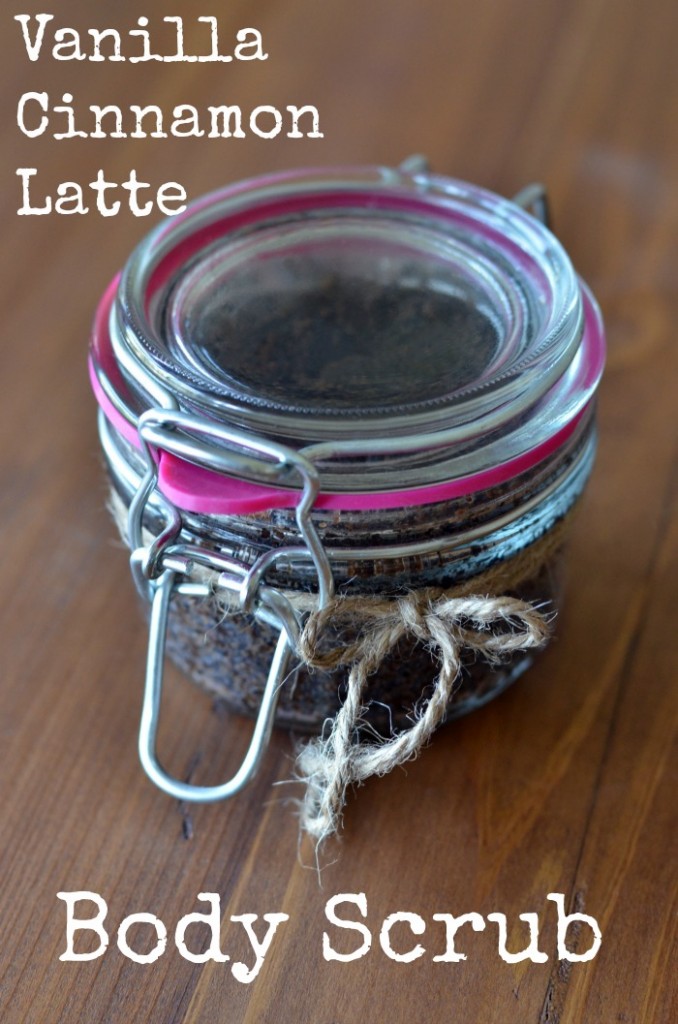 One of the keys to silky smooth skin is exfoliation.  Exfoliating helps to get rid of the dirt, grime, and all the dead skin that's just hanging around.  One of the other benefits of exfoliation is the improved absorption of moisturizers.
How do you exfoliate?  One of my favorite ways is with a luscious body scrub.  This Vanilla Cinnamon Latte body scrub recipe is a perfect thing for sloughing off that debris.  This body scrub recipe is slightly different, as it has the benefits of both sugar scrubs and coffee scrubs.
Sugar scrubs help with exfoliation, are alpha hydroxy rich, and non-abrasive.  Coffee scrubs are anti-oxidants, work to firm skin, and many believe that coffee helps the body rid itself of cellulite.
Vanilla Cinnamon Latte Body Scrub Recipe
Ingredients
1/4 c Nutiva  Organic Coconut Oil
1/2 c Nutiva  Organic Coconut Sugar
1/2 c Coffee, ground
1 tsp Vanilla Extract or 20 drops Vanilla Essential Oil
4 drops Cinnamon Essential Oil
Directions
1. In a double boiler over low heat, gently warm the coconut oil. Be careful
not to melt the oil – heat just enough to blend easily with the sugar and
coffee grounds. Once warm, remove from heat and transfer the oil to a bowl.
2. Mix in the sugar and the coffee, slowly stirring to make sure all ingredients are incorporated.
3. Add in the Vanilla and Cinnamon oils.  Stir to combine again.
4. Transfer to a pretty jar that seals tightly.  A wire bail jar that has a silicone gasket is great, as is a mason jar.
Put a tag on the jar of the homemade Vanilla Cinnamon Latte body scrub  recipe and give to your friends or family.