Summer is coming to a close, and lots of people are headed back to the office. Whether you're a teacher, a seasonal worker, or just have a job that allows you a lot of flexibility, you just might need a wardrobe update.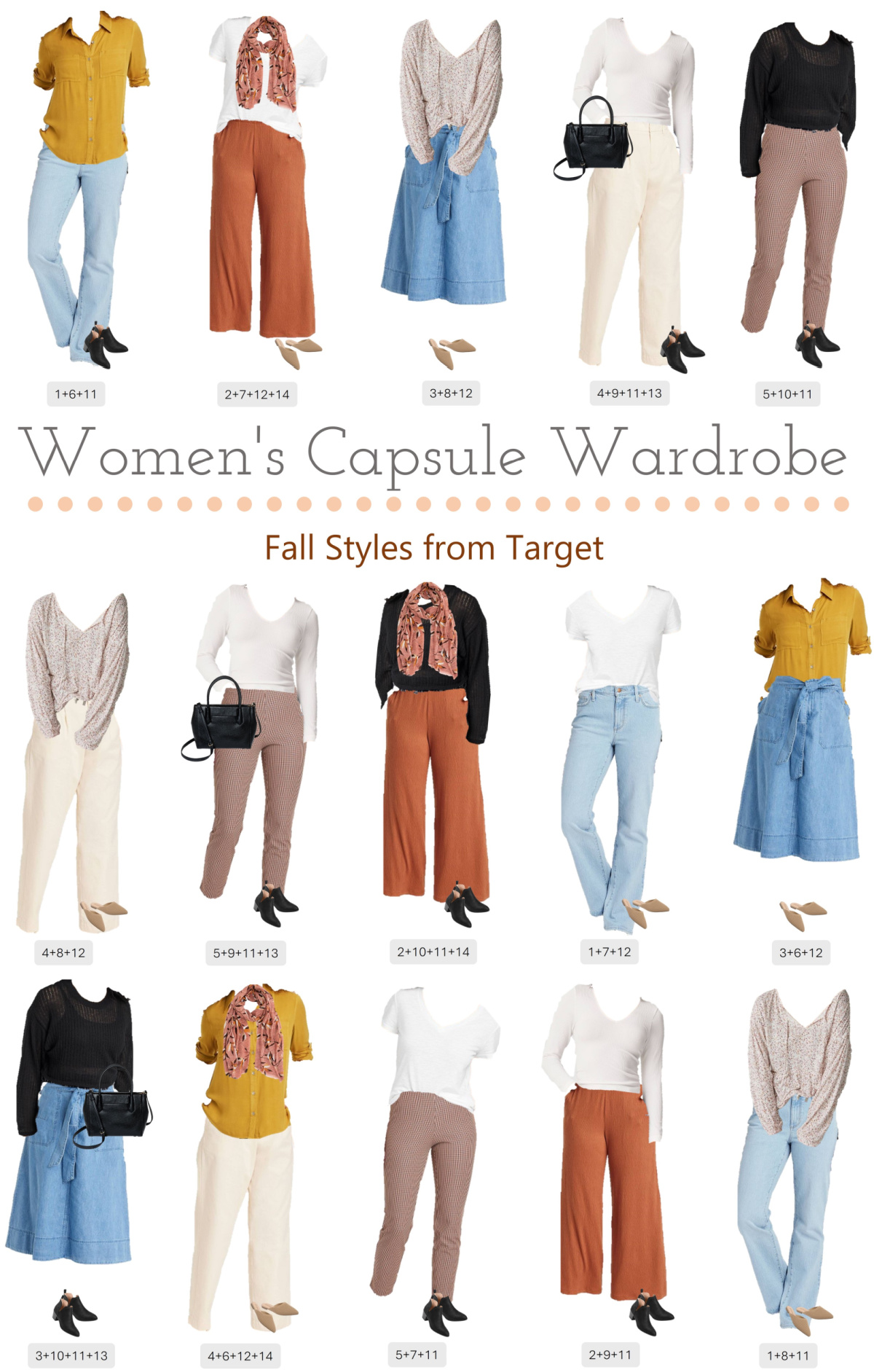 This fall capsule wardrobe consists of all pieces that are available at Target for Fall 2023. And so many of these pieces are size inclusive, too.
Links may be commissioned.
Target Fall Capsule Wardrobe for 2023
We've taken 14 items and created 15 different and unique outfits for this mix and match capsule wardrobe. And, let's be honest, that's just the start of the ways you can mix and match these wardrobe pieces. Besides that, the 14 items includes accessories and shoes, too.
Since these items are all from Target, they're all budget friendly, and pretty decent quality. Target is a great place to buy plus sized jeans. They're also readily accessible for most people. The most expensive item it around $60, and that's for a pair of shoes. Many of these items are under$25, with the V-Neck tee being only $10! At that price, you might pick a couple up for around the house or pajamas.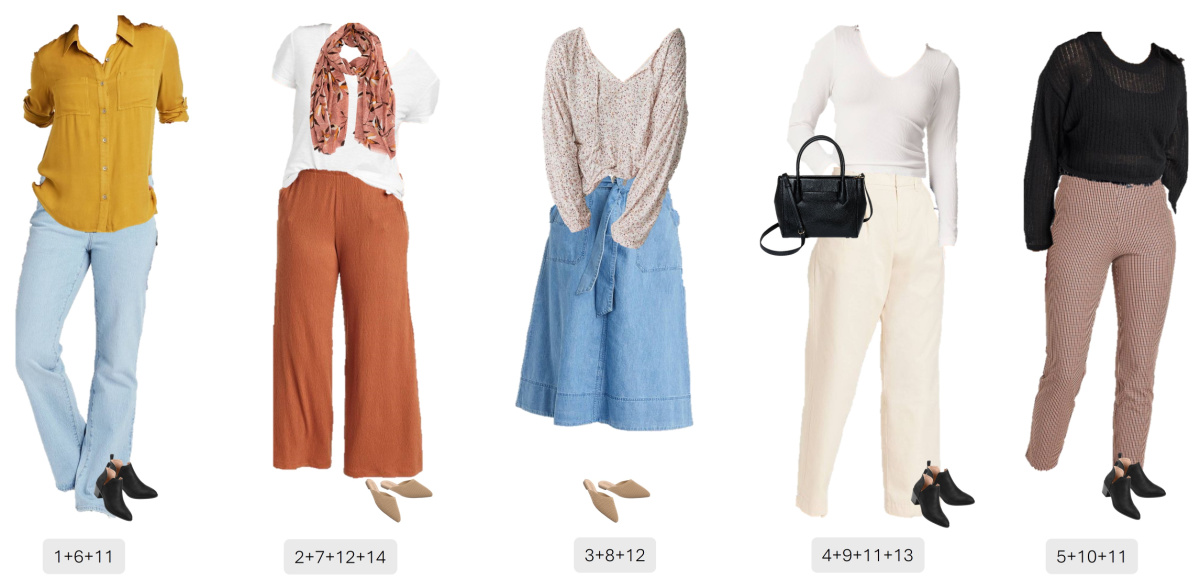 Fall 2023 Target Capsule Wardrobe Outfits 1-5
1 Long Sleeve Loose Button Down Shirt (available up to a 4X and in two color options) + High Rise Vintage Jeans (also available in plus sizes!) +Lola Pull On Stacked Heel Booties (available in 7 colorways)
2 Fitted VNeck Short Sleeve Shirt (available in XS to 4X and in a myriad of colors) + Crinkle Texture Knit Pants (available in 3 colors) + Aniee Slip on Sweater Mules (8 different colorways!) + Emma Scarf (also available in blue print)
3 Long Sleeve Notch Neck Top + Tie Front Midi Jean Skirt +Aniee Slip on Sweater Mules (8 different colorways!)
4 Slim Fit Long Sleeve Reversible Tee (available up to size 4X and in 5 colorways)+ High Rise Pleat Front Straight Chino Pants (avail in size 0 to 30 and 3 colors!) + Lola Pull On Stacked Heel Booties (available in 7 colorways) + Triple Compartment Satchel Handbag (5 colors available)
5 Crewneck Open Knit Cropped Pullover Sweater (4 colors and XXS up to size 4X) + BiStretch Skinny Pants (Comes in 5 colors/prints and sizes 0 to 4x) + Lola Pull On Stacked Heel Booties (available in 7 colorways)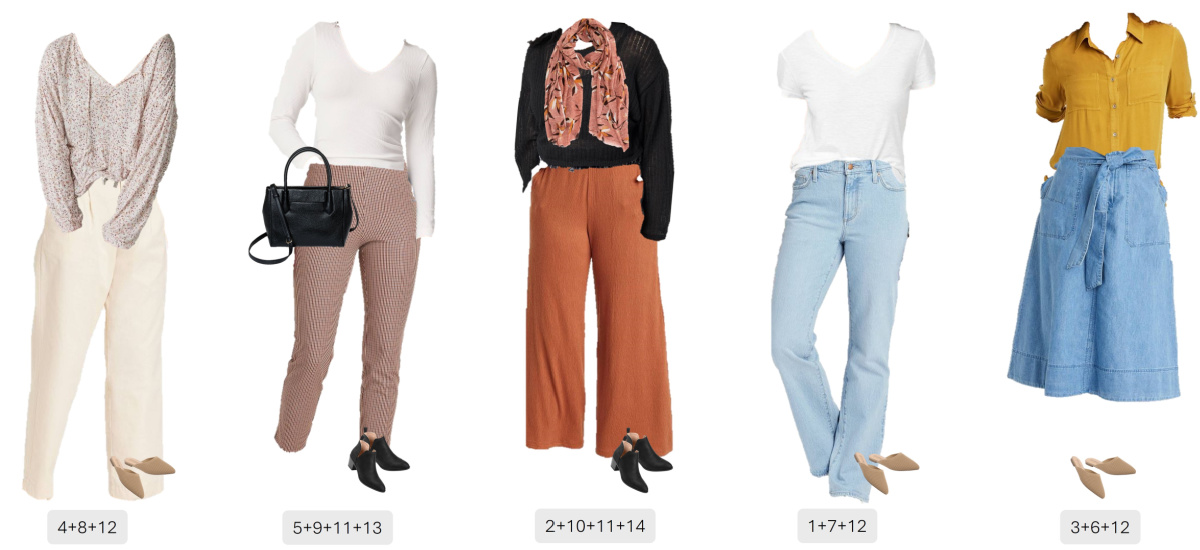 Fall 2023 Target Capsule Wardrobe Outfits 6-10
6 Slim Fit Long Sleeve Reversible Tee (available up to size 4X and in 5 colorways) + Long Sleeve Notch Neck Top + High Rise Pleat Front Straight Chino Pants (avail in size 0 to 30 and 3 colors!) + Aniee Slip on Sweater Mules (8 different colorways!)
7 Slim Fit Long Sleeve Reversible Tee (available up to size 4X and in 5 colorways) + BiStretch Skinny Pants (Comes in 5 colors/prints and sizes 0 to 4x) + Lola Pull On Stacked Heel Booties (available in 7 colorways) + Triple Compartment Satchel Handbag(5 colors available)
8 Crewneck Open Knit Cropped Pullover Sweater (4 colors and XXS up to size 4X) + Crinkle Texture Knit Pants (available in 3 colors) + Lola Pull On Stacked Heel Booties(available in 7 colorways) + Emma Scarf (also available in blue print)
9 Fitted VNeck Short Sleeve Shirt (available in XS to 4X and in a myriad of colors) + High Rise Vintage Jeans (also available in plus sizes!) + Aniee Slip on Sweater Mules (8 different colorways!)
10 Long Sleeve Loose Button Down Shirt (available up to a 4X and in two color options) + Tie Front Midi Jean Skirt + Aniee Slip on Sweater Mules (8 different colorways!)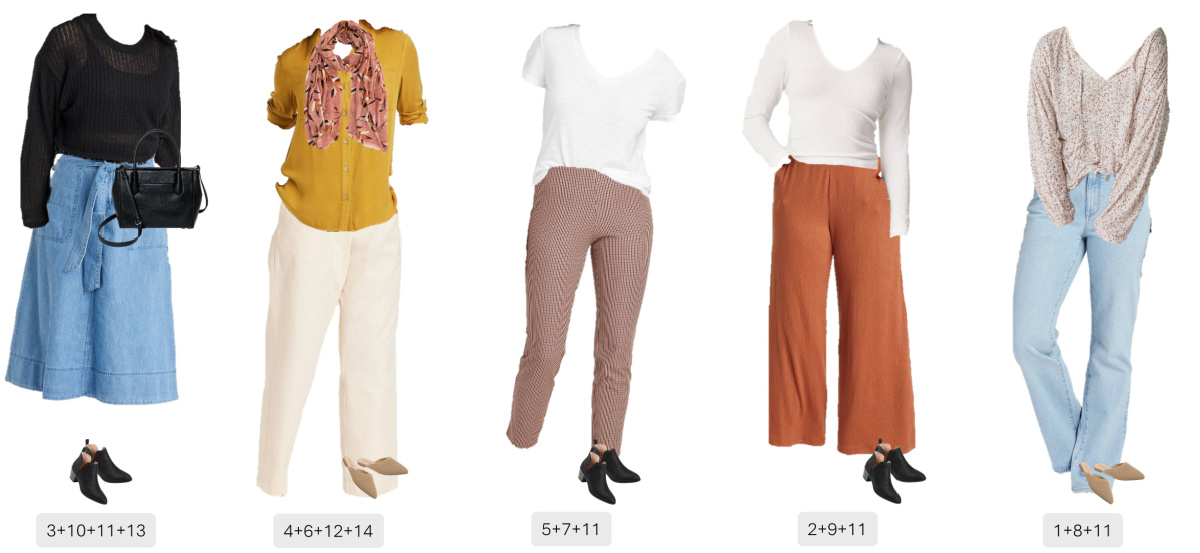 Target Fall Mix and Match Wardrobe Outfits 11-15
11 Slim Fit Long Sleeve Reversible Tee (available up to size 4X and in 5 colorways) + Tie Front Midi Jean Skirt + Lola Pull On Stacked Heel Booties (available in 7 colorways) + Triple Compartment Satchel Handbag(5 colors available)
12 Crewneck Open Knit Cropped Pullover Sweater (4 colors and XXS up to size 4X) + Long Sleeve Loose Button Down Shirt (available up to a 4X and in two color options) + High Rise Pleat Front Straight Chino Pants (avail in size 0 to 30 and 3 colors!) +Aniee Slip on Sweater Mules (8 different colorways!) + Emma Scarf (also available in blue print)
13 Fitted VNeck Short Sleeve Shirt (available in XS to 4X and in a myriad of colors) + BiStretch Skinny Pants (Comes in 5 colors/prints and sizes 0 to 4x) + Lola Pull On Stacked Heel Booties (available in 7 colorways)
14 Slim Fit Long Sleeve Reversible Tee (available up to size 4X and in 5 colorways) + Crinkle Texture Knit Pants (available in 3 colors) + Lola Pull On Stacked Heel Booties (available in 7 colorways)
15 Long Sleeve Notch Neck Top + High Rise Vintage Jeans (also available in plus sizes!) + Aniee Slip on Sweater Mules (8 different colorways!)