Are you looking for a delicious summer cocktail that's not gonna blow your diet? This Strawberry Rose Vodka Spritzer has you covered.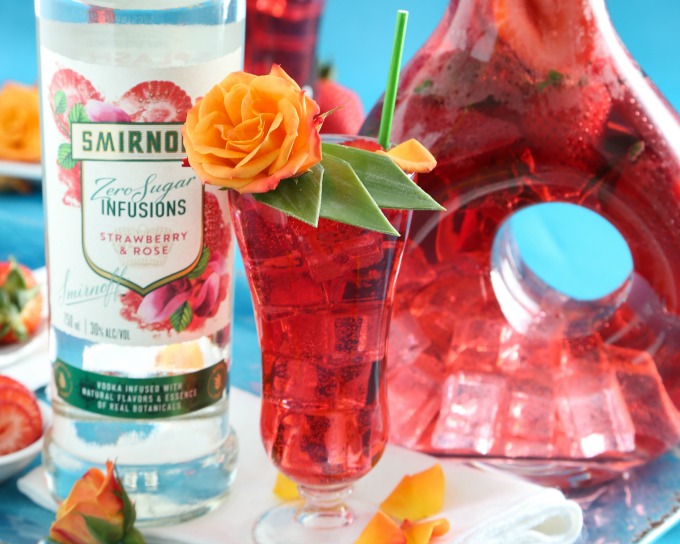 Cocktails are a great way to celebrate life's little occasions – or a great Thursday afternoon – but they can be loaded with so many calories. Hidden calories and sugars can really sabotage you best laid eating plans.
There's a better way to indulge – Smirnoff Zero Sugar Infusions. These are flavored vodkas that have no added sugars, artificial flavorings, or colors. Even better, there's no carbs in these infusions, so they're perfect for your keto or low carb lifestyle. And this Strawberry Rose Vodka Spritzer is so easy to make. Three ingredients and you won't feel like you're missing out.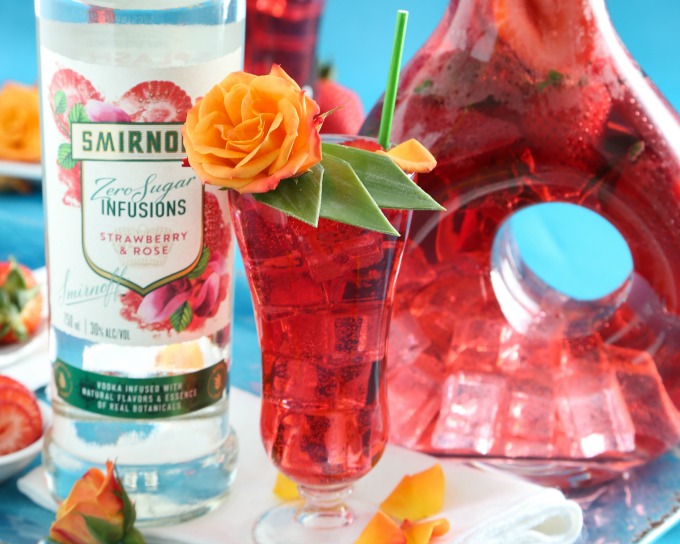 Yield: 1
Strawberry Rose Vodka Spritzer
Prep Time: 2 minutes

Cook Time: 2 minutes

Total Time: 4 minutes
Ingredients
2 oz. Smirnoff Strawberry-Rose Zero Sugar Infusions
2 oz. Brewed hibiscus tea
1 oz. Passionfruit sparkling water
Ice
Instructions
Fill an old fashioned tumbler with ice.
In a cocktail stirring glass, add Smirnoff Strawberry-Rose Zero Sugar Infusion, hibiscus tea, and passionfruit sparkling water. Stir well
Pour into old fashioned tumbler and serve immediately. Enjoy!
Nutrition Information:
Yield:
1
Serving Size:
1
Amount Per Serving: Calories: 110Total Fat: 0gSaturated Fat: 0gTrans Fat: 0gUnsaturated Fat: 0gCholesterol: 0mgSodium: 10mgCarbohydrates: 0gFiber: 0gSugar: 0gProtein: 0g

Nutrition is provided as a courtesy. It may not be accurate, and is an estimate only.

See how simple that cocktail recipe is? This drink is so refreshing, and is perfect for summer. It'd be great for a summer wedding or a bridal shower, too. Be sure to check out our Keto Friendly Grapefruit Margarita or our low cal lemonade cocktails too.
Love this Strawberry Rose Vodka Spritzer recipe? Don't forget to share it to save for later!