Press samples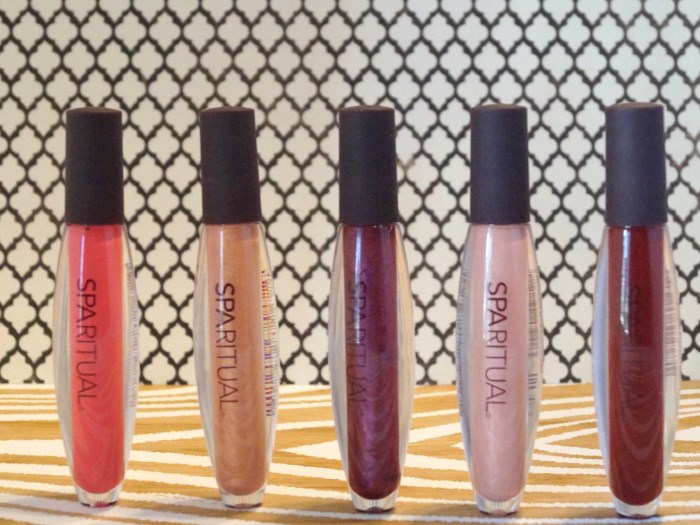 SpaRitual recently released a new line of lip glosses. Now, we all know SpaRitual for their amazing nail polishes. What makes the SpaRitual lip gloss line so good, you ask? Well, lots of things.
They're loaded with good for you ingredients like cocoa butter, coconut oil, olive oil, shea butter, and more. Many of these ingredients are certified organic, too.
No bad things like parabens, fragrances, or petrochemicals.
Gluten free. Since I'm not gluten sensitive, I don't think about these things. However, I know a lot of you lovelies out there are sensitive. In fact, many of you regularly ask me about gluten in products.
Vegan. No animal products here!
Made in the USA. Gotta love something that's made domestically!
I know what you're thinking. "Okay, that's great to know. But what about the colors & texture of the SpaRitual lip gloss?" Check out the swatches below!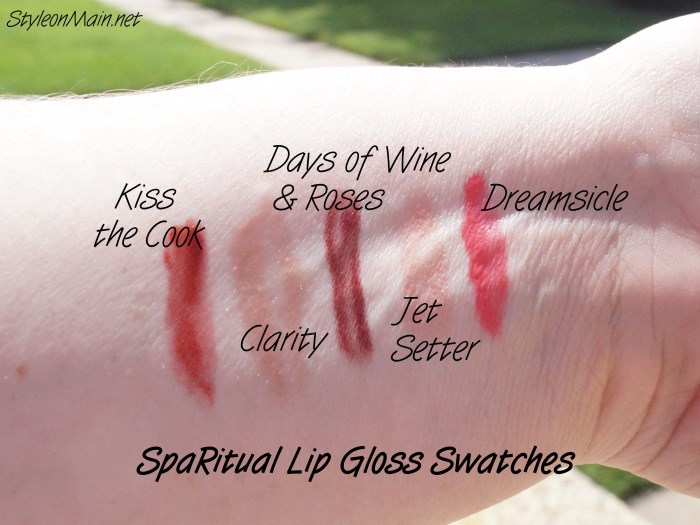 I received 5 colors of SpaRitual Lip Gloss
Deamsicle – A gorgeous creamy pinky-coral shade that's opaque.
Clarity – Great nude shade that has a golden undertone
Days of Wine and Roses – Stunning wine shade. Semi-sheer
Jet Setter – Another great nude shade, without the golden undertones
Kiss the Cook – Sort of a darker red-pink shade, but slightly coppery. Like a dark rose. Sheer color that can be layered.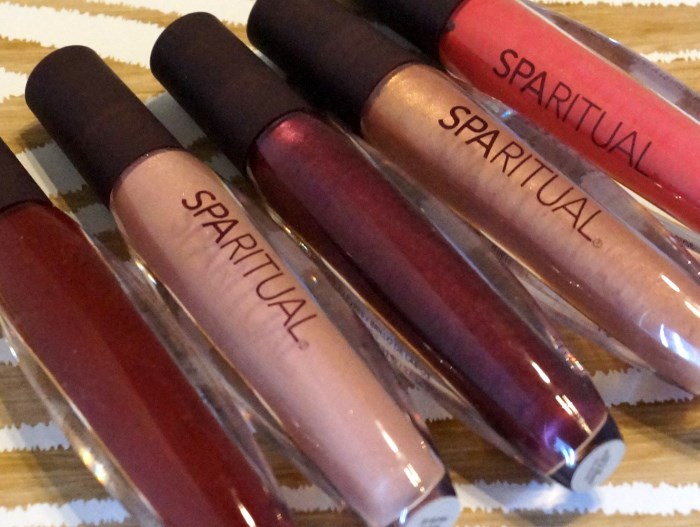 The SpaRitual lip glosses aren't sticky or tacky. They feel moisturizing on the lips, as well. They're pretty taste neutral but they smell amazing!! That has to be due to the vanilla & lemon oil. The colors wear for a really long time, too.
Retail price is $19 for a 0.12 oz tube.   That's a fairly large tube, and the price is totally reasonable.