Thanks to Kotex for sponsoring this conversation.
Sooo…now that you're a grown up, you're investing in nice things. You have those great pair of boots and that one amazing bag that costs more than your rent. Chances are pretty good that you've got some pretty underthings, too. These pretty panties can be so expensive for what basically amounts to a couple scraps of lace or silk and elastic. Here's how to take care of your delicate underwear.
How to Care for Your Delicate Underwear
Hand Wash. Yes, it's really the best way to clean the delicate, pretty panties. Well, the way to get them to last the longest, at least. Use a mild soap designed for delicates and warm water.
A lingerie bag. Yeah, I know. Hand washing is not feasible for everyone. Or always desirable. IF you have to throw your dainties in the washing machine, put them in a lingerie bag. These mesh bags can be picked up just about anywhere for a few bucks. Be sure to wash them on the delicate cycle with a mild detergent.
Hang to Dry. You know those scenes in movies or TV shows where the bathroom is covered in bras, panties, and lingerie drying? Yup, that's this scenario. Hanging your items to dry is almost non-negotiable. Heat is the enemy of fabrics, especially less sturdy fabrics. Sturdier fabrics like your jeans and towels can take the heat better than your delicates.
Put them away. I know. This sounds like a "DUH" moment, but hear me out. It seems that we're guilty of living out of our laundry baskets more and more. I'm guilty of this, too. By simply folding your pretty panties up and putting them away – wherever that may be – you'll help them last longer. How? They're less likely to get snagged, caught, or torn by another garment. Or lost.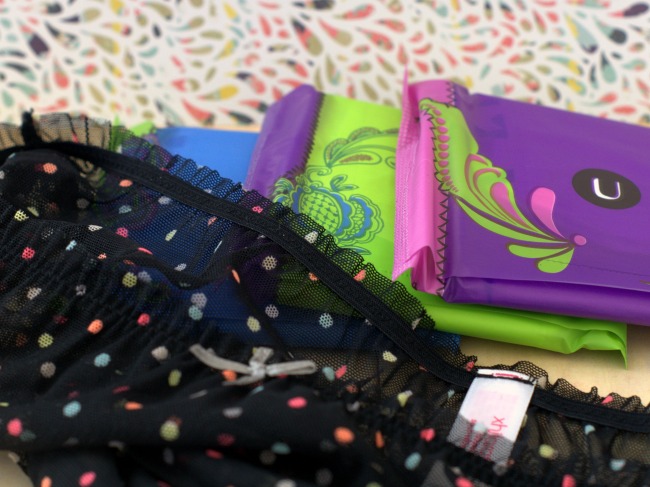 Protect them. As women, we all know about those period panties. They're usually the ones that have seen better days, and are kind of blah. They don't make us feel as special as our frilly ones. That's where U by Kotex comes in. With their exclusive 3-D Capture Core, it pulls moisture and wetness towards the center, locking it away. This helps protect your panties, and allows you to bust out those beauties. Even when Aunt Flo is in town.
Wanna try U by Kotex for yourself? You can get a free sample by clicking on the link.