One of the absolute best things about summer is all the berries that come into season. Blackberries are taking center stage in this Blackberry Basil Sparkler cocktail.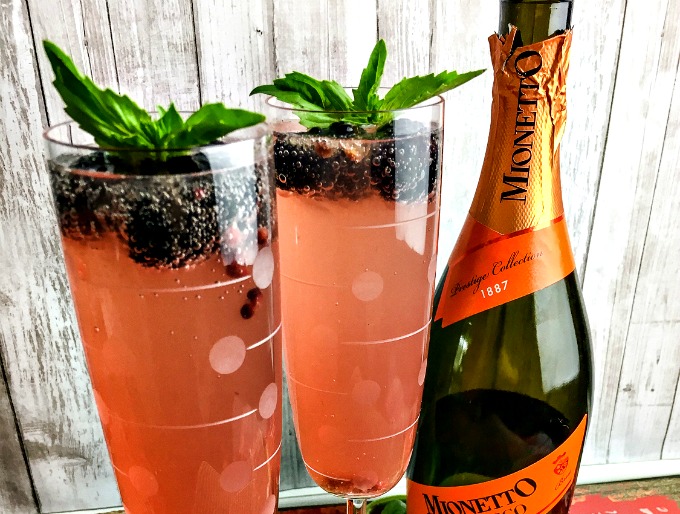 Yes, a blackberry crisp or a blackberry compote are great. But not here. They're honestly one of my favorites, and they deserve to be showcased.
We love a good sparkling cocktail. The Blackberry Basil Sparkler is an ideal drink for summer, because of the blackberries of course. But it's also really light and won't weigh you down. It's ideal for happy hour or a dinner party at your own home.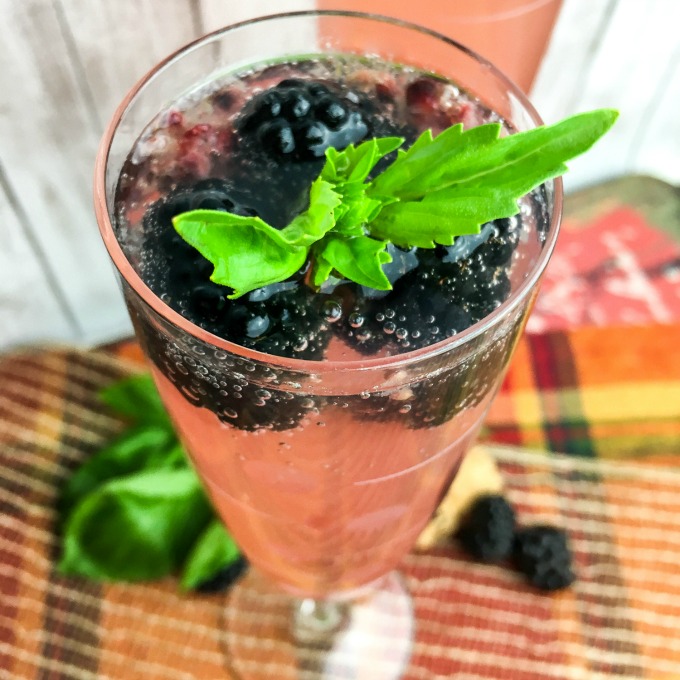 Sitting on the deck with a Blackberry Basil Sparkler is the perfect way to end your day. It's fruity and sweet, yet has some slight herbal undertones from the elderflower liqueur and basil. This is so nicely balanced.
Wanna know another secret? It's really easy to make. I mean, practically failproof easy to make cocktail. That's what I like to hear!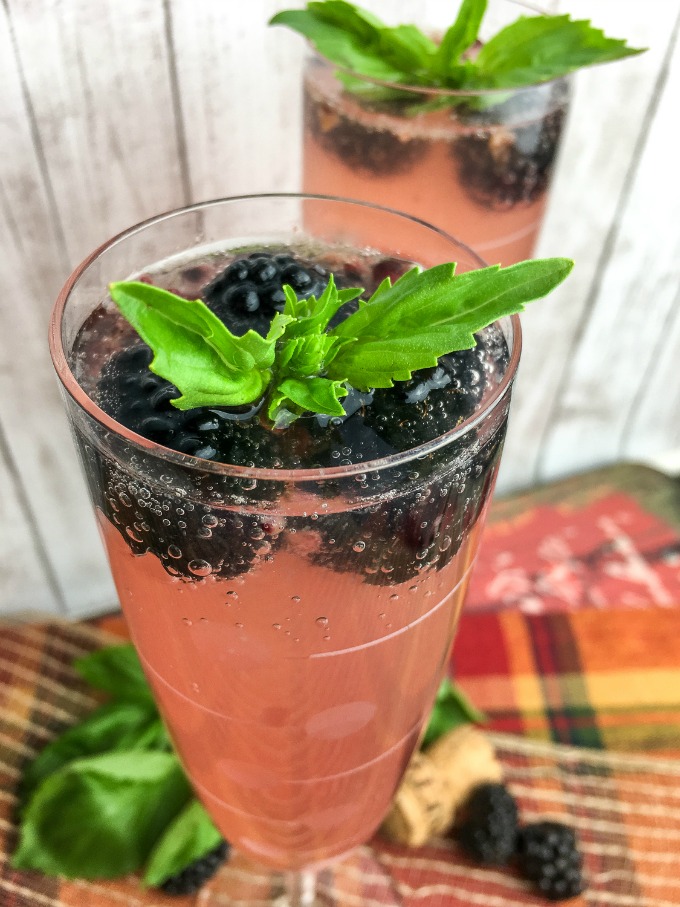 This drink recipe has a little more cooking than a lot of our others. Basically, you're going to make your own blackberry basil simple syrup. Don't be afraid though – if you can boil water, you've got this. Literally. And while I think you should use fresh blackberries, frozen ones are a-ok, too. We're all about easy here.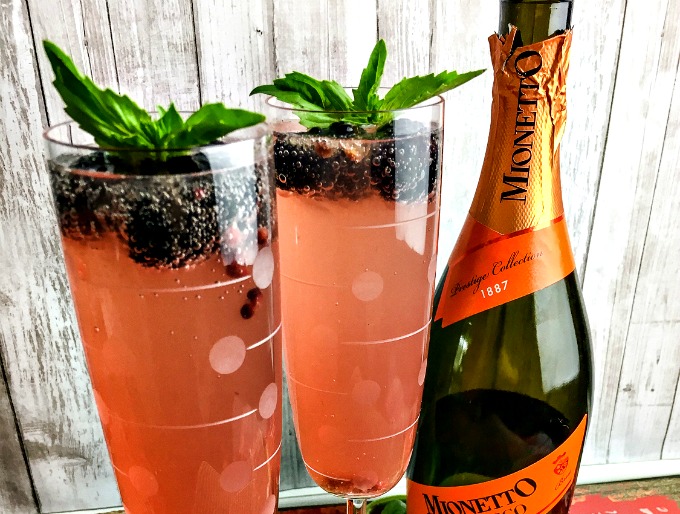 Yield: 4
Blackberry Basil Sparkler Cocktail Recipe
Prep Time: 10 minutes

Cook Time: 5 minutes

Total Time: 15 minutes

A simple snd delicious cocktail to take advantage of summer blackberries. This has no refined sugar, and can be made low carb and keto friendly.
Ingredients
8-10 large fresh or frozen blackberries
3 T. fresh basil, torn
¼ c. honey, preferably local
¼ c. water
4 oz. Elderflower liqueur (optional)
1 750 ml bottle Prosecco, chilled
For garnish
Fresh blackberries
Sprigs of fresh basil
Instructions
Add the blackberries, basil, honey, and water to a small saucepan set over medium heat. Simmer, stirring occasionally, until mixture is heated through and starts to thicken, approximately 4-5 minutes. Gently press on blackberries while heating to release juices.
Remove from heat and strain mixture through a fine mesh sieve to remove solids. Reserve remaining liquid and set aside to cool.
Divide the Elderflower liqueur among four champagne flutes, along with a drizzle of the blackberry simple syrup. Finish by topping off each glass with some chilled Prosecco.
Garnish each glass with 2-3 fresh blackberries and a sprig of fresh basil, if desired, before serving. Enjoy!
Nutrition Information:
Yield:
4
Serving Size:
1
Amount Per Serving: Calories: 190Total Fat: 0gSaturated Fat: 0gTrans Fat: 0gUnsaturated Fat: 0gCholesterol: 0mgSodium: 10mgCarbohydrates: 14gFiber: 0gSugar: 8gProtein: 0g

Know what else? This drink recipe has no refined sugar. And since prosecco is extremely low carb, it's borderline keto friendly. Make it more keto by using either a sugar free elderflower liqueur, or by omitting it altogether.
This drink is perfect for a custom wedding cocktail, a bridal shower, or just a brunch, too. Whip up a batch of the simple syrup, keep it in the fridge, and be ready to serve these Blackberry Basil Sparklers at a moment's notice.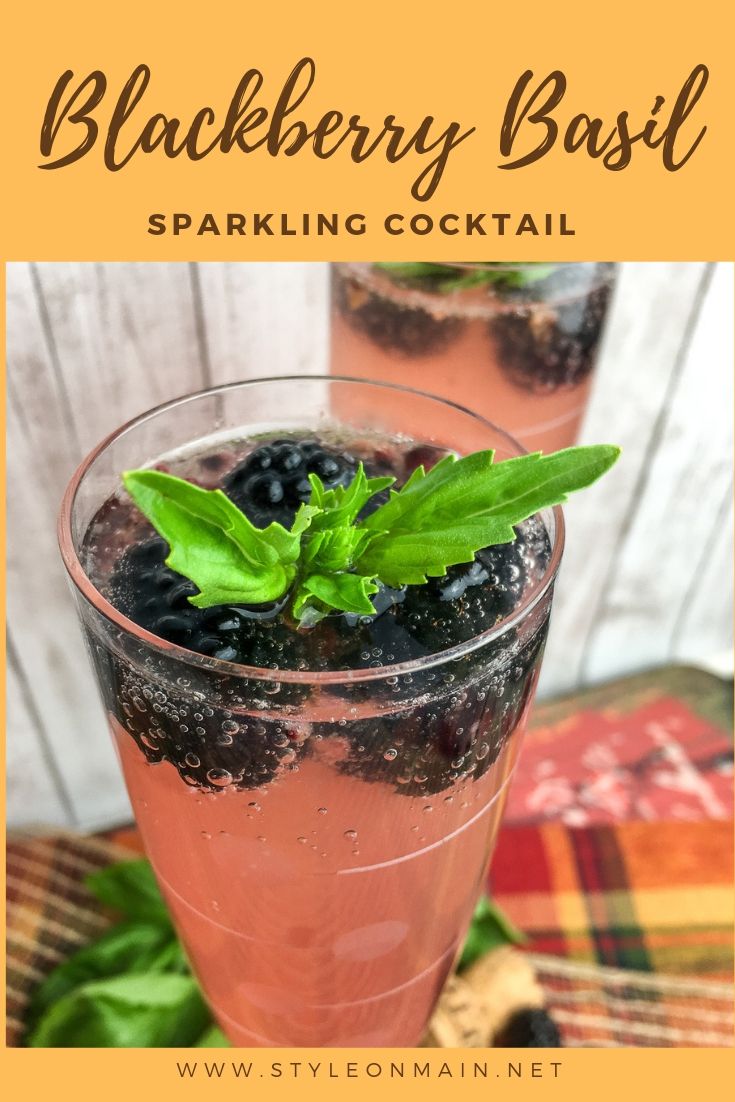 You may also like: