One of the biggest parties of the year is Mardi Gras. It's sort of the last hurrah before we go into Lent and the Easter season. We all know Mardi Gras goes on and on, but there's one major weekend that leads into Fat Tuesday. THIS is the main time to indulge and imbibe. The Carnival Queen is the perfect Mardi Gras cocktail.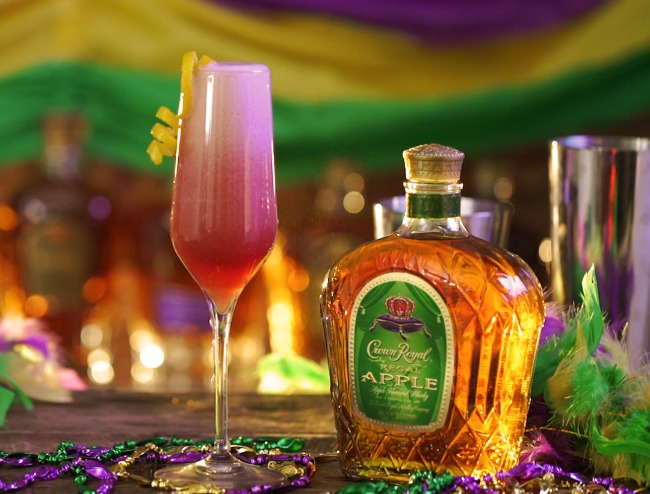 Carnival Queen is sweet and feminine, with a bit of a punch, thanks to the Crown Royal Regal Apple. While it's an amazing Mardi Gras cocktail, it's great for all times of the year, too.
Carnival Queen Mardi Gras Cocktail
Carnival Queen Mardi Gras Cocktail
A sweet and fizzy feminine cocktail that's perfect for Mardi Gras - or any time of the year.
Ingredients
1¼ oz. Crown Royal Regal Apple
¼ oz. Chambord or dark berry liquor
¼ oz. lemon juice
Champagne or sparkling wine
Ice
Lemon Twist
Instructions
Fill a cocktail shaker with ice.
Add Crown Royal Regal Apple, Chambord, and lemon juice and shake until chilled and combined.
Strain into a champagne flue, and top with Champagne or sparkling wine.
Garnish with a lemon twist.
See how easy it is to make a really great cocktail? While this was created for Mardi Gras, I think it would be amazing for a bridal shower or even a wedding. It's easy to make, and oh so showy with the champagne.