There are a couple of things that most of us really like in the evening. One is wine, and the other is popcorn. But usually, we have to choose which we're going to have. Who has wine and popcorn together?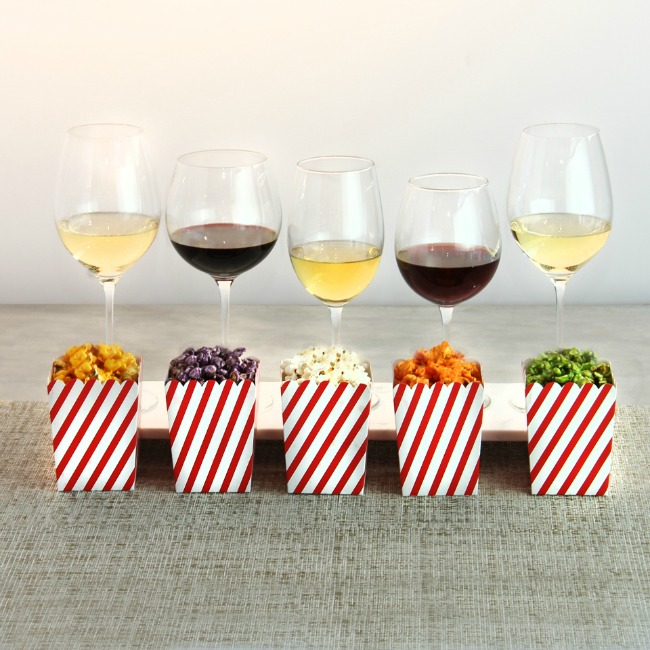 Olivia Pope does, and that's good enough for me. And now you do too, my friend. Believe it or not, wine and popcorn go together better than most people think. If you have a red wine subscription you'll soon become a popcorn aficionado, too. The trick is figuring out how to pair the flavors and varieties. That's where we come in. Once you read our guide, you'll be pairing wine and popcorn like a pro.
How to Pair Wine and Popcorn
For this guide, we're featuring four great Skinnygirl wines, but you could use any type of wine you like.
Skinnygirl Moscato with Spicy Chipotle popcorn
The light tastes of moscato, and the fruity undertones, help combat the fiery spiciness of the popcorn. Bonus popcorn and wine pairing – Moscato is also great with sweet popcorns, like caramel corn.
Skinnygirl Pinot Grigio with Jalapeno popcorn
This wine and popcorn pairing works much in the same way the moscato and chipotle does. The sweetness of the Pinot Grigio and the salty heat of the popcorn counteract and complement one another.
Skinnygirl Chardonnay with Butter popcorn
Chardonnay is a lighter wine, and the crisp finish pairs well with a classic buttered popcorn.
Skinnygirl Pinot Noir with Cheddar Popcorn
The rich, deep flavors in Pinot Noir help bring out the subtle nuances of the cheddar. Plus, the sweetness of the fruit helps counteract the saltiness of the popcorn in this wine and popcorn pairing.
Now that you know four great popcorn and wine pairings, there's going to be no stopping you! What's your favorite way to pair popcorn and wine?