Lots of women are uncomfortable with their bodies, and want to avoid swimsuits at all costs. They think that because they're not stick thin, or they're too thin that they can't wear a swimsuit. Maybe they don't have curves in the right places, or curves in all the wrong spots.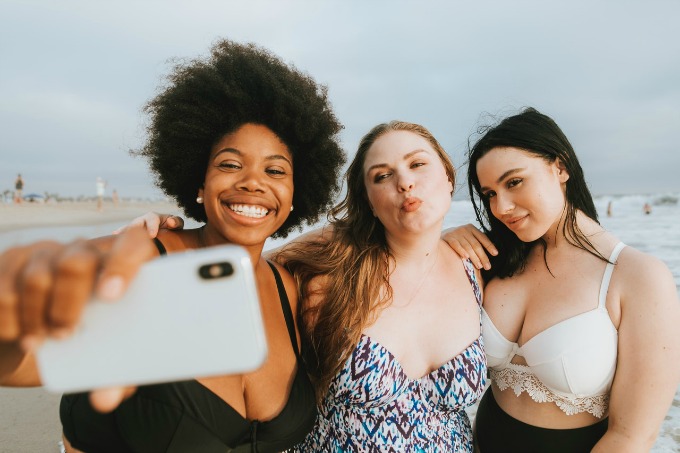 It's all nonsense. Women can, and should, wear swimsuits no matter what size they are. Manufacturers are now catering to all body types. This includes those who wear plus sizes. They're no longer the ugly styles we saw in the past. Swimsuit fashion can be had by all!
Links may be commissioned. By shopping through them, you help support our site at no additional costs.
There are many styles of plus sized swimwear that can make any woman look good, including curvy ladies and plus sized women. Here are some styles that a plus size woman can wear, and look good on the beach or at the pool:
Plus Sized Swimwear Styles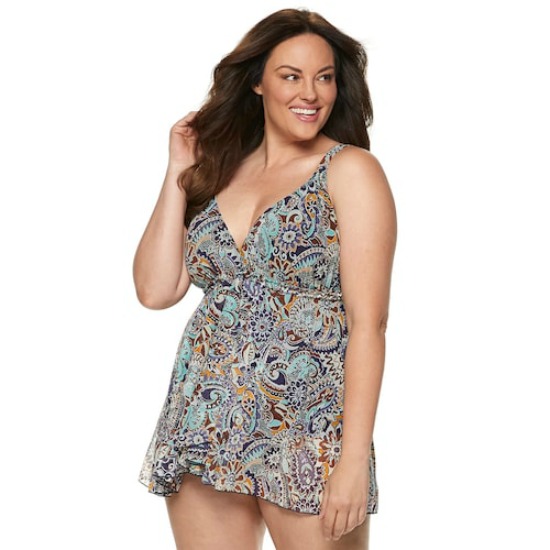 One-Piece Swim Dress

This is the perfect choice for those who prefer to keep covered and make their body look slimmer. It's a one-piece swimsuit that has an attached fashionable skirt with it. If you want to cover your stomach and thighs, the then swim dress would be a perfect choice. Some swim dresses are two pieces, as well. These have a long top that looks like a dress, and a detachable brief style bottom. This one from Maurice's has great modern styling while maintaining the modest coverage, and it's really affordable. Like really really affordable.
Jogger Swimsuits
This is a good choice if you don't wish to wear a swimsuit, but still want to enjoy activities in the water. It comes with a nylon/spandex tank top with built in bra foam cups and swim shorts.
Skirtini Swimsuits
These are very popular swimsuits that come in one piece or two pieces and basically look like a fashionable dress that you've worn to the beach. There are some that have features such as a waist minimizer and a tummy slimmer. They come in many different colors and some come with a way to adjust them so that you can make them look longer or shorter.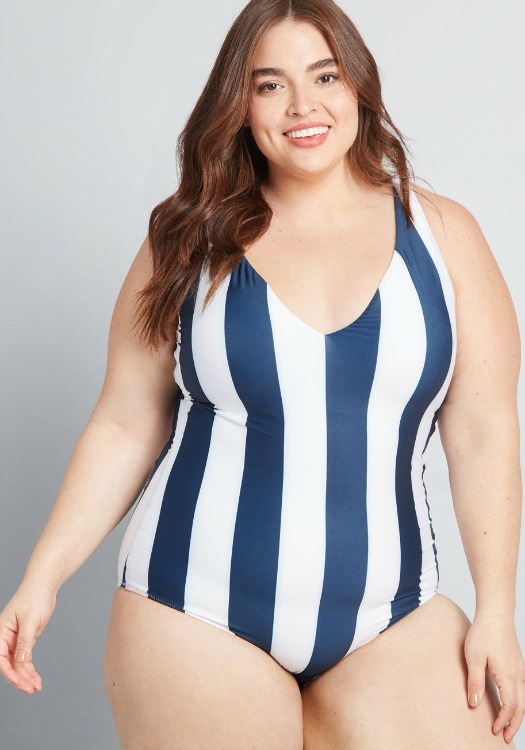 Basic One Piece
There is many styles of one-piece plus sized swimwear that a woman can wear. They usually come with wide shoulder straps and foam bra pads for extra support. Most types contour to the shape of the legs so that your legs appear slimmer. A higher cut can elongate your legs, while a lower cut is less likely to ride up the bum. Some even come in exotic designs or colors.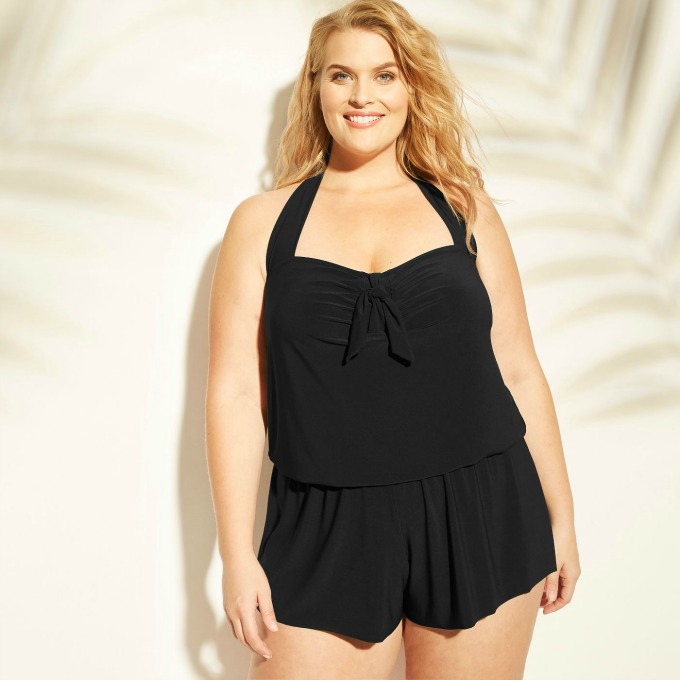 One Piece Boy Short Bathing Suits
These are fashionable swimsuits that look like you're wearing a tank top and shorts, but it's all one piece. These swimsuits are popular with people who are a little more modest, but don't want a swim skirt or aren't comfortable with showing too much skin. This swim romper from Target is a great example of this style of bathing suit.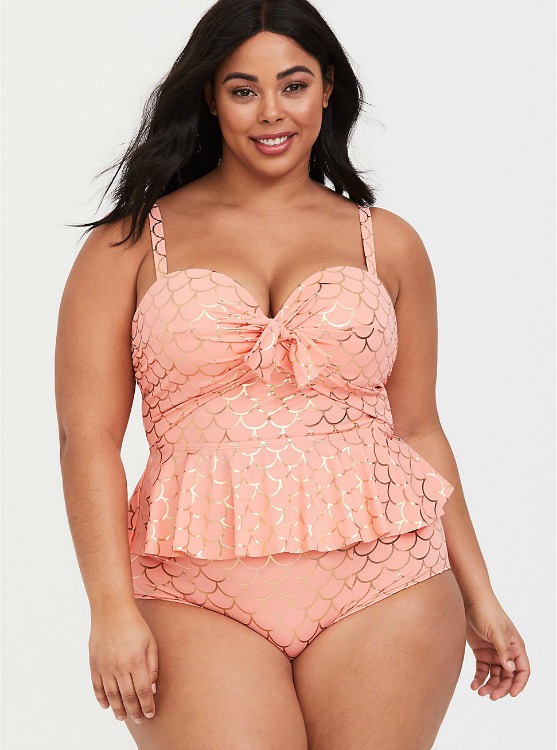 Two-Piece Swimwear
If you love your body and want to show it off, this is the perfect option for you. You can look amazing in a 2-piece swimsuit, like a fab retro bikini that shows off your sexy, ample curves. Personally, I have a long torso, and I love to wear a two-piece suit. Generally, I go for boy shorts bottoms and either a bustier style top or a tank style top that has a lot of bust support. This peplum style tankini top is so cute, and so flattering. I'm totally digging this mermaid inspired set from Torrid.
Swimsuits can make you feel confident. You just have to find a style that makes you comfortable, and decide to wear on your body. It doesn't matter if you prefer to show off your body or keep some of it covered. It's all good. There are many options for plus sized women today that fit anyone's style.
Swimsuits today can help you shed those beach covers and show off the beautiful woman that you are.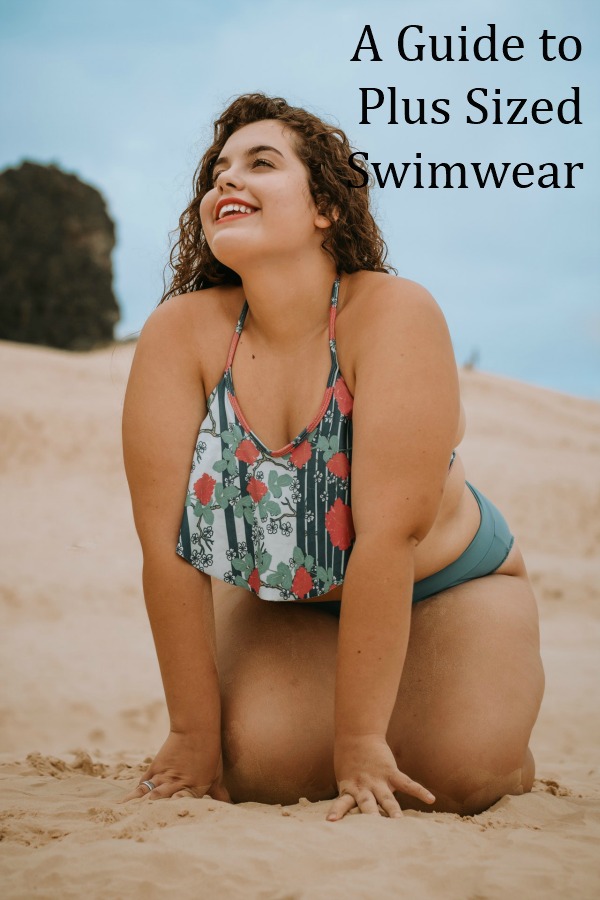 You might also like