Now that Spring is really here, it's time to update your wardrobes. That means adding some new accessories, like a pom pom bag. These are so fun for spring and summer, as they have a lot of personality and add a pop of color.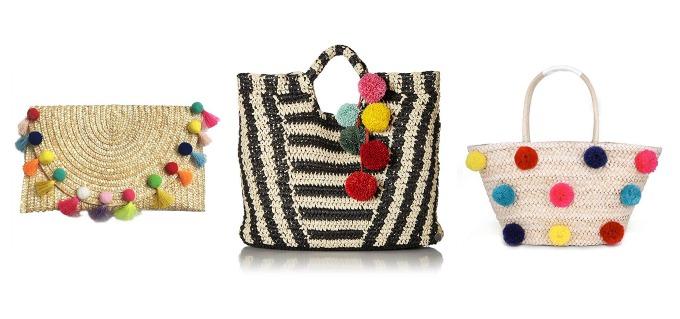 Wicker and rattan are having a moment, and we're here for it. The pom poms give the best pop of color and little bit of a fun attitude. We've rounded up some of our favorite pom pom bags just in time for them to work their way into your closet.
The best part? They're all from Amazon! Some of these bags even have prime shipping!
10 Must Have Pom Pom Bags for Summer
This post was originally published in 2019. It was updated in August 2022, so some bags have sold out and have been replaced with similar feeling items. Links may be commissioned. They help support our site when you make a purchase through them.

1 Shell Beach Straw Bag – Great shape for a bag, and I love the star and the aqua pom poms.
2 Round Straw Pom Pom Tassel Bag – I love the round shape and the pom pom/tassel combo. And the pom poms are removeable, so you get two great looks in one.
3 Straw Pom and Tassel Clutch – These poms are more like felt beads. Super cute, and I may pick one up for myself!
4 Half Round Woven Pom Pom Handbag – This is great for shopping, as you can drop your finds in your bag. Plus you look cute and on trend. It also has a drawstring closure.
5 Open Weave Lined Rattan Tote Bag with Pom Poms – This is a great bag for traveling. The open square weave is a different look, but it's fully lined, so no seeing what you're carrying, or little things falling out. The original is sold out, but you can remove the bow, and add this tassel and pompom keychain.

6 Round Straw Pom Pom Handbag – I really kind of love this one. The bag is a very light color, and it looks a lot more expensive than it is. Add your own pom pom keychain to get the look.
7 Striped Tote Bag – The original pictured is sold out, but you can get a similar feel with this striped tote bag and this pom pom add on.
8 Colorful Straw Pom Pom Beach Bag – This one has a great shape, and rather than pom poms on he handle, they're scattered all over the bag. Adorable! This has a similar feel to the one in the picture, but is different.
9 Jessica Simpson Alyssa Tote – This one is so unique. The straw is colorful, and the pom poms pick up the colors. It's a great sized shoulder tote bag.
10 Flamingo pom Pom Tote Bag – This one has embroidered flamingoes and pom poms. It also has a bonus strap that allows you to wear it as a crossbody bag.
Aren't these pom pom bags great? There really is a share and style for everyone, and most of them are fairly budget friendly, too. If you like this, don't forget to share! Save to Pinterest or share on Facebook to save it for later.
Tell me – which of these pom pom bags is your favorite?