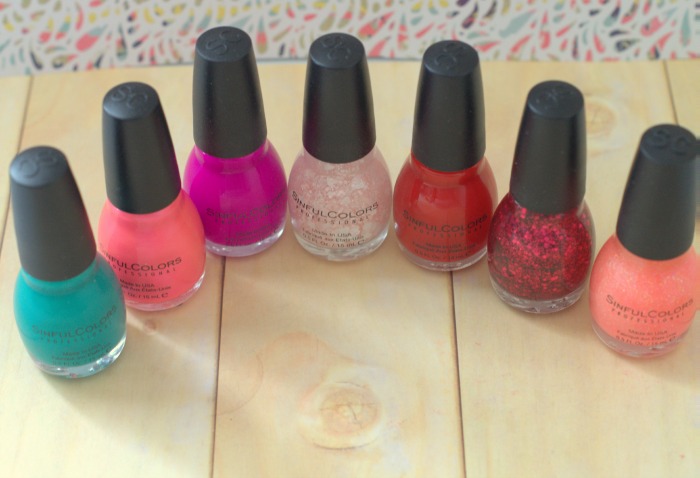 Valentine's Day is right around the corner, and I am a sucker for a seasonal nail polish release. Well, really, I can't resist just about any time I see a new nail polish display, but the seasonal ones make my heart go pitter patter. Recently, SinfulColors sent me a portion of their Valentine's Day nail polish release.
SinfulColors 2015 Valentine's Day Nail Polishes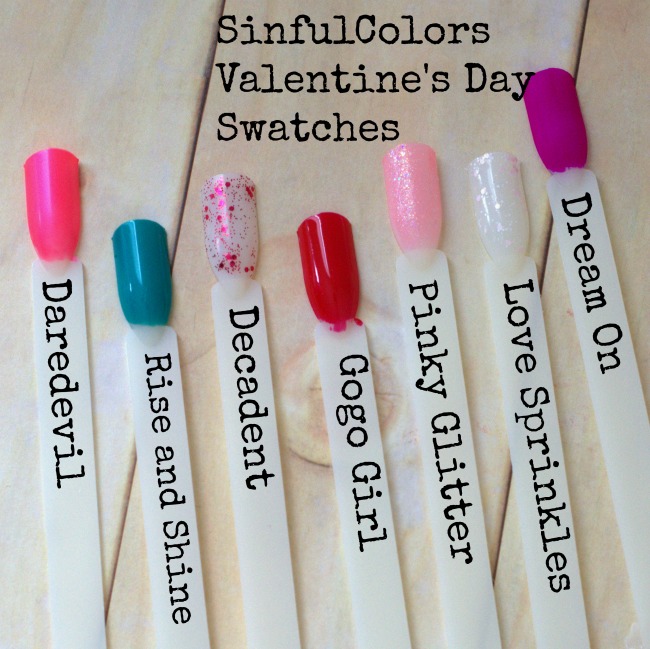 24/7 – A bold, bright pink.  I realized I forgot to swatch this one while editing photos.  Oh well.  Next time!

Daredevil – Coral-y pink. It's almost like a pastel neon pink, if that makes any sense. Has a little bit of iridescent shine too. So pretty, and different.  Not quite as 'hot' as it looks in the photos.
Dream On – Sort of a neon Violet that has a matte finish.
Gogo Girl – Gorgeous, sexy red that has just a touch of a vivid magenta undertone.
Pinky Glitter – Iridescent glitter in two fine sizes in a pink gel base. Think fairy princess. It looks coral-y orange in the bottle, but it's pure pink on.
Decadent – This has long been a favorite of mine. Different sizes of magenta round glitter in a clear base. I adore this over a solid, opaque teal or red.
Rise and Shine – Fantastic green-teal shade. A creamy tealer shade of jade. Does that make any sense? It's the perfect color to offset the pinks, purples, and reds of the collection. Greener than the pics look.
Love Sprinkles – Tiny white matte glitter, medium matte soft pink glitter, and matte white hearts in a clear base. You have to fish the hearts out, but the effect is so pretty.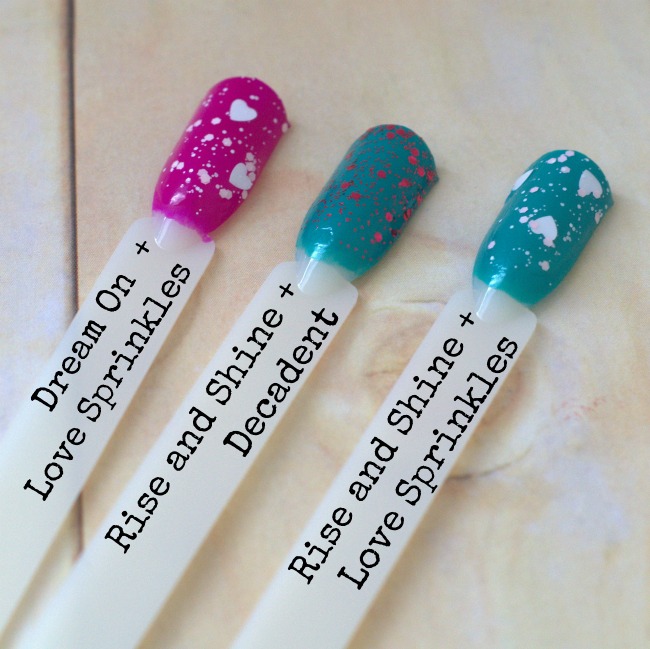 It appears that these are all re-releases, except the Love Sprinkles and maybe Daredevil.  These Valentine's Day nail polishes the same great quality that SinfulColors is known for.  The best part?  They're like $2 at major retailers everywhere.  I have only seen the Valentine's Day collection at my local Walgreen's, though.