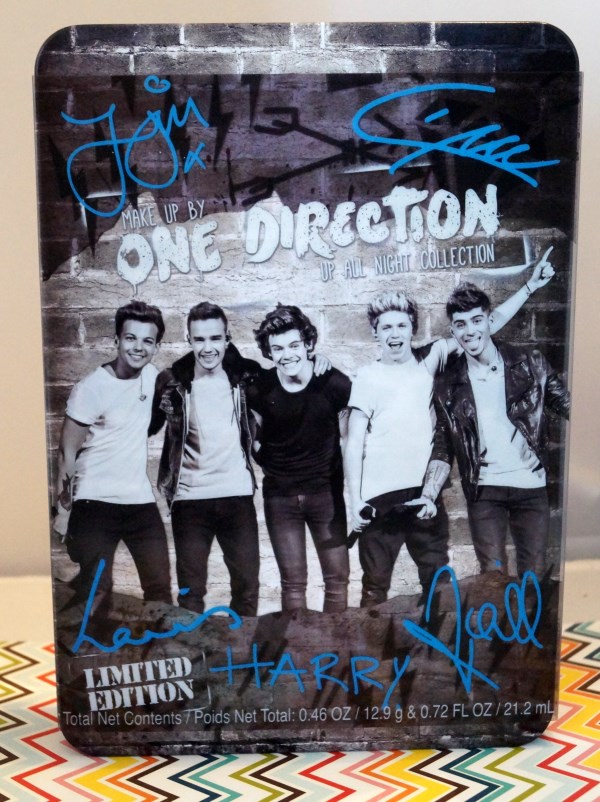 One Direction. They seem to be everywhere you look. You can't turn on the radio without hearing one of their songs. And if you have a tween or teen – fuhgeddaboutit.
It seems as though One Direction has set their sights on their next takeover target – the beauty industry! The boy band already had their own fragrances, and now they're releasing One Direction makeup collections. There are three One Direction Makeup collections – Take Me Home, Up All Night, and Midnight Memories.
I recently had the opportunity to take the Up All Night One Direction makeup collection for a test drive.
What's in the One Direction Makeup Collection?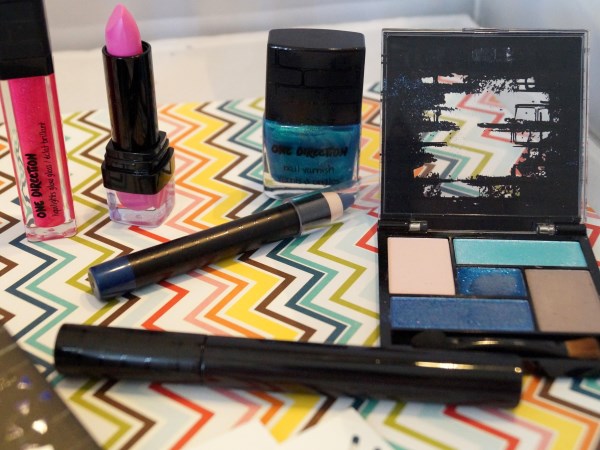 Chubby Eye Crayon in Stand Up – A navy blue color
5 Color Eye Shadow Palette – Contains More Than This, Save You Tonight, Gotta Be You, Another World, and Up All Night. Shades of blue, with a couple neutrals.
Lipstick in I Should Have Kissed You – A vivid, almost neon bubblegum pink.
Lip Gloss in Taken – Bright, glittery hot pink. It also glows under UV lights.
Mascara in Little Black Dress
Nail Polish in Na Na Na – Shimmery turquoise.
A selection of One Direction stencils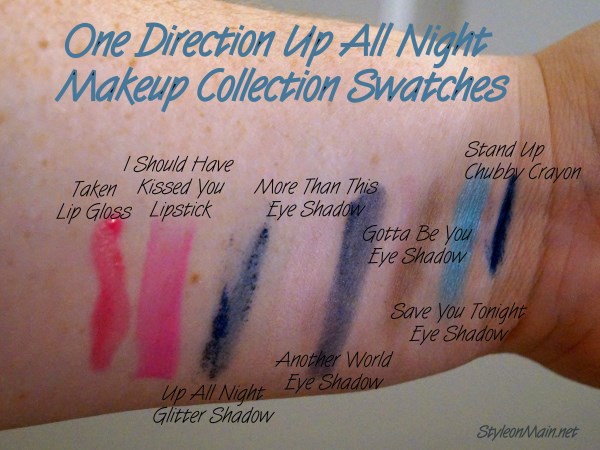 Thoughts & Swatches of the One Direction Makeup Collection
I am a big fan of the chubby crayon trend in makeup, and the one included in this kit is no different. It's a fab navy blue shade with a lot of creamy texture.
The 5 Color eye shadow palette is hit and miss. Save You Tonight (shimmery aqua) & Gotta Be You (neutral taupe) are good quality. They're pigmented, creamy, and have some staying power. More Than This (pinky-ivory) is good for a highlighter, but is slightly chalky. Up All Night (Navy Glitter Gloss eye shadow) isn't bad. Another World (Navy shimmer) is terrible. It's chalky, has no lasting power, and just about wipes off as soon as it's applied.
The 'I should Have Kissed You' lipstick seemed to get a little brighter and more vivid. It also stained after wearing away, so you'll still have color. Top with a clear gloss or lip balm if you want some slip.
The Taken Lip Gloss also seemed to stain, and leave the glitter behind, once it wore away. That was okay, as it is actually a really pretty shade. Again, add a clear lip gloss, lip balm, or more of the Taken shade.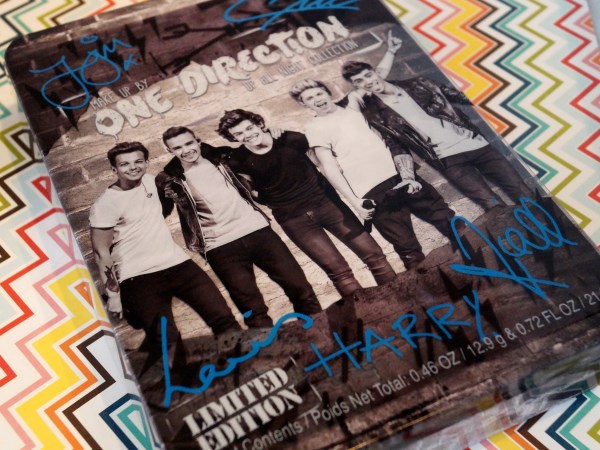 All in all, the One Direction Makeup Collection is pretty decent. It's not the best set ever, but it will make the 1D fan in your life super happy. Plus, the colors are really fun, and coordinate well.  This is currently available at Macy's locations nationwide.  Launching soon to other stores like Lord & Taylor.  Check out the One Direction Makeup Collection on Facebook, too.
We received products for this review.  Opinions are our own.