I am a huge fan of the Nautical look. Anchors, bold stripes, red, white, blue, rope handles, even starfish and lobsters are all part of the classic trend. While lots of people put their bold stripes away come fall, I find that it's a look that can easily be pulled off until the beginning of October.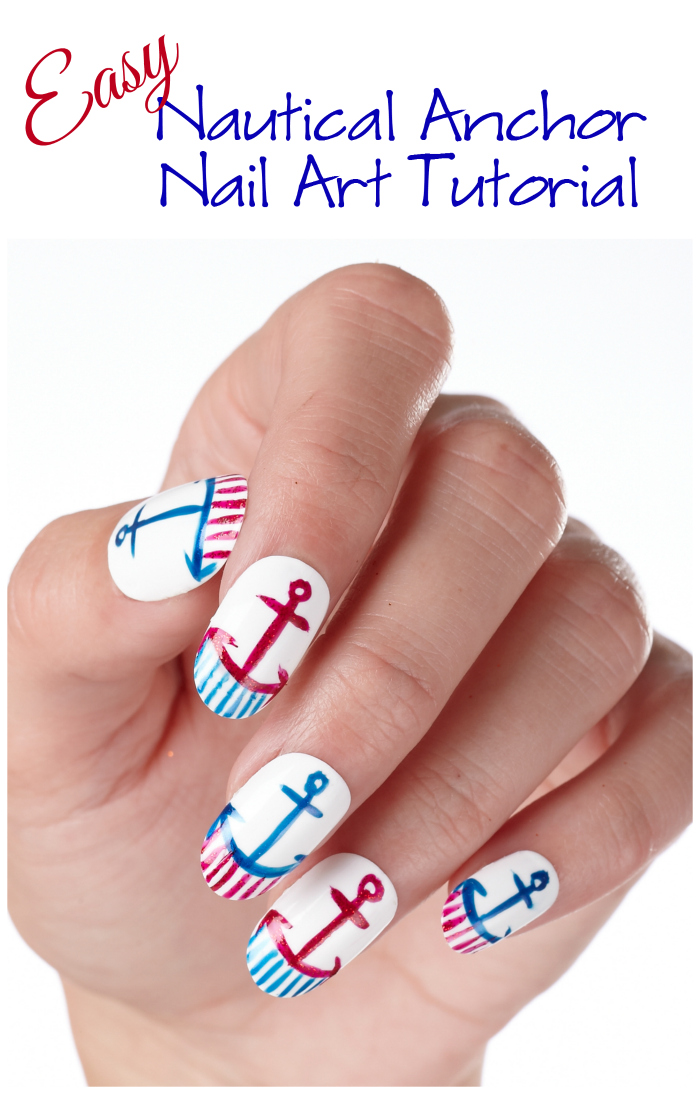 Check out this super easy nautical anchor nail art look. With just a few strokes of nail polish, you can have something that looks really great! The nautical anchor nail art is easy enough for beginners, too.
 Nautical Anchor Nail Art Tutorial
Start with the KISS Galaxy Effects Kit (which includes 3 polish shades in red, white and blue and 1 glitter topcoat! Plus a dotting tool and sponge.  This is available at chain stores everywhere for less than $10.
*   Paint your nail with white polish as the base color from the Kiss Galaxy Effects Kit
*   Using the dark blue polish from the Kiss Nail Artist Paints in Masquerade, create a curve 3/4 of the way down on the nail and paint in two smaller lines at the edge of the curve for the pointed hook of the anchor
*   Create a small line down the middle and make a smaller line perpendicular to it at the top of the nail, topping the line off with a small circle
*   Using the glitter-red polish from the Kiss Galaxy Effects Kit, take a thin brush from the Kiss Salon Secrets Kit and paint small vertical stripes underneath the curve of the anchor
*   Do this for every other nail and repeat steps 1-4 with the alternate color
Voila! You've now completed a fabulous nautical anchor nail art look, quickly and easily.